1 June 2017
Even the most discerning traveller can find bliss in Australia's rambling backyard of bush. That earthy smell of native Australian flora, the iconic laugh of kookaburras and the chirruping of cicadas come dawn, plus the many gems that lay hidden in a remote landscape... it all invites a very special kind of experiential luxury stay. The kind that celebrates nature in all its raw beauty. Skip the city sensory overload; instead, take the road less travelled. You won't have trouble convincing your other half to join you at these incredibly stylish, down-to-earth bush luxury stays.
Southern Ocean Lodge, South Australia
Stunning architecture and thoughtful design ensures not an ounce of wonder is lost on guests at this incredible clifftop lodge on Kangaroo Island; the panoramas roll out over the unique island landscapes and the wild and woolly Southern Ocean waters below.
With many awards to its name, the Southern Ocean Lodge is widely regarded as one of Australia's best – and it certainly won't disappoint. Expect first-tier service, sublime lodgings and no-holds-barred pampering at the Southern Spa, which offers a signature menu of Dreamtime-inspired LI'TYA spa treatments drawing on natural ingredients from the island itself. Think mineral salts, pink clay, eucalyptus and Ligurian honey.
But the lodge is also a stellar pick for the epicurious; it's famous for its exquisitely-prepared foodie pleasures. Guests can even walk into the cellar to hand-pick their own bottle. The only question is: what will impress you more? The food or the views?  
Bamurru Plains, Northern Territory
There are just 10 freestanding safari bungalows at Bamurru Plains. This minimalistic approach serves as a love letter to the landscape: it is low impact and in tune with the surrounding environment, constructed amongst the fringing bush on the edge of the floodplains, allowing pandanus palms and woodland to provide natural cover.
This ethos extends to every element of this wild bush luxury lodge, from the unbleached organic cotton sheets to the eco-friendly detergents and the wonderful fact that the bulk of the power comes from solar energy. Environmental sustainability is at the core of it all, without sacrificing on style.
In terms of location, it doesn't get any better. Bamurru Plains is perched on the edge of Kakadu National Park, with exclusive access to miles of wilderness in the Sampan River, coast and Mary River Floodplain systems – and there are many easy-to-arrange outings to help you get out there and explore it.
With mesh walls on three sides of the bungalows, you'll feel completely immersed in this unmatched wilderness experience – from a front row seat to the colours of sunrise to the call of magpie geese come dawn. You'll also be exposed to the full benefit of 'au natural' air-conditioning.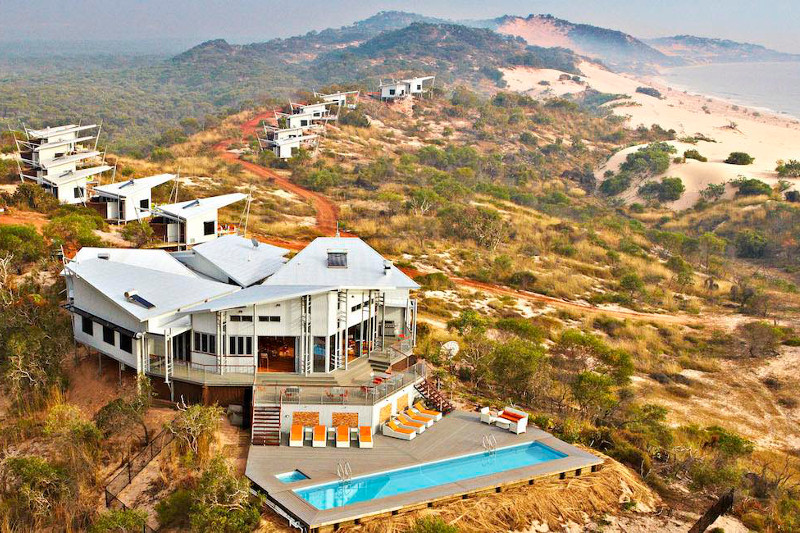 Escape it all and fly in to the uber-luxe Berkeley River Lodge.
Berkeley River Lodge, Western Australia
You know it's real luxury when you have to arrive by plane. That's exactly the kind of introduction you get to Berkeley River Lodge, exclusively nestled among coastal dunes on the Kimberley Coast. Except for the other guests and staff, there's not a soul to be found in sight.
Each of the 20 private villas are stylish, comfortable and air-conditioned, complete with stunning decks to admire the outlook and outdoor bathtubs just for soaking up those starry night skies. Bliss. There's also a 20-metre sky-blue pool which, when seen from above on your arrival, stands in stark contrast to the earthy tones of the landscape. At the restaurant, the focus is on quality ingredients, with degustations every night for dinner and a resident sommelier on hand to pair it with the perfect – Australian – drop.
But it's the resident specialist guides who'll show you the true beauty of this perfectly poised lodge. Experience the best on your doorstep on a river cruise, bush or beach 4WD tour, a guided hike, fishing trip or sea turtle viewing excursion. Wilderness picnics prepared in-house and sunset drinks round-out the list of 'activities' on offer.
Refined and indulgent, this is seriously upmarket.
Emirates One&Only Wolgan Valley, New South Wales
Wolgan Valley Resort & Spa has joined Hayman Island as one of only two Australian properties in the Dubai-owned One & Only portfolio. It's a well-known hideaway for international A-listers – including the likes of Cate Blanchett, Carey Mulligan and Russian royal Nicoletta Romanoff – and was voted the #1 Hotel in Australia in TripAdvisor's Travellers' Choice Awards 2016.
If you're looking for privacy, seclusion and high-end luxury, this is it. Just be sure to arrive ready to switch off and disconnect; there's no mobile phone coverage, but there is a good Wi-Fi connection in the main lodge. It might be weird at first, but you'll quickly discover a newfound sense of freedom.
Located in the Blue Mountains World Heritage Area, the lodge is set on a 7,000 acre conservancy reserve and former livestock run. There's plenty of space to roam on foot, horseback or bike, or else explore on a historical tour or sunset wildlife tour. Discover cascading waterfalls, rock pagodas, winding rivers and sun-kissed peaks.
As you'd expect, the villas are faultless – plus there's a spa and fitness centre, tennis court and pool. The two restaurants also impress, sourcing local organic produce from within a 160 kilometre radius, and the Valley Bar and Terrace makes for the perfect spot to kick back and relax in the midst of calming mountain vistas as the days draw to a close.   
Silky Oaks Lodge, Queensland
Like the sound of a lush, green bush escape? Look no further than Silky Oaks Lodge, which straddles an idyllic lagoon on the edge of north Queensland's stunning Mossman Gorge. It's the ultimate Daintree getaway.
Wake up to a sea of green out the window of your very own luxury treehouse, nested high up in the Rainforest canopy. Feel at one with nature every moment of your stay, from your villa to the elegant Dining Room and Bar and the Healing Waters Spa.
When you're not 'busy' blissing out to the sounds of nature, enjoy the included yoga, guided walks and kayaking, or else go snorkelling in search of turtles and platypus. Alternatively, join a specialised tour, such as fishing, hot air ballooning, bird watching or horse riding.
What's really special about this location though is the strong connection to the traditional owners of the Wet Tropics World Heritage Area, the Kuku Yalanji People. Head out on a Dreamtime Walk with the Yalanji People for an insider's glimpse at how they've lived in harmony with their environment for generations. 
This is a truly unique and utterly peaceful experience far, far away from the hum-drum of everyday existence.
Feature Image: Southern Ocean Lodge
Other Travel Articles You Might Like...
Talk to a First & Business Class Expert