17 April 2015
Words by Ben Stower
There are so many ways to travel the world these days, yet the three main forms have never changed: plane, train and cruise. Deciding on which mode of transport is your first step. Finding the most luxurious option available is your second.
The former is sure to be a tricky one at first, but it all comes down to where, when and how you want to travel. The latter stage can take hours of internet research. Fortunately, we've put in the hours for you and found the most luxurious options available for plane, train and cruise travel.
Plane: The Residence - Etihad Airways
The Residence on Etihad Airways' A380 is larger than some one-bedroom apartments. Designed for up to two passengers travelling together, The Residence has three rooms for you to 'live in' during the duration of your flight.
Your experience begins right when you leave home, with a VIP concierge drop-off at the airport via a private entrance. The first room you enter is the living room, which has a double-seat sofa and a 32-inch television. This also doubles as your dining room and the food served is not your typical plane variety. Gourmet food is cooked by your own personal chef and you can even ask for a dishes a la carte.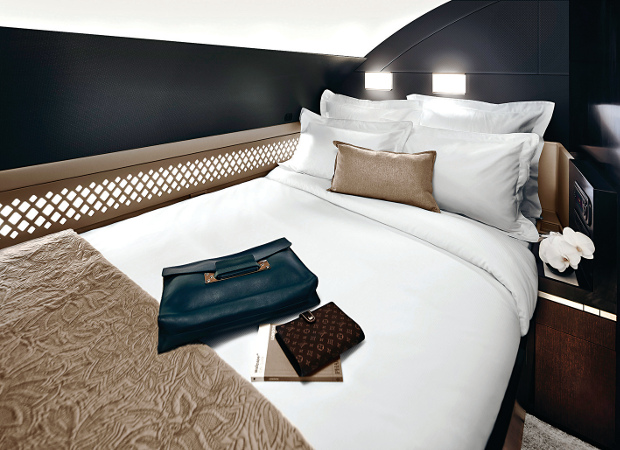 The bedroom alone would be enough to keep the world's richest satisfied. The double bed is layered in Egyptian cotton sheets and you can select from a range of pillows, ensuring the best sleep you'll ever have on a flight. The bedroom also has its own in-flight entertainment and at one point you'll wake up to a sumptuous breakfast in bed.
Finally, there's the en suite bathroom complete with shower and enough amenities to have you looking fresh upon disembarking. There are also minor additional touches that go a long way to making this the most luxurious flying experience in the world. A personal, Savoy-trained butler and signature cognac service are just two that constantly remind you of The Residence's exclusivity. Not that you need it.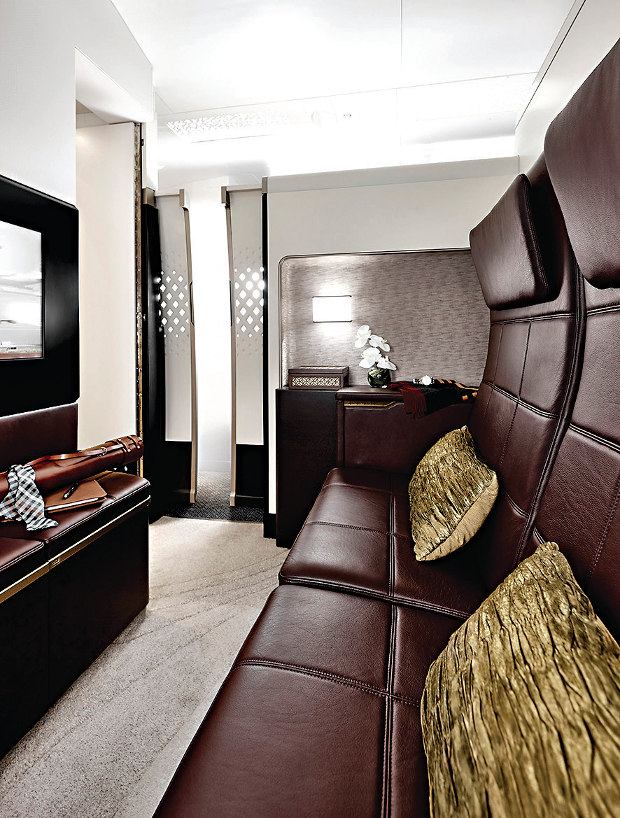 The Residence is only available on Etihad's new A380, which currently flies from Abu Dhabi to London and will commence flying from Sydney to Abu Dhabi in the near future.
Honourable Mentions
The Singapore Suite - Singapore Airlines
Spacious and comfortable leather armchairs, with the option of booking a double bed. You're also given pyjamas to sleep in and served gourmet meals.
First Class Private Suite - Emirates
Personal mini-bar, private cinema and fully-flat bed ensure a memorable flying experience. The onboard shower spa and exclusive bar area for other first-class flyers are the cherries on top.
Train: Presidential Suite - The Maharajas Express
With 42 square metres of space, the Maharajas Express' Presidential Suite is easily the largest train cabin in the world, encompassing an entire carriage. It's designed to accommodate up to four guests in two bedrooms; one double and one twin.
Upon entering the suite it doesn't take long to realise why the Maharajas Express has won multiple World's Leading Luxury Train prizes at the World Travel Awards. You feel like a royal VIP thanks to the personal butler service, mini-bar and complimentary snacks and drinks.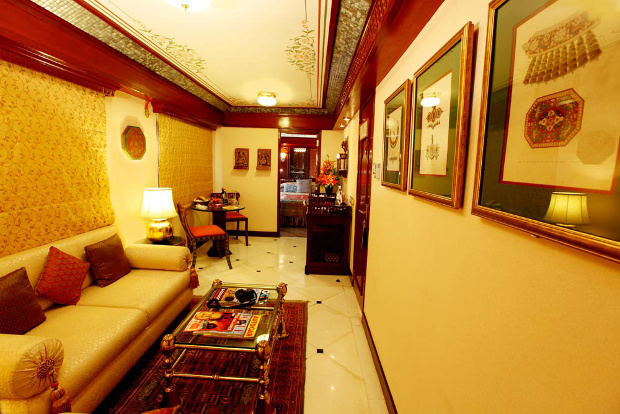 The Presidential Suite also features a separate living cum dining room, which has all the creature comforts including air-conditioning, Wi-Fi, writing table and television with DVD player. You can choose to dine in your cabin or eat at the two exclusive restaurants where they serve quality Indian cuisine and an assortment of drinks.
Then there's the bathroom. Designed for relaxation, it includes a shower and bathtub along with a range of toiletries. Don't forget to make use of the bathrobe and slippers. The suite is referred to as 'a moving palace'. A more appropriate moniker would be hard to find.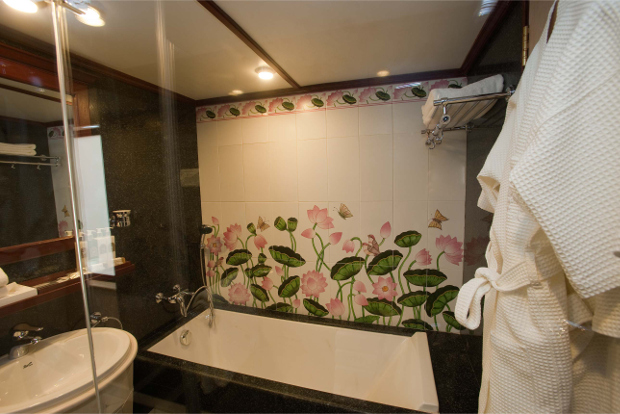 The Maharajas Express has five journeys covering multiple areas in India. Trips range from four to eight nights.
Honourable Mentions
Deluxe Suite - The Seven Stars
With emphasis on space, the Seven Stars' Deluxe Suite features wide windows and uninterrupted views of the passing countryside. Each suite comes with a bathroom, private butlers and elegant furnishings that speak on Japanese culture.
Deluxe Suite - El Transcantabrico
The Deluxe Suite aboard Spain's El Transcantabrico comes with a separate bedroom, living room and bathroom. Modern amenities are coupled with delicate wood finishes that create a warm atmosphere. Access to a private car and dining lounge with live music completes your experience.
Cruise: Grand Duplex - Queen Mary 2
Cunard's Queen Mary 2 has been one of the leading lines in luxury cruising for many years. Its status is greatly bolstered by the Grand Duplex stateroom, which at a touch under 210 square metres is one of the largest on the water. 
However, size is more of an afterthought when it comes to this two-storey suite; a necessity to ensure guests have a refreshing amount of space inside and outside on the private terrace. The emphasis is more on little luxuries that linger in the memories of guests long after they've disembarked.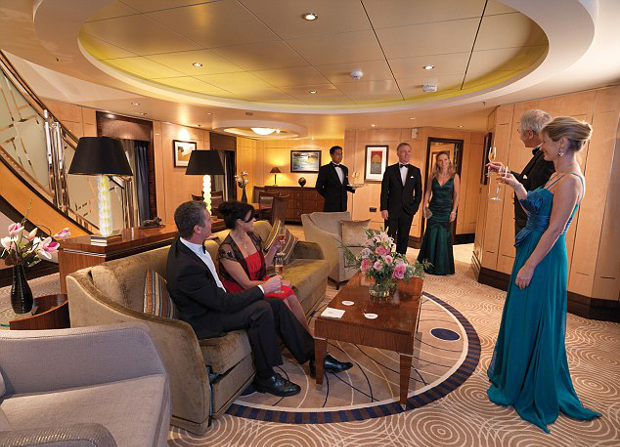 The service begins as soon as you board, courtesy of a personal welcome by your butler who is on-hand throughout the entire voyage. On the first level is a lavishly-furnished lounge area featuring sofas, an entertainment system, fully-stocked bar, study area and enough space for eight people to dine.
Soft curtains lead out to a large deck area with comfortable seating and uninterrupted ocean views. Walk up the sweeping staircase to the second level to find the bedroom with king-sized bed and personal fitness equipment. Either side of the bed sits one half of the his-n-hers marble bathroom set. Both come with a whirlpool bath and shower.
Luxuries exist outside of the stateroom as well. Guests are granted exclusive access to Queens Grill areas including a dining room, lounge and sun deck.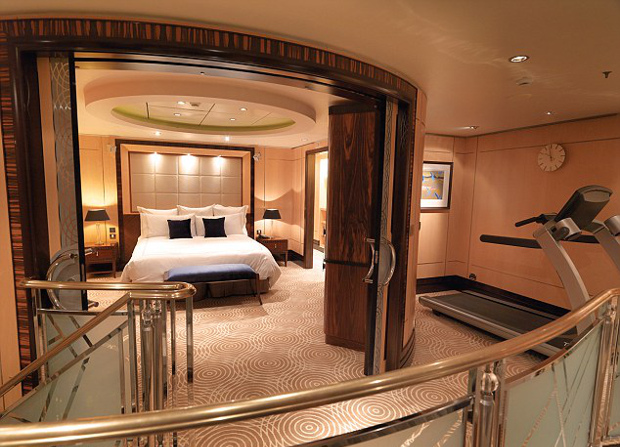 The Queen Mary 2 disembarks from Sydney and Brisbane on cruises to Hong Kong, Dubai, Singapore and Southampton.
Honourable Mentions
Reflection Suite - Celebrity Reflection
A close second behind Queen Mary 2's Grand Duplex, the Reflection Suite has two bedrooms, living and dining areas and wrap-around balcony with spa bath. However, its piece de resistance is easily the all-glass shower that is cantilevered  over the side of the ship to provide outstanding views.
Royal Loft Suite - Oasis of the Seas & Allure of the Seas
Spread across two levels, the Royal Loft Suite is a glamorous residence with a wall of windows, open master bedroom and a baby grand piano for entertaining. The adjoining balcony features its own dining area and a whirlpool spa. 
Other Travel Articles You Might Like...