23 December 2015
Words by Helen Coffey
Haute cuisine doesn't come much higher than at iceQ, the SPECTRE restaurant located at the summit of the 3,048m Gaislachkogl in the Austrian resort of Sölden,
Why go? The location alone, and the accompanying views that come with feasting atop a 3,048m peak, are enough to recommend it. Add in iceQ's head-turning all-glass, cuboid design, its beautifully presented, innovative dishes and its recent brush with celebrity – the restaurant was used as a key filming location for recent James Bond outing SPECTRE – and it promises an unparalleled dining experience.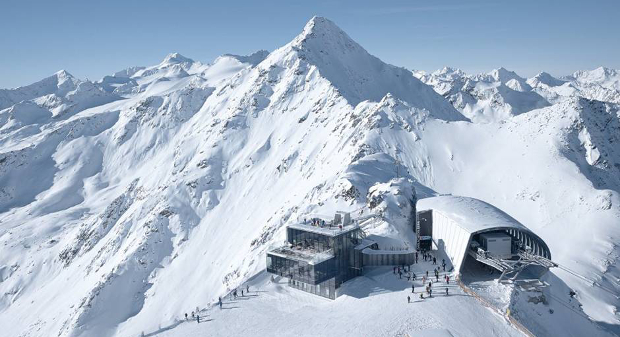 The experience
If you're a seasoned skier, dining at altitude amid towering, snow-capped peaks is nothing new. Dining at altitude amid towering, snow-capped peaks while sitting in a glass box, now – that is different.
IceQ is a fairly recent development in Sölden. It first opened at the start of the 2013/14 season, and is an integral part of the resort's determined attempt to claw its way up the class ladder and become a more refined winter destination. Traditionally associated with down and dirty Austrian après (the main street is still littered with lap dancing clubs), Sölden is slowly evolving thanks, in large part, to this gourmet eatery in the sky, which was €4.5 million and six months in the making.
The first impression is eye-wateringly stunning in more ways than one. From the Gaislachkogl cable car, visitors catch their first glimpse of iceQ – a sleek, modern  Johann Obermoser-designed box jutting out of the mountain, its all-glass exterior sparkling ferociously under the weak winter sun. It doesn't quite fit – but it looks attractive all the same.
Also part of the restaurant is an outdoor suspension bridge across to the Gaislachkogl peak. Not for the faint-hearted, it offers the vertigo-inducing feeling that nothing is standing between you and the mountains on the horizon (or you and the ground, thousands of metres below). Perhaps best left till after lunch – or diners risk losing their appetite.
Inside, guests feel on safer ground, but there's no compromise on the unfettered, arresting views. IceQ's design, protruding from the peak as it does, combined with wall-to-wall windows, means the real show here is the scenery. The food can only ever hope to play second fiddle.
Still, head chef Patrick Schnedl's dishes themselves are much better than they need to be, considering the restaurant's primary selling point lies in its visual charms. My starter of trout tartar with spiced cream was light, fresh, and packed with taste. A main course of beef fillet encrusted with marrow was less exciting but succulent. Desserts ranged from the traditional to the nouveau, with the latter often being unnecessarily presented in spheres of varying sizes.
The experience is pleasurable enough as it is, but for those for whom the siren call of celebrity is a powerful aphrodisiac, iceQ now has an additional attraction. Scenes from the latest Bond film, SPECTRE, were filmed here last season – in fact, Sölden's ski area was a major backdrop. And boy, don't they know it. The resort and iceQ are heavily plugging their brush with 007 – and who can blame them? It's marketing gold.
But unless you're the hardest of hardcore Bond groupies, the real appeal of this eatery in the clouds lies elsewhere: in the quirky cuisine and the unsurpassable Alpine vista.
What to order
For dessert, the Topfenmoussekugeln is a strange and marvellous thing – dumplings of curd cheese mousse are accompanied by huckleberries and dainty orbs of jellied maple syrup. And not to be missed amid the extensive wine list is PINO 3000, a full-bodied three-country red commissioned by the owners of iceQ which is designed to taste its best at altitude.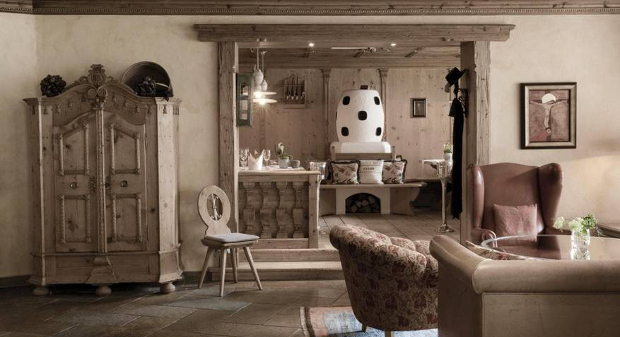 Where to stay
The five-star Das Central is currently unrivalled as Sölden's only true luxury option. Emphasis is put on fine dining and Austrian hospitality – and while an undeniably upmarket establishment, it has managed to imbue a sense of home-from-home comfort thanks to traditional Tirolean furnishings and warm, helpful staff. An extensive spa, complete with pool plus 10 types of sauna spread over three floors, is a welcome addition after a day on the slopes. (Just ignore the slightly gauche Little Venice theme running throughout.)
What else to do
While pedestrians can easily access iceQ via the Gaislachkogl cable car, a main attraction of heading to Sölden is undoubtedly the chance to ski its 145km of impeccably groomed pistes. With high slopes and two extensive glacier areas, the resort offers a long season from November to mid-April (with lifts up to the glaciers remaining open for much of the year). However, there are plenty of other activities for those that abhor downhill, from exploring the 12km of cross-country trails and 50km of winter hiking trails, to visiting Aqua Dome, an outdoor thermal spa with spectacular views of the surrounding Ötztal mountains, in nearby Längenfeld.
Getting there
Rooms at Das Central cost from €181 ($274 AUD) per person, per night, B&B, based on two sharing. British Airways flies direct from London Gatwick to Innsbruck, from £134 ($188 AUD) return, business class. A three-course set-lunch menu  at iceQ costs €52 ($79 AUD); six-course "Summit Dinners" cost €118 ($179 AUD).
This article was written by Helen Coffey from The Daily Telegraph and was legally licensed through the NewsCred publisher network.
Other Travel Articles You Might Like...