European Luxury Meets Middle Eastern Tradition At the Ritz Carlton Abu Dhabi
6 October 2017
With European Earlybird specials currently in market, a mid-year summer stint is suddenly looking very appealing.  And with capital of the United Arab Emirates a frequent mid-point on the long haul flights from Australia, why not consider extending your layover a little? Enter: the mini Abu Dhabi vacay.  Enjoy two holidays for the airfare of one, opportunity to immerse yourself in a very unique culture and world-class accommodation to choose from, such as the Ritz-Carlton Abu Dhabi.
The Ritz-Carlton, Abu Dhabi
They say that luxury is in the detail, which couldn't be more accurate when one is faced with the distinguished Ritz-Carlton Abu Dhabi. To put it simply, it is an oasis of extravagant splendour. Yet to say it is just another lavish hotel would a be an understatement of gargantuan proportions, this is no cookie-cutter five-star property. 
This celebrated Ritz-Carlton is set in a grand Venetian-style building on its own private beach, offering sweeping views over the property and its waterfront.  Accommodations are surrounded by sprawling landscaped gardens and European-style architecture dotted with quaint trickling fountains, ornate decor and even a jogging track. 
Rooms and Suites
Accommodations range from several types of luxurious private villas (complete with butler service), to spacious suites and chic guest rooms. Certainly something for every traveller no matter how long the stopover is. All rooms enjoy open outdoor spaces with magnificent views over the private beach, manicured gardens or the Grand Mosque, while the interiors feature lavish European-style aesthetics. Rain showers and soaker tubs are the norm, plush Queen or King beds provide cloud-like comfort and most rooms offer easy access to curated gardens and jogging track.. if you're brave enough to face the furnace outside. 
Amenities
The attention to detail across the property's grounds and amenities is truely a lavish fusion of Middle Eastern tradition and old world European style.  Guests will not have a dull moment when residing at the grand Carlton-Ritz, with a range of amenitites on offer.  Here are a few to whet your appetitie:
Eight unique restaurants offering a myriad of culinary experiences, from fine dining to casual cafe chic. Savor flavourful flair from modern Asian to traditional Middle Eastern, and global inspired fusions in between.
A sprawling 1,600 square-metre outdoor pool where guests can frolic till their hearts are content.
ESPA - a sanctuary.  A luscious, beachfront day spa where decor has been influenced by local Bedouin tradition and relaxation areas include a plunge pool with waterfall.  Signature therapies offer a modern-day Hammam experience and are carried out across 16 luxuriously appointed rooms. 
Exclusive Club Lounge, situated on a top floor providing panoramic views of Al Maqta creek
A wedding specialist, ready to bring your most romantic dreams to life, assisting with every stage of your special day, celebration or honeymoon.
2,812 square-metres of business space that can successfully host conferences, product launches, investor meetings and the like.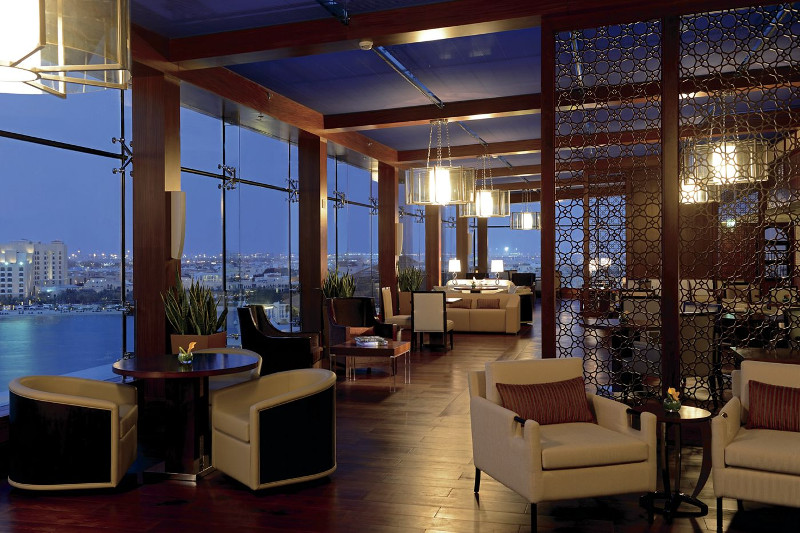 Luxury is in the detail, each and every one of them.
What to do?
As the oven-like temperatures in Abu Dhabi don't exactly lend themselves to much walking, guests will likely find themselves in very affordable taxis most of the time.  If a dry desert stroll does take your fancy though, the notable Sheikh Zayed Grand Mosque is only about two kilometres away.  This striking architectural marvel with its white marble can be admired from the hotel entrance, rising up in the middle of the desert.  Considered to be the United Arab Emirates key worship site, it has capacity to host 40,000 worshippers.  It is an absolute must do for visitors, shining light on the traditions and culture that underpins the UAE.  It also boasts a stunning 24-carat gold gilded chandelier and weighing in at 12 tonnes, is one of the largest in the world.
For more itinerary fillers, check out these seven Abu Dhabi must do activities and enjoy the ultimate Abu Dhabi stopover, in style. 
Images courtesy of Ritz-Carlton Abu Dhabi & Instagram 
Other Travel Articles You Might Like...