19 March 2015
Words by Carlie Tucker
If you like nothing more than indulging your every whim as you rest and relax without a care in the world, read on.
Spa holidays are the ultimate in indulgence, especially when you're gracing the massage tables of some of the best in the world. From incredible locations and personalised treatments to exotic ingredients and ancient techniques, these spas are known to go above and beyond in the quest to provide you with the ultimate relaxation getaway.  
Spa Anjali – Colorado 

Image courtesy of Westin Riverfront 
Not your standard hotel spa, the Spa Anjali sits in the Westin Riverfront in the heart of beautiful Vail Valley.  From massages to facials, a full list of treatments is available with a Spa Concierge ready and waiting to help you tailor an experience to your exact specifications.
Unique services such as the Red Clover and Mountain Honey Body Mask will leave your skin soft and supple, but it is the signature Spa Journeys that really set Spa Anjali apart. Inspired by the Rocky, Aplen and Himalayan mountains, these journeys are designed to delight all the senses with a mix of indigenous ingredients and traditional treatments.
Sense, A Rosewood Spa – Mexico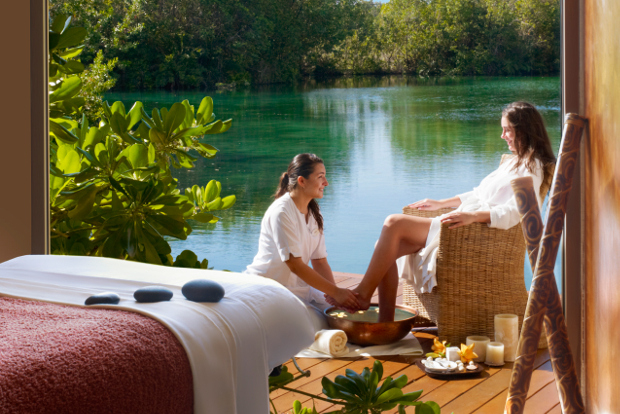 When it comes to serenity, there are few places in the world that can surpass that of Sense. Part of the decadent Rosewood Mayakoba Resort, this spa is actually secluded on its own private island. Accessed via the Puente del Balneario foot bridge, it is an 'escape from your escape' that allows you to truly relax in the seclusion of beautiful jungle surrounds.
Treatments are inspired by ancient Mayan traditions and integrate local ingredients. Indulge in sense journeys, massage therapy or one of the signature body sense treatments that are personalised to suit your specific needs. This includes the Chaya-Mojito Mayakoba Body treatment and Agave Azul Hydrating Experience. Therapeutic plunge pools, steam grottos, saunas and experiential showers offer further opportunity for relaxation. 
Deep Ocean – Bora Bora

Image courtesy of InterContinental Bora Bora Resort & Thalasso Spa
Bora Bora is known for its tranquil luxury resorts with seemingly endless views over turquoise ocean waters – an island paradise that insists guests disconnect and rejuvenate. Deep Ocean spa at InterContinental Bora Bora Resort is no exception. Treatment rooms are stationed in overwater bungalows, allowing you to relax as you watch the vibrant marine life swimming below.
Along with an extensive list of services, Deep Ocean is the only spa in the world to integrate deep Pacific Ocean water into its treatments. Known for being exceptionally pure and full of minerals and trace elements, this water offers a unique twist to such signature treatments as the Deep Sea Hydromassage Bath and "Algospa" Body Scrub and Wrap. 
Dhara Dhevi Chiang Mai Spa – Thailand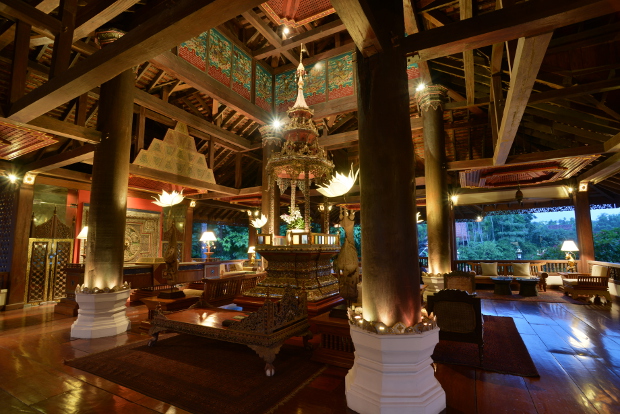 Palatial decadence defines the Dhara Devi Chiang Mai Spa in Thailand. Set in a stunning sanctuary with ornate carvings and symbolic Buddhist motifs, it was created by 150 Chiang Mai artisans over the course of three years. Amidst this glorious architectural beauty, 25 treatment rooms and suites provide a relaxing and private space in which to primp and pamper to your heart's content.
The long list of available treatments certainly matches the undoubtedly impressive facilities. With a variety of European, Asian and North African relaxation therapies, the ways in which you can find your Zen seem endless. Align your chakras with Energy Field Imaging before a three-hour, 20-minute signature Lanna Ceremony that combines a fragrant steam bath, wild forest honey scrub, Thai herbal compress and oil body massage.
Royal Mansour Marrakech Spa – Marrakech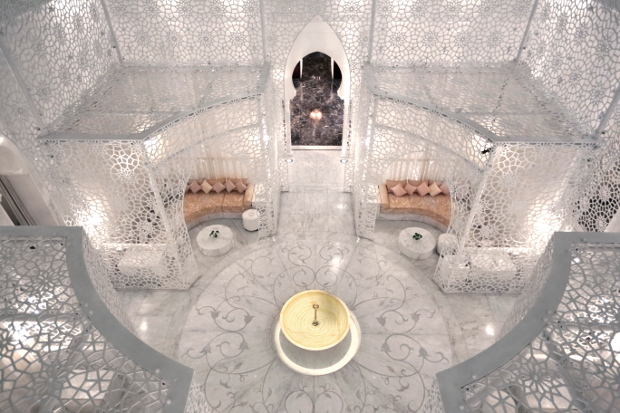 A hotel and spa so opulent it was commissioned by King Mohammed VI himself. Everything about this spa drips in elegance. From the intricate white lattice interiors to the elaborate system of tunnels the staff uses to navigate the hotel and spa, this is a sublime exercise in what it really means to relax.
Treatments are grounded in ancient traditions with an indulgently-appointed Hammam suite, hydrotherapy pool, swimming pool and individual relaxation pods. You will be treated to a day of bespoke luxury personalised to your every need. If you're lucky enough to visit during one of the 'Wellness Weeks', experience packages are available including invigorating, purifying or regenerating therapies conceived by global wellbeing experts.
MAIA Resort & Spa – Seychelles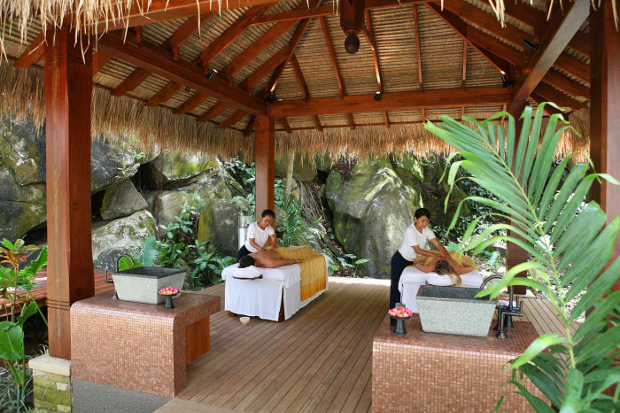 Finding your balance is easily done at the MAIA Spa. Making the most of its stunning location, it offers a full menu of relaxation therapies and just three open air treatment pavilions. Completely private and separated by natural rock formations, you can relax to the soothing sounds of natural waterfalls, soft bird songs and gentle breezes through the surrounding tropical plants.
Choose from an enticing array of massages, wraps, toners, exfoliations, herbal baths and aromatherapy. Or,  why not treat yourself with a Gold Body Treatment, offering 90 minutes of bliss in which you will be exfoliated with Omorovicza golden sugar scrub and massaged with a fragrant oil enriched with gold particles?
The Dolder Grand Spa – Zurich

Image courtesy of The Doldger Grand
Described as an "oasis of relaxation and recuperation for body and mind", the Dolder Grand Spa emphasises tranquillity with refined sophistication and a guaranteed exclusive spa experience. The Dolder Grand Spa menu is composed of four key elements – Detox, Beauty, Vitality and Relax – to create 'Life Balance' for all who grace its elegant treatment rooms.
Let your troubles melt away with a massage, meditation session or body ritual. Alternatively, an exclusive collection of unique treatments known as The Dolder Collection can rejuvenate the senses. This includes Hydraheaven by Kerstin Florian, Bamboo Shiatsu or a relaxing Meditation Walk. 
Other Travel Articles You Might Like...