25 November 2016
With the summer well and truly here, it may just be time to start thinking about where your next holiday escape will take you. International destinations may be topping your list, but the wealth of fun in the sun on offer in New South Wales may just make you want to set your sights closer to home ...
Tastes and Tipples
Cooking classes
If your travel style favours anything to do with food, New South Wales dishes up a generous portion of foodie fun. Along with the world class dining to be found in the city, there's an abundance of cooking classes available for something a little more unique. Get to Coffs Coast to learn to make your own cheese at Emerald Beach's Cheese Making Workshop, or check out the chef demonstrations and artisan workshops in Wagga Wagga.    
Wineries
Wine lovers have probably heard of the Hunter Valley and it's abundance of cellar doors, but did you know that New South Wales is home to no less than 14 wine regions? By all means, sample the Semillons of the Hunter, but don't look past the Reisling and shiraz of the Canberra District or the Verdelho of Hastings River. There's also the New England, Cowra, Mudgee, Orange, Southern Highlands, Tumbarumba, Hilltops, Shoalhaven, Riverina and Murray wine regions to choose from. 
Best of both worlds
When planning a gourmet escape, choosing between food and wine can seem impossible, so why not combine them with one or two of the food and wine trails traversing New South Wales? The beautiful, verdant landscapes are just icing on the cake!  A great place to start is the Hunter Valley where the Around Hermitage Food and Wine Trail stops off at award-winning wineries and some of the finest restaurants in the Valley. Accommodation is also available, should you want to make a night of it.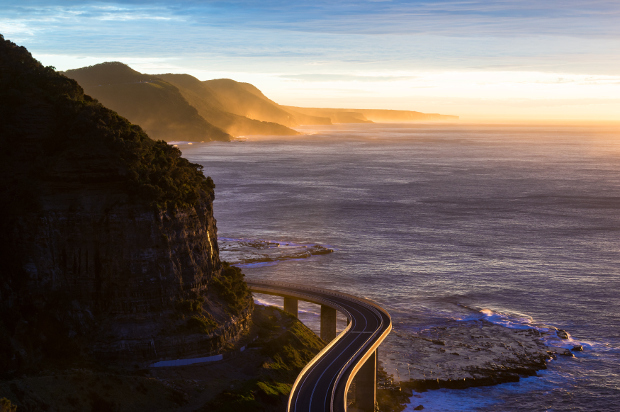 The Open Road
Coastal cruises
There's nothing like feeling the wind in your hair when your behind the wheel on a self-drive adventure, and New South Wales offers plenty of opportunity to hit the open road with itineraries to suit any schedule. If you prefer an ocean backdrop to your road trip, The Grand Pacific Drive does a loop from Sydney, hitting Royal National Park, Wollongong and Kiama to name a few over the course of two days. The Sydney Melbourne Coastal Drive is another option, offering panoramic ocean vistas as you skirt along the coast over the course of three days.
Rustic rambles
If you're looking for something a little different for your next driving holiday, head inland in New South Wales for road trip itineraries that take in everything from undulating planes to cascading falls over jagged mountains. In fact, Waterfall Way takes in some of the best cascades in Dorrigo National Park as you embark on a scenic drive from Coffs Harbour to the tablelands of the New England Region. For even more mountains majesty, the Kosciuszko Alpine Way snakes through beautiful mountain valleys, Thredbo village and Dead Horse Gap to Khancoban.
Beautiful Beaches
North
The northern reaches of New South Wales is no stranger to beautiful beaches. In fact, plenty of the world's best surfers swear by the surf breaks in this region. Even better, the soft white sands are less crowded, inviting travellers to swim, snorkel or surf the blue waters. Airforce Beach is one of the most popular northern beaches, offering patrolled areas through the summer period. The Angourie Headland is another top spot to swim, followed by a picnic at the Angourie Bay Picnic Area.
Central
Beach bums will find plenty of sand to satiate their need for fun and sun along the central coast. There are also a number of accredited surf schools should you wish to try your hand at riding the waves. Terrigal is a popular spot for surfers, or check out Avoca Beach for a relaxed vibe and two-kilometres of sand great for fishing, surfing, boating and kayaking. The central coast is also home to the famed Entrance Ocean Baths, a 50 metre pool along the shoreline.  
South
Fantastic beaches abound through the south, with two of the most famous surfing beaches a mere two hours from Sydney. Known as The Farm and Mystics, they are both recognised National Surfing Reserves. If your surfing skills aren't quite up to scratch, Jervis Bay and Shoalhaven are great for stand up paddleboarding, swimming, fishing or simply walking along the water's edge. Wollongong and the surrounding area also offer fabulous beaches along with some incredible adventure activities. Sky diving anyone?  
Other Travel Articles You Might Like...
Talk to a First & Business Class Expert