2 November 2016
Words by Carlie Tucker
For those of you that are up on your Scottish trivia, it may come as no surprise that Glasgow is recognised as the second largest retail centre in the UK, coming in just behind London. It's also considered to be the best experience for shoppers outside of London's West End. It's no wonder, with several key precincts and more than 1,500 shops to choose from, spanning a range of unique boutiques and luxury brand retailers.
For holidaymakers that live to shop and travel to buy, it's an absolute dream.  Even if you don't count yourself as much of a shopper, here are a few top spots that are certainly worth a browse next time you're in Glasgow:

Image courtesy of merchantsquareglasgow.com
Merchant City
Between Candleriggs and Albion Street, near Ingram Street
Once a buzzing hub for Glasgow's tobacco and cotton dealers, this precinct has transformed into a thriving cultural and shopping centre. Made up of a series of small streets and lanes, it's home to a number of smaller boutiques, galleries and workshops selling unique collectables and artworks. Though, you'll also find larger icons such as the renowned Mr Ben thrift store. It is also home to Merchant Square, which comes alive on the weekends for the craft fair. Running every Saturday (11am to 6pm) and Sunday (12 to 6pm), there are 70 different stalls displaying work from "some of the finest artisans in Glasgow".  
Argyll Arcade
Just off Buchanan Street
Speaking of gems and jewels, the Argyll Arcade is the place to go if you're after a sparkling memento of your trip to Glasgow. It happens to be Scotland's largest collection of jewellers and diamond retailers in a single location. There are more than 30 jewellery shops to choose from. Even if you're not in the market for a new ring, necklace, watch or earrings, the Argyll Arcade is still worth a stop. It's one of Europe's oldest covered shopping arcades and Scotland's first indoor shopping mall. It was built in 1827 in a Parisian style with a striking glass roof and ornate 'hammer-beam' trusses.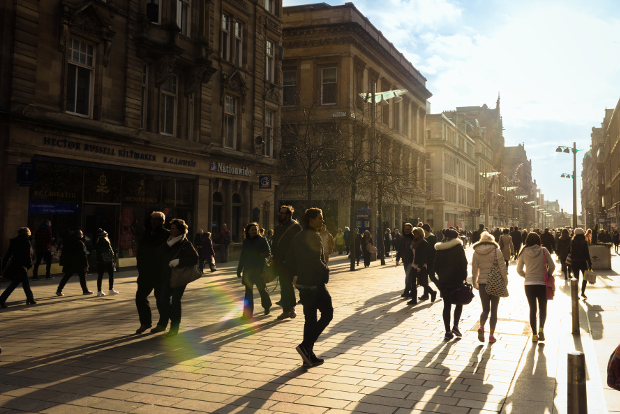 Buchanan Quarter
From Sauchiehall Street to St Enoch Square
This pedestrian-only boulevard boasts some of the city's most beautiful architectural gems, which also happen to house some of the city's best shops. This includes Princes Square (see below). It's all about the designer duds here with well-known brands such as Russell & Bromley, Dune and Office representing footwear, while Frasers (a House of Fraser store) offers Scotland's largest beauty hall. Be dazzled by the galleried atrium when you're not browsing luxury boutiques such as Hermes, Gucci, Pradi and Mui Mui. A short wanter through the rest of the quarter will also reveal such stand-alone stores as Urban Outfitters, American Apparel and Diesel to name a few.  
Ingram Street
From Royal Exchange Square to Merchant City
Fashionistas hoping to update their wardrobe with the latest trends should head straight for Ingram Street. Many consider it to be the most exclusive fashion street in Glasgow. Comprised of a row of blonde sandstone buildings (along with other architectural beauties), these storefronts read like a who's who in the British and international fashion industry. Both luxury and niche brands are well represented, with shops such as Replay, GANT, Pretty Green, Ralph Lauren and Emporio Armani. Scattered amongst all of the fashion, you'll also find shops such as Bang & Olufsen, Bose and Harvey Jones showcasing the finest in home and kitchenware.

Image courtesy of urbanrealm.com
The West End
Near the University of Glasgow
For a more youthful and hipster vibe, you can't look past the West End. Amidst the moody sandstone villas and tree-lined streets, you'll find plenty of shops to give the ol' credit card a good workout. It's all about vintage in the West End, with plenty of quirky spots offering up style outside of the box. This includes popular shops such as Vintage Curu, Starry Starry Night and Retro. If vintage isn't your thing, there's still plenty to choose from,  with plenty of shops dedicated to clothing, furtniture, housewares, fabrics, jewellery and shoes.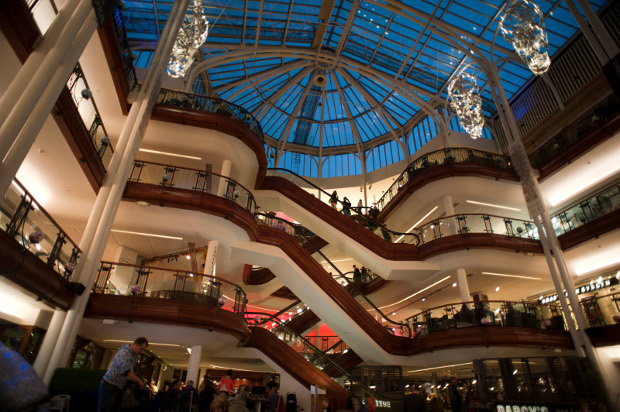 Princes Square
At the centre of Buchanan Street
Dubbed one of Scotland's leading specialty shopping centres, the beautiful Princes Square is home to a satisfyingly diverse mix of shops. This includes fine purveyors of beauty, fashion, jewellery, gifts and lifestyle products. For those that love a little pampering, this is your spot. Choose from a new hairstyle at a world-leading salon, relax with a manicure at Manhattan Nails or try both! Browse High Street favourites such as French Connection, Reiss and Ollybear, or window shop the sparkling gems at Argento, Dower & Hall and Links London.   
Other Travel Articles You Might Like...