Great Expectations: Qantas Business Class And Premium Economy Overview
28 August 2015
Words by Tara Young
Qantas are currently offering a great sale for Premium and Business Class fares – so here's what to expect for this investment in your next long haul flight.
For those opting for the Premium Economy deal, this cabin class adds a whole lot of extra comfort to those international flights, without the Business or First Class price tag.
Airlines are recognising this with many fitting out cabins in the middle of the plane for regular fliers who are looking for more legroom to stretch out. The upside is that Premium Economy includes more than just a little extra space to spread out.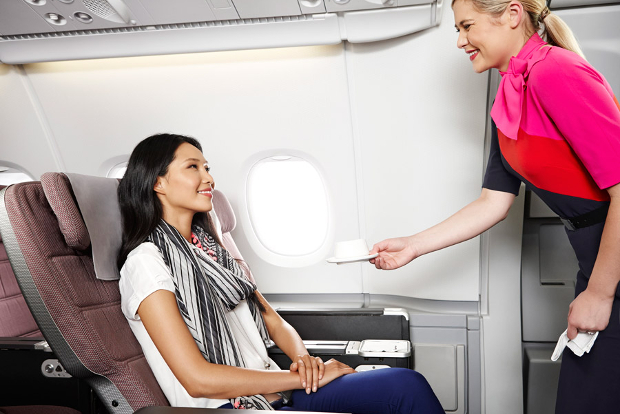 Premium Economy
Qantas is ahead of the pack and have paid considerable attention to what is included in their special service for Qantas Premium Economy fliers. The Qantas Premium experience begins with complimentary sparkling wine upon boarding the plane. The premium quality food and wine continues when meals from a Rockpool inspired menu are served up on Marc Newson designed tableware. This is accompanied by a list of premium Australian wines.
The seat with the extra legroom is also designed by Marc Newson and features an adjustable headrest, footrest, extra width, 10.6 inch touch screen and power outlets with USB connectivity. Passengers also receive amenity kits, large cotton pillows, blankets and noise cancelling headphones. The extra seat width and legroom are the big winners, as they enable much more flexibility to stretch out to get some sleep on those long sectors.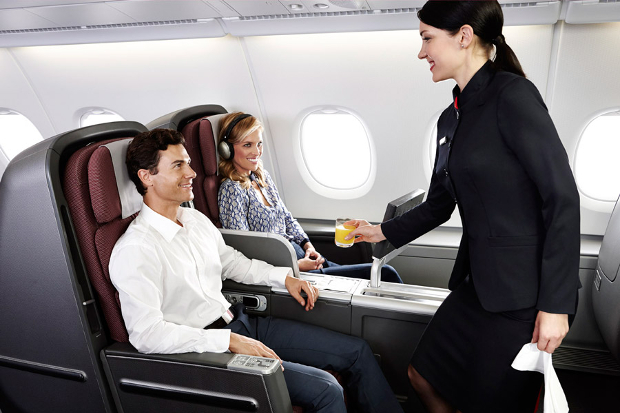 Qantas Business Class
For the Qantas Business Class Experience, this starts from the moment you leave your front door with Chauffeur Drive, a complimentary transfer service from your home or office to the airport for Business customers on eligible international Qantas flights.
You also have a dedicated Business Check-in which is available up to 90 minutes prior to your flight. Another option available to Business Class fliers is the ability to check-in online 24 hours before your flight and select your own seat.
Once checked-in, at the airport, you can board your aircraft with the Qantas Express Path Immigration and dedicated premium boarding lane.
Business Class also affords access to the International Lounges, which have complimentary snacks and drinks throughout the day, fully-equipped workstations and internet access. The lounges also have spacious showers, all fully stocked with bathroom amenities to ensure that you can freshen up before your flight.
A new level of specially designed seating and in-flight sleeping is available with Qantas's award-winning Skybed. The Skybed, with its private hood and storage facilities and  new mattress, duvet and turndown service, are all part of Qantas's efforts to maximise your comfort and help you get that much needed shut-eye on your flight.
Peter Morrissey designed pyjamas are also available on selected flights, plus luxury Malin+Goetz hand wash and cleanser feature in the Business bathroom.
Once onboard, Business travellers have access to Rockpool inspired small and main plates. You can also consult with the Qantas Sommeliers in the Sky, to find out about the selection of award-winning wines and champagnes to match your meal.
The amenity kits include an exclusive range of products to help customers relax and keep skin hydrated while in flight.
The Qantas A380 Business fliers, can catch up with travel companions in a separate, furnished Business Lounge. There is a 58cm LCD screen and refreshments that provide an ideal location for a planned or unplanned meeting.
Upon arrival, you will be among the first to leave the aircraft and your bags among the first to be ready for collection. Further, the Chauffeur Drive service is ready to drive to your hotel, office or home.
For the Business Class flier, Qantas has put considerable thought into the "Business" part of Business Class flying. It has kept a keen eye on the needs of travellers, so it can make sure they arrive at their destination as refreshed as possible. So if you are flying Business Class, you can expect to be able to literally hit the ground running at your destination and get your business done.
Other Travel Articles You Might Like...