17 July 2015
Words by John O'Ceallaigh
It was after our waiters had removed the four domed silver cloches – just as I was about to begin my wild Cornish sea bass with ratte potato purée and girolles – that the music suddenly started. From my perch in the dining room, I could just about make out the silhouette of a besuited pianist playing for us at a white grand piano in the drawing room next door.
This musical accompaniment served as quite a welcome to the six-bedroom Sterling Suite at the Langham hotel in London . Last weekend, three of my friends and I became the first guests to check in to what is now the largest hotel suite in the capital – and a throwaway comment earlier that day about the elegant Yamaha in the corner had been noted by our butler, Fadi Samhoun. Unbeknown to us, a private dinnertime concert was arranged for that evening.

Sterling Suite Master Bedroom (Image: Andrew Crowley)
We were impressed, but then this suite – under construction for the past year and colossal in every sense at 4,844 square feet and £24,000 ($50,600 AUD) per night – has been built to accommodate easily and seamlessly the last-minute whims and unique idiosyncrasies of the world's richest.
A media room, abundant with gadgetry, is set to be a focal point for their parties; the drawing room, with board games and a carefully chosen – "curated" is the industry term – stockpile of coffee-table books, caters to more genteel gatherings. Trimmed in gold leaf, the furniture is custom-made; the chandeliers are Murano glass; and, in the master bedroom, hand-painted birds and butterflies flutter by the blossoms and vines that are etched into the softly shimmering silver-leaf walls.
It's a beautiful space, but what sets the Sterling Suite apart is the service. Usually out of sight but never far from hand, Fadi discreetly fussed over us during our stay. Drinks were replenished instantly, reservations secured promptly and other needs met before we even realised we had them.
He offers, in fact, perhaps the most assured and amenable service I have received in any luxury property from the Maldives to Hong Kong. With stays here costing £1,000 ($2,110 AUD) per hour that is as it should be, but among the demanding clientele the Sterling is aimed at, it's a point of distinction that will pay rich dividends.
The space has been launched as the successor to the Langham's long-established, two-bedroom Infinity Suite. It costs from £16,200 ($34,156 AUD) per night and is frequently booked out, but hotel manager Duncan Palmer told me the hotel had "lost millions of pounds through not having another big signature suite".
This new residence is aimed at "people who, in life, have really arrived. Who have the wealth [and] want an iconic luxury experience." Its next booking is already confirmed: a family will shortly arrive for a six-week stay; should they be paying the full room rate for that period, the visit will cost them more than £1 million ($2.1m AUD).
Given that the charity Shelter estimates the median monthly rent on a property in the city to be £1,350 ($2,847 AUD), and that those guests could buy a comfortable London home outright for £1 million ($2.1m AUD), it's a figure that will be incomprehensible to many. Yet the demand is there and Mr Palmer says that if sufficiently extravagant suites are not on offer, the big-spending travellers they draw will simply go elsewhere and London will lose out. 
Though the city's grande dame hotels have always featured imposing signature suites, a new tier of "super suites" - extravagantly designed and staggeringly expensive - has emerged in the last couple of years.

Views from the Shangri-La Suite 
The renovated Lanesborough hotel will this month open a seven-bedroom Royal Suite, almost as large as the Sterling and costing £26,000 ($54,817 AUD) a night. In May, the Shangri-La hotel, occupying floors 34 to 52 of the Shard skyscraper, opened its three signature suites. Most impressive among them is the Shangri-La Suite on the 39th floor . At 2,021 square feet, and costing from £10,000 ($21,084 AUD) a night, it is dwarfed by the Sterling and the Lanesborough's Royal, but the 180-degree views are unmatched by any other hotel room in the city.
Flanking the Thames as the eye turns westwards, a panoply of landmarks – Canary Wharf, Tower Bridge, the Gherkin, St Paul's Cathedral, the Houses of Parliament – appear to stand nobly in line for the guests, like medalled soldiers proudly primed for a royal inspection. No room could match the grandeur of that vista, but the suite itself – designed by superyacht interior designers FM-Architettura d'Interni Studio – is sophisticated.
The bathroom's wasabi green marble floors are heated; a walk-in wardrobe is large enough to serve as a child's bedroom; seating 12, a dining table facilitates competitive hosts keen to hold an unbeatable dinner party.
It's a mesmerising setting but, even here, perfection isn't a certainty. During my stay, our butler was unable to explain fully how the suite's various gizmos are operated and, as we arrived for breakfast at 10:35 on Saturday morning, the restaurant receptionist curtly told us service had ceased five minutes earlier – an unacceptably officious response, I thought, to guests spending a five-figure fee for a one-night stay. After mentioning that I was staying in the hotel's presidential suite – the hotel industry's "Don't you know who I am?" – I was told that a seat could, in fact, be made available.

The Opus Suite at the Berkeley
It's a line that opens doors; these customers are incredibly lucrative. Justin Pinchbeck, general manager of the Berkeley in Knightsbridge, is frank. "You do become the most important guest in the hotel when you stay in this type of suite." His Opus Suite has hosted "Russian oligarchs, Asian captains of industry, rock stars with their entourages, and celebrities with stylists, personal trainers and bodyguards".
Designed by Hong Kong architect André Fu, it is an onyx and marble-clad space finished in muted greens and honeyed wood – usually. The suite was temporarily redesigned for one client who wanted a smoky, jazz-bar-style theme, and the hotel will do whatever it can to ensure residents feel as comfortable as possible.
Guests impressed with their efforts frequently extend their stay at the £14,000 ($29,517 AUD)-a-night suite. The Opus Suite has an annual occupancy rate of about 70 per cent (for luxury hotels in London, the general occupancy rate, says Pinchbeck, is 80 to 85 per cent).
Anthony Lee, general manager of the Hotel Café Royal, is still surprised by the wealth some have at their disposal. "It's amazing how much money there is in the world… for these people, life is not a question of money."

The marble bath in the Royal Dome Penthouse
His top suite is the 3,132 square foot Dome Penthouse, costing from £9,000 ($18,975 AUD) per night. A "mini-Albert Hall", with one of the city's most advanced sound and lighting systems and a marble bath that is big enough for six people, it is a popular spot for parties. Visible from the suite's terrace, the LG screen in Piccadilly Circus can be used by guests to display proposals as part of an exclusive agreement with the hotel.
Ruling families from the Middle East are a key target audience and their endorsement can generate significant follow-on business. "These people are almost gods. If you go for the very top [people] and they come, then a very subtle word goes out." Some previous clients have even chosen to stay in the suite in favour of their own London homes. "We've had guests put their visiting families in their [London] houses and then stay in our hotel to get away from them."

Rosewood London's Manor House Suite
Providing a space superior to the most sophisticated family home was a key objective for the team behind the Manor House Suite at Rosewood London . A chic apartment in amber and chocolate tones, it features a well-stocked library and other agreeable touches, including a cinema-style popcorn maker, and costs £12,000 ($25,300 AUD)  per night.
More distinctively, when booked alongside surrounding rooms, it can be expanded into the six-bedroom Manor House Wing, which becomes the only suite in the world to have its own postcode. A pointless accoutrement it may be, but guests receive a memento to remind them of this incongruity in the form of personalised Smythson stationery printed with their names and temporary address.
At the Beaumont Hotel, ROOM is in some ways London's most unusual luxury hotel suite. There is an Art Deco-style sitting room and bathroom in plain white marble. From there, guests open a black velvet curtain to enter an oak-clad bedroom. They have, however, simultaneously entered an Antony Gormley sculpture, for the room is contained within the body of a giant, stainless-steel cuboid figure that crouches at one corner of the hotel's exterior.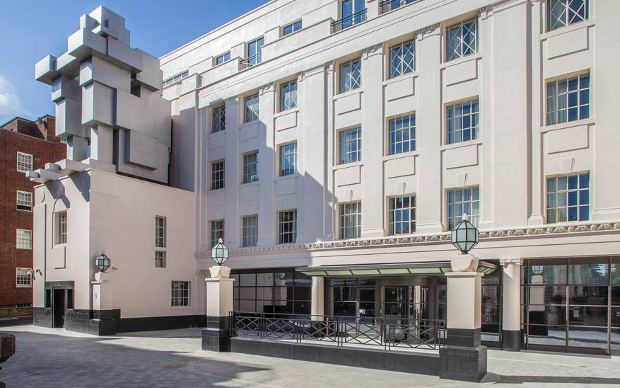 The artist requests that guests undress completely here and blackout curtains mean they are swallowed by darkness on entering. It's a discombobulating experience, not entirely comfortable at first. From the bed I gazed towards the ceiling, 33 feet above me, and gradually from the void a dull glow appeared. Imperceptible initially, soft lights embedded in the roof intensified to resemble a scattering of stars.
From the centre of the city, I was transported to a distant wilderness in seconds. For those with the means to fund it, it seems London's supersuites can even make teleportation a reality.

This article was written by John O'Ceallaigh from The Daily Telegraph and was legally licensed through the NewsCred publisher network.
Other Travel Articles You Might Like...