18 November 2015
Words by AFP Relax News
Perched at an altitude of 2,300 meters, the Val Thorens ski resort in the Savoie region of France is primed to present a new mountain experience to aficionados with its newest five-star accommodation named Hotel Pashmina. The glass igloo built on the roof of the luxury hotel looks set to be the star attraction of this winter's ski season.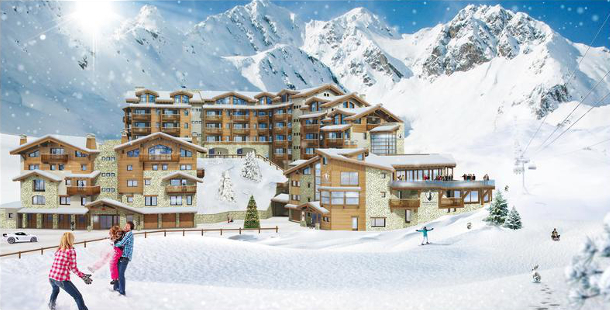 When it opens this December, after months of great anticipation, Hotel Pashmina aims to combine an authentic mountain refuge experience with a complete range of ultra refined services. The 5-star establishment has focused on a warm and welcoming decor as well as modern facilities to entice skiers. Apart from the 42 rooms and suites varying in size between 36 and 70 square meters, the hotel has imagined a new range of accommodations entitled "Cosy Home". This section consists of eight living spaces over a surface of 60 to 155 square meters. Each shelter can include up to three rooms and serve a central living area equipped to make guests feel right at home.
Skiers will also have the possibility to rent one of two three-storey apartment chalets connected to the Pashmina. A unique solution that allows for private entrances all while enjoying services from the neighbouring luxury establishment. Prices vary according to the period, between €3,610 ($5,410 AUD)and €8,050 ($12,063 AUD) per week. These chalets can accommodate up to eight guests.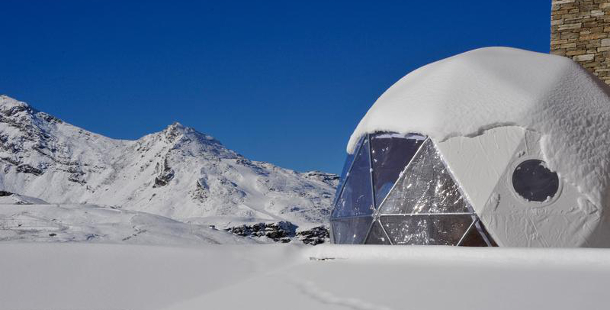 A Roof Igloo
One of the unique facilities at the Pashmina is an all-glass igloo set on the hotel's roof. Only hotel clients will be able to reserve this extraordinary site that offers clients a night under the stars with the mountains all around but without giving up any comfort.
Since comfort is a key characteristic of the establishment, the project also includes a spa created in collaboration with French cosmetics and skincare brand l'Occitane. Up to 400 square meters will be dedicated for well-being including a sauna, steam room, pool and Jacuzzi.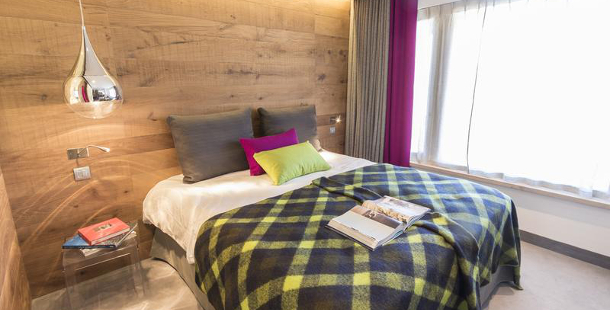 Cuisine
Romuald Fassenet, who has been recognized with an award as a top craftsman of France, will oversee the kitchen and the cuisine selections of chef Josselin Jeanblanc. The Val Thorens ski station is known for a number of fine-dining destinations. And this new hotel has created its own gastronomy hotspot, Les Nouveaux Explorateurs. While fans of heartier, more rustic mountain dishes can head to the Base Camp restaurant. The Pashmina's food sites also offer a culinary discovery guaranteed to surprise: tailor-made tea made with snow crystals.
The Pashmina will open its doors 5 December 2015. Prices start at €145 ($218 AUD) per person for an Elegance room of 20 square meters for two. A four-person suite starts at €295 ($442 AUD). The "Cosy Home" accommodation options differ according to season and accommodation capacity ranging between €565 ($847 AUD) and €2,760 ($4,136 AUD). 
Copyright AFP Relaxnews, 2015.
This article was from AFP Relax News and was legally licensed through the NewsCred publisher network.
Other Travel Articles You Might Like...
Talk to a First & Business Class Expert