6 September 2017
Latin American culture has mastered the perfect balance; cities that ooze a uniquely effervescent energy; colourful locals driven equally by adventure and siesta; and mouth-watering morsels that alone can take you on a culinary adventure. 
A traditional Argentinian BBQ - an Asado
Self confessed foodie (and wine-ie) Phil Hancox recently travelled South America with Intrepid, joining a small group of nine for the 'Best of Chile & Argentina' tour.  His list of highlights was certainly not modest; with inclusions like salsa dancing, city tours, exploring seaside towns and taking tango lessons from the best, however a pattern quickly emerged with his top picks leaning heavily towards the ones that tantalised his tastebuds.  Read on for Phil's five most memorable experiences from his incredible Intrepid itinerary...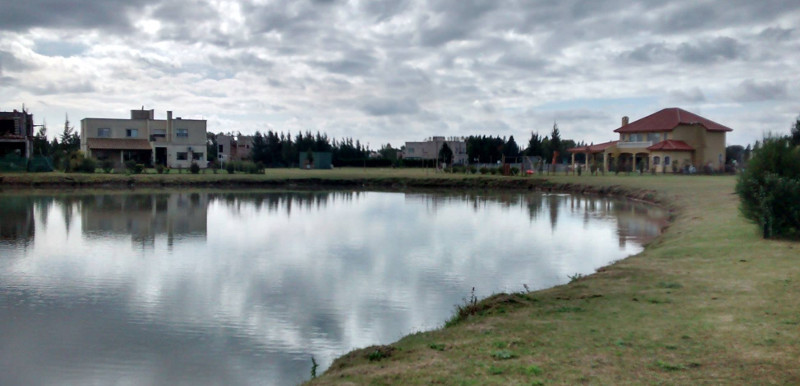 Mystic Estancia Monte Viejo
1. Live like a Gaucho: Life on a Traditional Estancia, Argentina
It doesn't get much more local than retiring to a South American Homestead for a few days off the grid, away from the hustle of crowds and fast paced cities. This was Phil's numero uno. "I lost myself here, it was so relaxing. We (group of nine) had the entire 50 acres to ourselves, complete with an incredible chef who prepared three course meals daily, paired with unlimited wine, it was a real cultural immersion".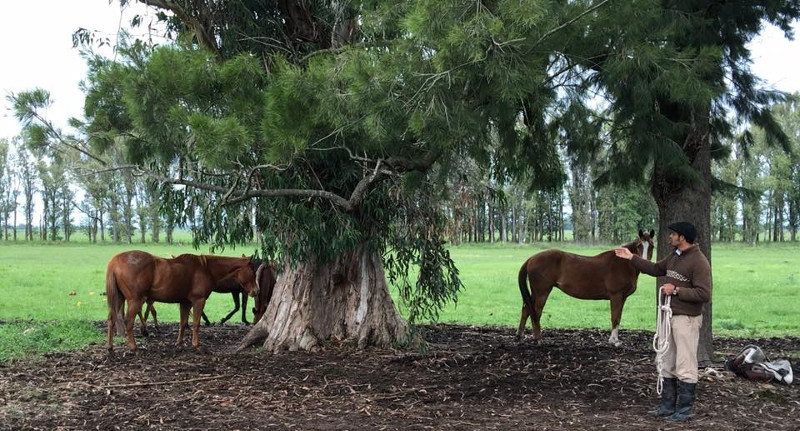 The residents at Estancia Monte Viejo
Here the group were truly acquainted with life like a local, spending their time horse riding, leisurely walking through the property, getting up close with farm animals, and learning how to prepare a traditional Asado (barbeque style of cooking).  The cook became part of the group, teaching them all his tricks of the trade, how to make the perfect empanada and of course, what wines to enjoy them with. 
2. Wine Tour of Mendoza, Argentina
After even the briefest of chats with Phil it's clear that he appreciates a decent drop of vino, so it's only fitting that the Intrepid tour of Mendoza was high on his list.  The area is the world's largest Malbec producing region, a red wine variety Argentina is renowned for.  Phil and his comrades were in their element as they wound their way through quaint, country laneways, vineyards and wine cellars, refining their palates while seeking out the perfect drop.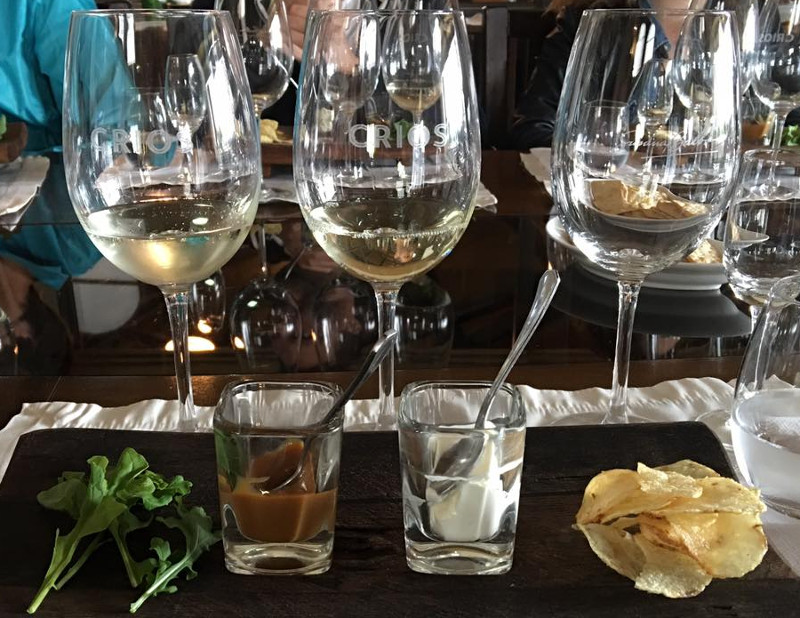 Rocket - a peppery leaf (often referred to as Arugula) was one of the unusual pairing items. Along with dulce de leche a sweet condensed milk, potato and creme fresh
One of the most eclectic endeavours included on the Intrepid itinerary was a wine and food pairing hosted by one particular vineyard that went beyond the traditional wine and cheese option.  The group was offered a tasting where each varietal was accompanied by four edibles; fresh rocket leaves, cream cheese, sweet caramel and potato chips, each intended to bring out different flavours and depths in the wine. 
Phil and the group were amazed just how much one wine can vary in taste according to its accompanying side dish. It wasn't long before they moved onto another vineyard for a relaxing long lunch, no doubt putting their new skills to test over a few bottles of new world wine.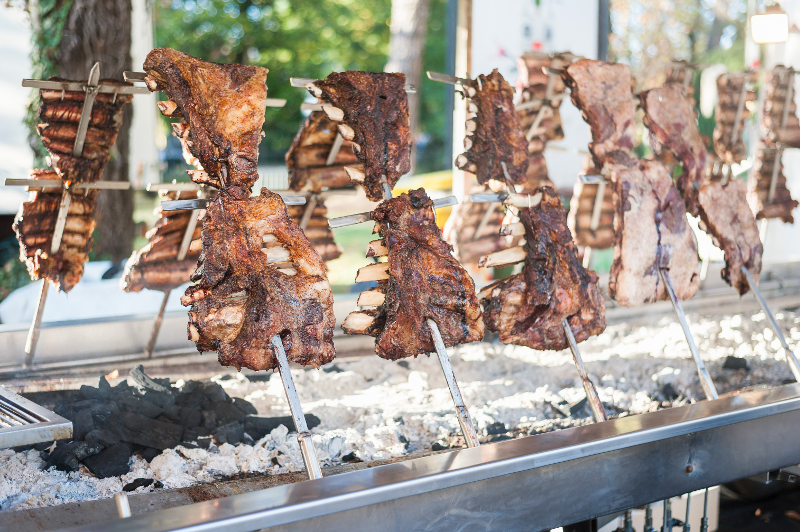 Do as the locals do: an outdoor asado with an array of meat
3. A Wine list-free Argentine Asado, Argentina
An Argentinean steak restaurant without a wine list may not sound like the kind of luxe dining Phil had become accustomed too, however hearing him out will change your tune. With the significant amount of free time that the Intrepid Tour offered, Phil was often able to enjoy personalised recommendations from the guide at his own pace.  One of these was a dinner during the Mendoza stint - an intimately curated yet traditional Asado that Phil was welcomed into. 
After carefully selecting a fine cut of steak from a handwritten menu, he patiently waited for a wine list that never came.  Instead, Phil was privately escorted upstairs into a wine cellar, where the sommelier recommended a bottled based on his main meal selection - a wine perfectly paired to his cut of steak.
4. Urban Adventures: A Bite of Santiago, Chile
Phil did a little pre-tour research, sussing out the best of Santiago (read: its food) with an Urban Adventures guide, who took him wining and dining through stylish neighbourhoods, neoclassical plazas and local marketplaces alike.  Their guides are renowned for taking tourists deep into cities, exposing hidden gems and local hotspots, often with foodie undertones. If Phil could sum it up in three words, they would probably be 'empanada, empanada, empanada', or maybe 'empanada, empanada, wine'. Either way, he returned home a connoisseur of the little fried morsels, meeting local vendors and learning about the traditional preparation, as well as enjoying the end product.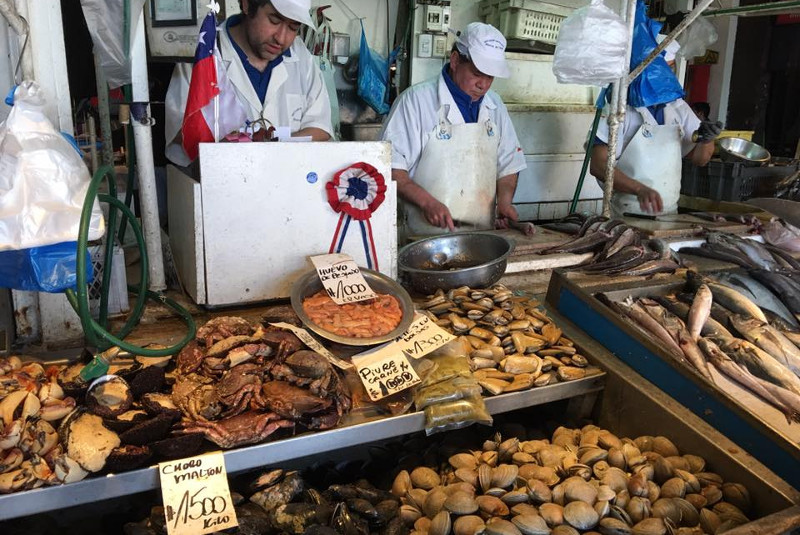 South American markets sell a myriad of fresh produce, raw meats, personal items, snacks and drinks, clothing and much, much more!
Apart from the evident culinary aspects, Phil also left well versed in the city's rich history and having fallen for its colonial charm.  His highlights included strolling through the bohemian neighbourhood of Bellavista and the views offered whilst riding the cable car up San Cristobal Hill where visitors can take in spectacular panoramic views of Santiago.
5. Le Recoleta Cemetary, Argentina
This famed cemetery in Buenos Aires houses the graves of many notable people including several past Presidents of Argentina, Nobel Prize winners, poets, writers, distinguished military members and even the granddaughter of Napoleon.  Sitting on 14 acres of prime real estate, this hugely frequented site houses 4,691 tombs in total, all of which live above ground in heavily decorated vaults.  So visually impressive that CNN listed it among their 10 most beautiful cemeteries in the world, and the BBC hailed it as one of the world's best. 
Fully sectioned out like city blocks, Phil wandered about for hours getting lost in the elaborate marble structures, taking in the Art Deco, Baroque and Neo-Gothic decor and staring in awe at the countless statues and monuments wealthy families left in honour of their loved ones. One of the most visited sites is the grave of the iconic Eva Peron.  Eva was a First Lady of Argentina renowned for her fearless leadership, passion and combativeness, who founded the nation's first large-scale female political party - the Female Peronist Party. Peronchampioned women's suffrage in Argentina, ran Ministries of Health and Labor, and established her own charity, the Eva Peron Foundation. 
These regions of Chile and Argentina highlight the mixture of ancient indigenous techniques with various European flavours that has created its own distinctive menu. From gourmet gastronome delights to new world wine and a fusion of flavours found throughout locations steeped in history, these South American countries deliver a delightful array of delicious epicurean encounters and fascinating cultural experiences.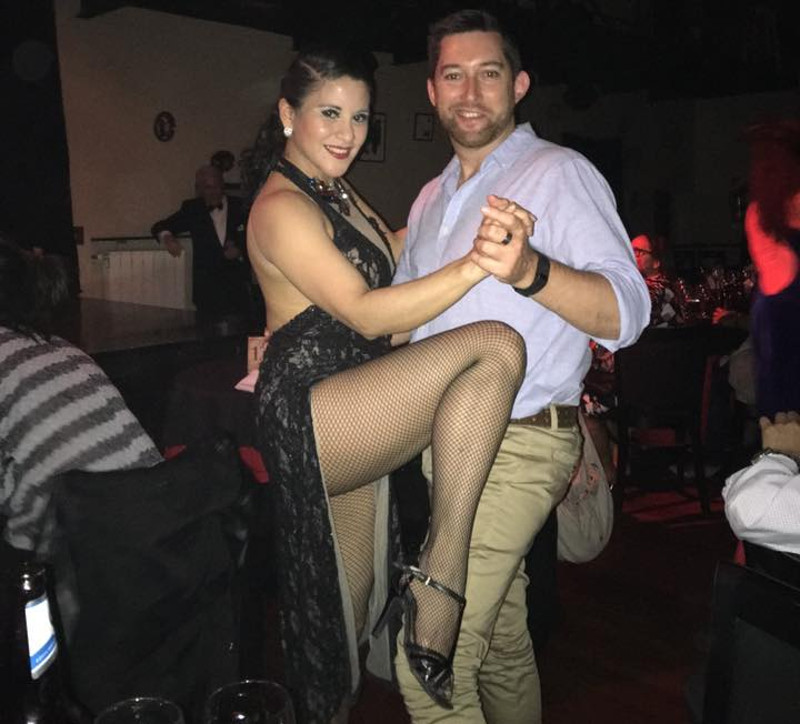 Phil got right into the Latino culture!
Images courtesy of Phil Hancox, Getty & Instagram 
Other Travel Articles You Might Like...