22 May 2015
Words by Carlie Tucker
According to F. Scott Fitzgerald, "Too much of anything is bad, but too much Champagne is just right." A sentiment made all the better when you're sipping a glass with some of the world's most memorable views in the distance.  From rooftop watering holes to majestic mountain taverns, these establishments will have you pouring one more glass just to savour the views.

Image courtesy of Gong-Shangri-la.com
Gong at The Shard – London
Gong sits on level 52 of the Shard in London. It has been deemed the highest bar in the city and impresses with 360 degree views of London's iconic cityscape. Not your standard bar, this exclusive social scene is comprised of three lofted areas: a cocktail bar, champagne bar and an infinity pool. It also serves up a list of signature cocktails along with vintage champagnes by the glass.

Image courtesy of GBroofgarden.gr
GB Roof Garden Bar at Hotel Grande Bretagne – Athens
This award-winning bar and restaurant is known for its Mediterranean cuisine prepared by head chef Asterios Koustoudis and extensive bar menu. This includes an entire section dedicated to The Luxury Collection of cocktails. It also happens to hold a coveted position that captures unrestricted views of the Acropolis, Lycabettus hill and the Parliament in Athens, Greece.

Image courtesy of Tophochgurgl.com
Top Mountain Star at Hochgurgl ski resort – Austria 
Combining stunning architecture with a panoramic bar at 3,080 metres above sea level, the Top Mountain Star showcases a sweep of staggeringly beautiful Alpine scenery. Glass on all sides provide 360 degree views of the Otz valley Alps and Dolomites. Part of the Hochgurgl ski resort, it is a welcoming mountain escape with a full menu of food and drink to warm you up after a day of skiing.

Image courtesy of Ayanaresort.com
Rock Bar at Ayana Resort and Spa – Bali
Perched 14 metres over Jimbaran Bay, this unique open air bar offers exceptional ocean views from a series of terraced platforms built into the rocks. It has been touted as Bali's best bar thanks to its exceptional position. Along with its sweep of wonderful views, Rock Bar serves up signature cocktails designed by international bar consultant Sebastien Bonnefoi as well as a selection of delicious tapas.  

Image courtesy of Berryparkbk.com
Berry Park – New York 
Located in Brooklyn, Berry Park is a hip and modern roof top bar that happens to take full advantage of an impressive sweep of New York City views. The laid back atmosphere is bolstered by a full menu of eats and drinks. From brunch to beers; sweets to signature cocktails, you'll be able to sip in style with the New York City skyline as your backdrop.
Blu Bar on 36 at Shangri-La Hotel – Sydney
Inspired by New York, the Blu Bar on 36 is an exclusive cocktail lounge perched high above Sydney's most iconic views. Floor to ceiling glass showcases both the Sydney Harbour Bridge and Opera House – perfect for a glass of your favourite drop at sunset. Along with a selection of fine wines, Blu Bar offers champagnes, cocktails and liqueurs.  

Image courtesy of Chamonix.net
Le Panoramique, Chamonix – France
Positioned at the summit of Brévent, this incredible bar and restaurant will amaze with it's incredible views of Mount-Blanc and surrounding mountain vistas. It's an open air establishment that serves up hearty French dishes along with a list of warming cocktails and drinks. Though it's position is secluded, Le Panoramique is easily accessible by both gondola and cable car.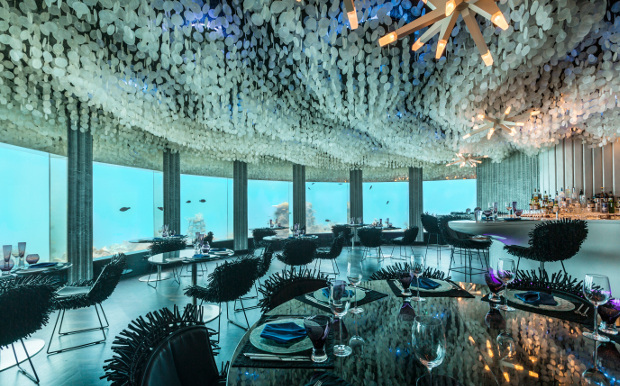 Subsix at Per Aquum, Niyama  – Maldives
500 metres out in the Indian Ocean and six metres below its surface sits Subsix. Part of the Per Aquum resort in the Maldives, this unique watering hole takes incredible views to a whole new level. Sheets of glass provide beautiful views across the ocean floor along with the passing sea life. Not content to rest on its claim to being the world's first underwater bar, Subsix also offers up an extensive beverage menu ranging from fresh juices to spirits. 
Other Travel Articles You Might Like...