11 September 2015
Words by Kristi Eaton
I was in need of a digital detox (aren't we all nowadays?), but instead of heading to a swanky resort that simply locked my phone away for the duration of the stay, I headed to an undeveloped island off the southern coast of Cambodia.
Koh Rong island has lush jungle and unspoiled white-sand beaches – but no roads. It takes about an hour to get there by high-speed ferry from Cambodia's southern beach town of Sihanoukville.
Once docked, I bypassed the throng of backpacker-friendly hostels known for cheap dining and wild parties to celebrate full moons, and headed to a secluded resort called Pura Vita. Hotel staff welcomed me at the dock, where I joined an older French couple in hopping in a rickety fishing boat to make the 15-minute journey to Sonaya Beach.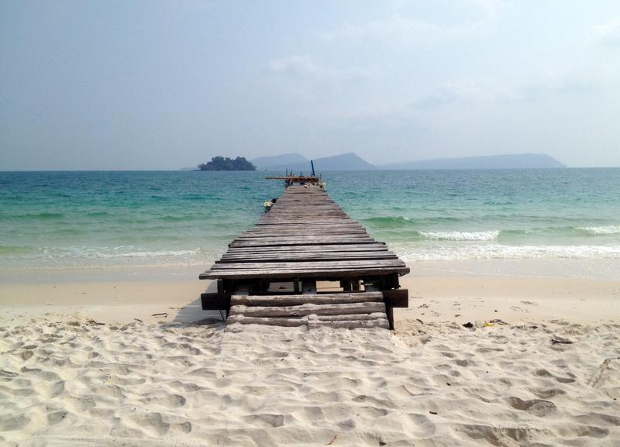 While the term resort might suggest luxury, this one, while restorative, was pretty simple. Made up of about 20 bungalows, it was so remote that electricity was only available by generator for four hours each night. And forget about logging on to Facebook, Instagram or Twitter. Internet access was virtually non-existent in this off-the-beaten-path locale.
Instead, I spent my days lazily eating breakfast at the onsite restaurant before walking the few feet to the pristine white-sand beach and crystal-clear water. I'd dip in and out of the water and stroll along the stretch of land before taking a late afternoon nap or spend hours reading a book as the waves splashed before me.
Diving and snorkelling as well as jungle trekking is available for visitors looking for an adrenaline rush.
A full moon party one night along the rows of hostels near the island's pier interrupted my quiet retreat – even from miles away – but otherwise the resort offered the tranquillity I needed.
It's "Thailand 30 years ago," Pura Vita owner Vanny Ea said of her isolated oasis. The resort has slowly grown over the years from just one bungalow and restaurant, but Ea said she wants to make sure both the resort and the island remains a calm and serene experience for her guests.
But word is getting out. Local media reported in February that American reality show "Survivor" is filming future seasons on the island.
If You Go
Koh Rong, Cambodia: About one hour via high-speed ferry from Sihanoukville. Sihanoukville is about a five-hour bus ride or three-hour taxi ride from Cambodia's capital of Phnom Penh. Pura Vita is an isolated resort located on Koh Rong's southeast coast.
Pura Vita resort: Bungalows run approximately $65 to $75 ($93 - $108 AUD) per night and include breakfast.
Copyright (2015) Associated Press. All rights reserved. This material may not be published, broadcast, rewritten, or redistributed.
This article was written by Kristi Eaton from The Associated Press and was legally licensed through the NewsCred publisher network.
Other Travel Articles You Might Like...