1 October 2015
Words by Soo Kim
The "world first" pool will be suspended 35 metres above the ground between two buildings near Battersea Power Station.
Residents of London's Embassy Gardens apartment complex will be able to swim between two high-rise blocks of flats via a "floating" glass-bottomed swimming pool 10 storeys above ground.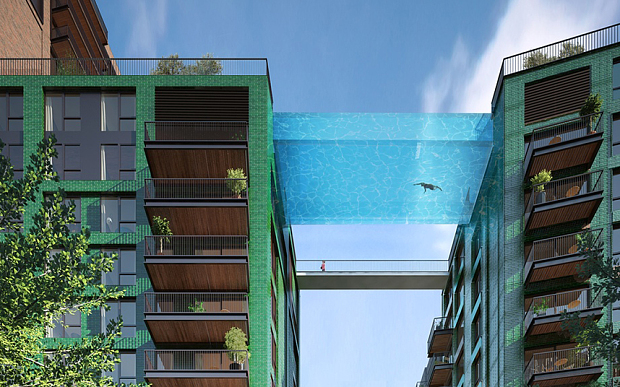 Resembling an 'aquarium in the sky', it is said to be the first pool in the world to link two residential buildings. The transparent and structure-free pool, designed by Arup Associates and developed by the Ballymore Group, will be 90 by 19 feet, encased in eight inch-thick glass, and have a water depth of around four feet. It will offer aerial views of the capital, including the Houses of Parliament.
Residents of the planned luxury flats in Wandsworth will also be able to access a rooftop deck at both ends of the pool which will offer sun loungers, a spa, a bar and an orangery, while an additional bridge between the two buildings forms a dry walkway for both residents and visitors.
"The Sky Pool's transparent structure is the result of significant advancements in technologies over the last decade. The experience of the pool will be truly unique, it will feel like floating through the air in central London," said Ballymore Group chairman and CEO, Sean Mulryan.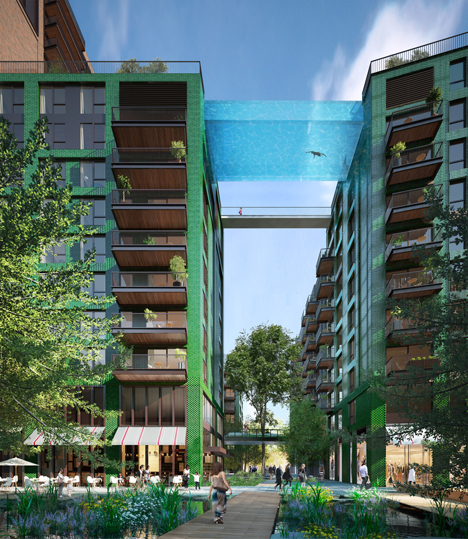 The floating pool is expected to be completed by 2018 and will be available for the exclusive use of residents at the 2,000 home complex where flats are priced from £600,000.
The Sky Pool is the latest unique swimming facility to be developed in the capital of late. Earlier this summer, an open-air bathing pond was opened at the northern end of the development surrounding King's Cross. The 40 metre fresh water public bathing pond is the first of its kind in Britain and purified using submerged plants to filter the water.
Officially titled "Soil and Water: King's Cross Pond Club", the pond surrounded by flowers and plants was conceived as an art installation, one of several cultural projects included in a development of some 67 acres of space around King's Cross that incorporates residential, commercial, educational and retail sites.
Last year, London's Shangri-La Shard hotel opened the highest swimming pool in Western Europe . Set on the 52nd floor of the Shard skyscraper, the 34ft infinity pool stands 600ft over the capital and offers unimpeded views of St Paul's Cathedral, the London Eye and Westminster.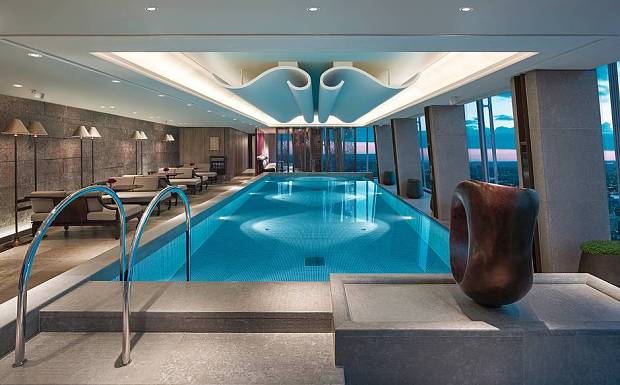 London's Royal Docks, the former shipping hub in East London, became the latest open water-swimming spotto open in the capital this summer.
This article was written by Soo Kim from The Daily Telegraph and was legally licensed through the NewsCred publisher network.
Other Travel Articles You Might Like...