1 May 2017
Aaah, France. When visiting this country, it's ideal to be in a perpetual state of ravenous hunger. From north to south, from nose to tail, each of the 96 Departements has it's own flavor – literally.
Specialties range from oysters in seaside Brittany to bouillabaisse in Marseilles; one could spend a lifetime attempting to digest each regions' fare (and many do), but here is just a taster of highlights to whet your appetite.
Lyon, The Kit and Kaboodle
Offal. Sounds a lot like awful. To some it is, but to others the idea of sweetbread (total misnomer, it's pancreas) is heaven. Forget escargot and grenouille (frog legs) clichés, head to the gastronomic capital of France, Lyon, where nose to tail is the menu du jour.
There are some classic French restaurants in Lyon with formal dining rooms  - then there are the bouchons, cosy taverns dishing up hearty fare.  
Make a beeline for the Belle Epoque style Le Bistrot de Lyon for tablier de sapeur (fried breaded tripe), get lost in the liveliness of La Brasserie des Brotteaux or for a Lyonnaise signature dish, gâteau de foie de vollaille (mousse-like chicken liver terrine, yum) pull up a pew and worship at Bouchon Le Jura, operating since 1867.
Tip: Stay at La Cour Des Loges, a stone castle-esque hotel in the middle of Vieux-Lyon, so close you can roll home, intenstines full of… intenstines.
The Alps, Raclette
Cheese, bacon and onion. Who knew it's possible to do so much with three ingredients? The Haute Savoie mountain folk are ingenious, creating fondue and tartiflette. But for drama, try a raclette.
A steel machine is wheeled to the table, half a wheel of (raclette) cheese is inserted under a hot lamp, melting the cheese. Don't neglect to tilt and scrape every five minutes or you'll end up with a molten cheesy avalanche. Best way to end a ski day ever? Oui.
Tip: Drink white wine followed by grappa to aid digestion. Drinking cold water will result in regrets.
In the Southern Alps, ski direct raclette-side at Chez Pépé Nicolas in Val Thorens mid mountain (try their wild garlic infused raclette). In the Northern Alps, Les Fermes de Marie in Megève also offers the alpine fare in l'alpage, a mountain pasture (summer only).
Tip: It's easy to frop a few gold bars in Chamonix at Hameau L'Albert Premier's Michelin gastronomique restaurant. Head to their more rustic (equally good) La Maison Carrier.
Paris Le Train Bleu, Un café au lait
Paris is bursting at the seams with hidden treasure, but this one is right beneath travellers noses, or rather, straight above their heads. 
Thousands pass through the Gare Du Lyon daily, oblivious that up a staircase is Le Train Bleu, a restaurant of frescoes and gilded angles, an unexpected slice of architectural beauty a stone's throw from instant coffee shacks below.
Built in 1900 when the Paris-Vintimille train began running to the Côte d'Azur, it's a veritable Versailles. Painted ceilings and the gold leaf and shimmering chandeliers hint at the gilded prices on the menu.
This is where French fare is treated with the utmost respect. Leg of lamb is carved table-side, the tartar is seasoned at your table. Fancy.
Tip: Don't have the time or funds for a meal? Pause for a delectably creamy coffee in the most glamorous transit lounge in the world. 
Cheese, Glorious Cheese
Oh, this could be long. Epically long. All those high alpine pastures, all those happy cows. Switzerland considers itself the cheese capital du monde, but for sheer diversity of over 500 variations, from the sultry south to snow-capped summits, France wins.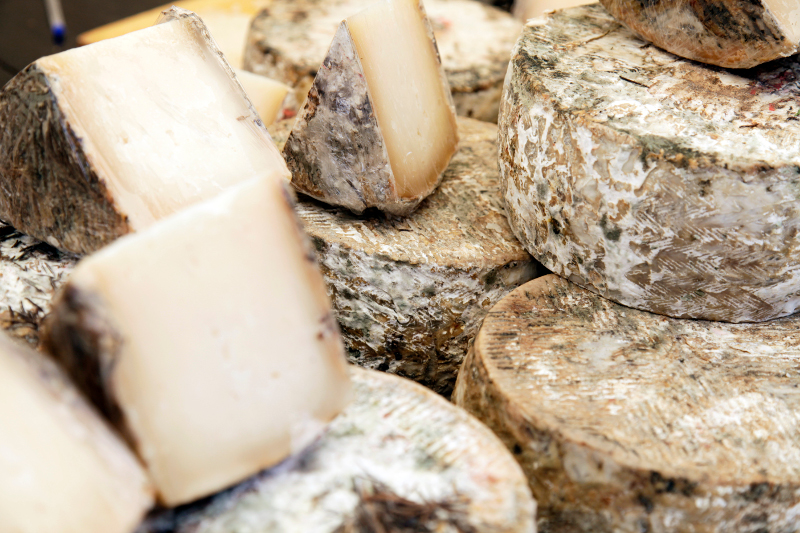 If after a tomme (semi-soft cheese), a personal favourite is Abondance from the Abondance Valley. It's milky, delicate in flavour, and simply sublime (visit Chatel to see it made). More north, Brie de Meaux is famous for truffle-y softness, and head south, around Auvergne, to the source of the oozy, juicy, soft Sainte-Nectaire. 
Where to eat it? Anywhere. Picnic lakeside in Annecy, or pull up a beach beachfront in Juan les Pins. Try the local cheese, you may find a new favourite.
Other Travel Articles You Might Like...
Talk to a First & Business Class Expert