3 February 2016
Words by Carlie Tucker
We've all had that moment of looking longingly at the cushy seats of Business Class on our slow march back to Economy. The legroom alone is enough to incite pangs of regret for not splurging on the pointy end of the plane. But, the perks of Business Class go far beyond the ability to stretch out. Here are a few extras that are sure to inspire you to book business on your next long haul flight.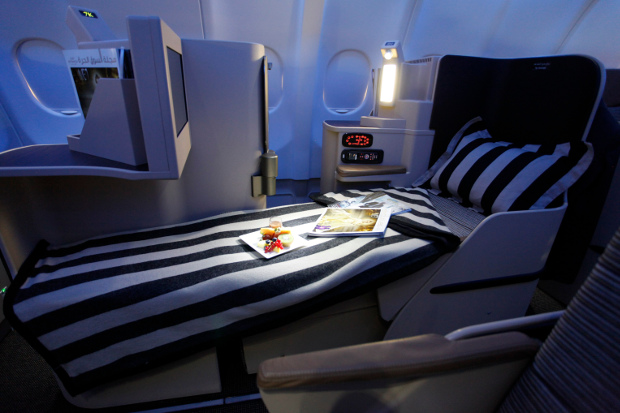 Sure the seats lie flat, but did you know ...
One of the biggest draws of Business Class is the seat. There's more legroom; there's no armrest war; and most will allow you to lie flat. Though the true luxury of these seats is in the details that aren't immediately evident until you sit down and start playing around.
Etihad has taken in-flight seat comfort to the next level by offering flexible seat firmness in their A380 Business Class studio seats. Not only do passengers get to customise their seat's cushy-ness to their exact specifications, but they can also increase the lumbar support and treat themselves to a massage function.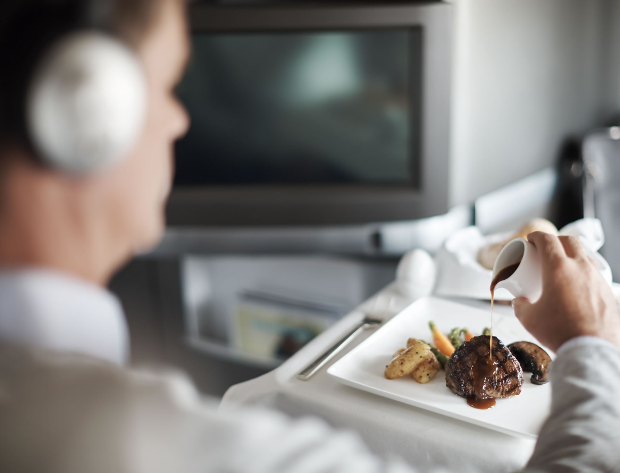 Gourmet menus are a given, but you also get ...
Airlines flying out of Australia have put a lot of effort into revamping their in-flight meals in recent years. This includes bringing high profile chefs on board to customise menus for their Business Class passengers. Cathay Pacific is considered by many to be a trailblazer in this aspect of First and Business Class flying as they were among the first to offer freshly prepared meals.
Their penchant for the finer things has certainly refined through the years, now offering Business Class passengers a three course meal service with a menu of tasty plates to choose from. What's better, though, is the fact that they serve all their meals on designer white porcelain with real silverware and stemless wine glasses. You can almost forget your dining 30,000 feet up in the air.
There's more than just extra legroom ...
As mentioned, the extra room that comes with a Business Class seat is one of its most enviable features. Most airlines offer a private booth-like experience in which you get to enjoy the comfort afforded by this extra space. Emirates is no exception, providing passengers with flat-bed seats across their A380s and most Boeing 777s with a seat width between 48 - 60 inches and a pitch of 18.5 - 20.5 inches.
As if that weren't good enough, Business Class passengers that get tired of luxuriating in their seats can head to the on board lounge that's featured in all A380 aircraft. You'll get to stretch your legs and mingle with fellow passengers as you enjoy cocktails and canapes served by a dedicated bartender.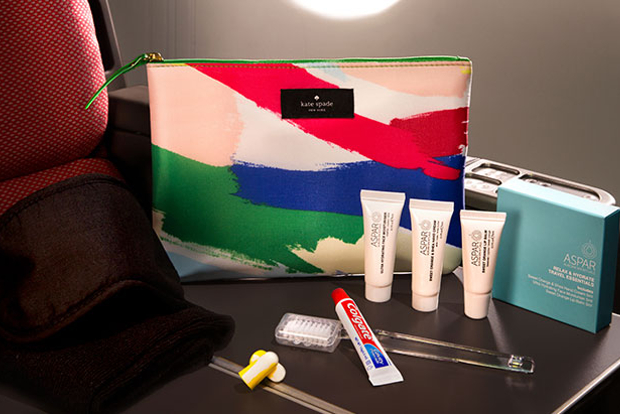 You'll be pampered and you'll be primped ...
Most people are well aware of the pampering that goes on in Business Class. The seats are better, the meals are custom designed and you're supplied with plush pillows and blankets when it comes time to catch a few Zs. Many airlines don't stop there though, offering a little primp to go with that pampering with exclusive amenity kits designed by globally recognised brands.
Qantas made waves in 2015 by offering Business Class passengers limited edition Oroton amenity kits, setting a standard they're happy to carry over into 2016. This year, international guests sitting at the front of the plane are treated to exclusive amenity kits featuring ASPAR by Aurora Spa products. This includes Sweet Orange & Shea Hand Cream, Vanilla & Orange Lip Moisturiser and an Ultra Hydrating Face Moisturiser. These goodies are packed into a Kate Spade (for women)  and Jack Spade (for men) designed pouch. Select flights are also treated to Peter Morrissey designed pyjamas.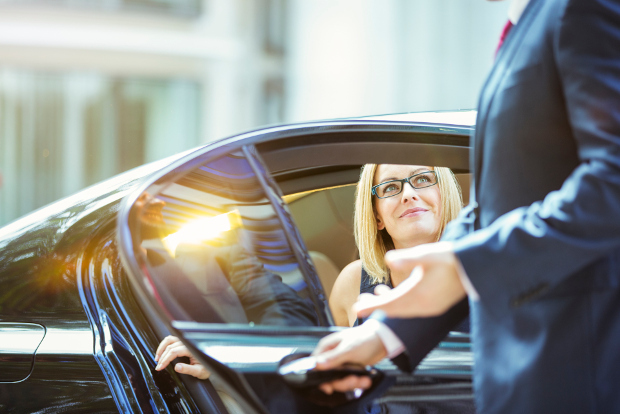 It's all about VIP treatment. From door-to-door ... 
The airport experience is one thing about flying most people would like to skip. Getting to and from the airport to deal with check-in and security lines isn't the best way to kick off your holiday. Though, when you book a Business Class ticket, the VIP treatment extends beyond your time in the sky.
Virgin Australia provides passengers with premium service before they even leave their house. Select Business Class guests travelling on international long haul flights can book a complimentary limousine service to and from participating airports. Even better, once at the airport, all Business Class passengers are treated to the convenience of dedicated check-in and boarding lines as well as lounge access so you can skip the airport hustle.  
This weeks' Top Business Class Flights
Other Travel Articles You Might Like...
Talk to a First & Business Class Expert