18 February 2016
Words by Carlie Tucker
Does the summer heat have you longing for cooler climates? Are you ready to swap sand for snow? It may be time to start thinking about a ski holiday in New Zealand.
The South Island calls to holiday makers hoping to spend this winter dashing down the slopes with some of the region's best runs and a sweep of luxury spots to stay. These amazing lodges will not only make arrangements for days of swishing through the snow, but they'll also pamper you to your heart's content.

Image courtesy of remarkables.co.nz
The Remarkables Mountain Lodge
Situated in Queenstown, this historic lodge dates back to the Otago gold rush of 1861. It's now a beautifully-appointed lodge with just seven suites to choose from. Each one is decked out in all the comforts of home with incredible views of the surrounding Remarkables range. It also happens to be within easy reach to Coronet Peak and the Remarkables ski fields, making it ideal if you're looking for a stay close to the slopes. 
When you're not enjoying the snow, there are plenty of on-site activities to fill your nights. This includes on-site wining and dining options as well as a spa and sauna. Alternatively, arrange for a movie night!
Arrowtown House Boutique Hotel
Proving that good things often come in small packages, this award winning boutique bed and breakfast is all about elegance, tranquillity, luxury and convenience. Also located in Queenstown, it's situated within the historic Arrowtown precinct. Each room is well appointed and features a private ensuite bathroom. The Superior Suites even come complete with private outdoor gardens or balconies.
While your every need is definitely met within this boutique luxury hotel, Ski hounds will also appreciate that the entrance to Coronet Peak is a mere seven minutes away.    

Image courtesy of azur.co.nz 
Azur Lodge
Ideally positioned atop a hill approximately 20 minutes from the Queenstown airport, this luxury lodge takes in some of the area's most exquisite views. Comprised of just nine private villas, each is a private sanctuary designed to allow you to take full advantage of the surrounding scenery. And though the surrounds give the impression of a secluded mountain lodge, everything you need is at your fingertips. From the onsite gourmet dining to the spoils of Queenstown just five minutes away, you'll want for nothing during your say.
This incredible location also affords easy access to both Coronet Peak and the Remarkables ski fields, with lodge staff all too happy to make arrangements for you to enjoy the slopes through your stay. 
---
Looking for more New Zealand fun? Luxury Guide To New Zealand
Or just North Island fun? New Zealand's North Island Your Way
---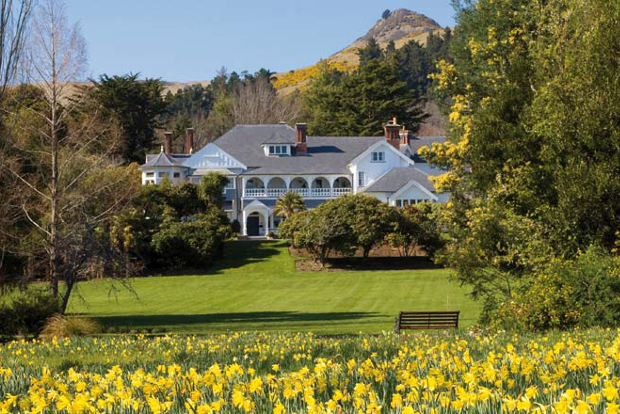 Image courtesy of otahuna.co.nz
Otahuna Lodge
If you're looking for something a little more adventurous but just as luxurious, this South Island lodge is perfect. It features a stunning pastoral setting outside of Christchurch. Dripping in timeless Victorian elegance, its seven suites come complete with ornate fireplaces, carved inglenooks and fresh flowers. There's also a wine cellar and dining room serving up gourmet delights that celebrate the best of New Zealand's seasonal produce.
When it comes to the snow, Canterbury's Southern Alps are renowned for their heli-skiing. Within 25 minutes of the lodge, you could find yourself experiencing the thrill of skiing some of the region's secluded runs, many of which are glaciated and exceed 1,000 vertical metres.   
Hapuku Lodge and Tree Houses
Situated in the Kiakoura region, this luxury accommodation option will get you off the beaten path while you're enjoying the snowy spoils of New Zealand. Made up of six guest rooms in the main lodge and five luxury tree houses, you're sure to remember your time at Hapuku. Every amenity has been realised with the utmost care, providing decadent interiors across all rooms.
Guests are also treated to fine locally sourced food and wine as well as an array of activities that span the entire spectrum of fun. From sea kayaking to stargazing, there are plenty of things to see and do. Of course, this includes skiing the less-travelled runs of Mt Lyford approximately an hour away.  

Image courtesy of blanketbay.com
Blanket Bay Lodge
Blanket Bay Lodge fronts the shores of Lake Wakatipu in the Southern Alps region, providing discerning guests with a rustically beautiful luxury experience amidst some of the region's most beautiful scenery. Drawing inspiration from these dramatic surrounds, the lodge is comprised of five lodge rooms, three lodge suites and four chalet suites. Each is fitted with the finest luxury interiors while integrating oversized windows to make the most of the incredible surrounding views.
There's an onsite spa, which will come in handy after days spent heli-skiing the untouched runs throughout the surrounding mountains. Hotel staff can make arrangements to whisk you off via helicopter to traverse terrain suitable for both intermediate and advanced skiers.   
Other Travel Articles You Might Like...