4 November 2016
Words by Anna Howard
From chance encounters and whirlwind romances to whodunits and magical moments, rail travel unlocks a whole realm of adventures. 
Britain's countryside unfolds in a magical spectacle of green pastures, scenic coastlines and old-world villages. Since the 1920s, well-heeled folk have donned their finest to criss-cross the country, while sipping Champagne in the comfort of elegant carriages. This age-old tradition still finds a prominent place in travel today, but you certainly don't have to be an aristocrat to enjoy the luxuries of a rail journey. Whether you've got two days or two weeks in Britain, there's an experience to suit.
An afternoon that Agatha Christie herself would approve of, the Murder Mystery Lunch is a must for wannabe sleuths – and those who only have a few hours to spare. You'll become embroiled in a plot of love and intrigue on the grand Belmond British Pullman among a host of suspicious characters. Study the clues, crack the case and enjoy a decadent five-course lunch complete with bubbly.
Belmond trains are the hallmark by which glamorous travel experiences are measured. But don't be fooled by their elegance; all ages can enjoy the splendour of trains, especially on the Belmond Northern Belle.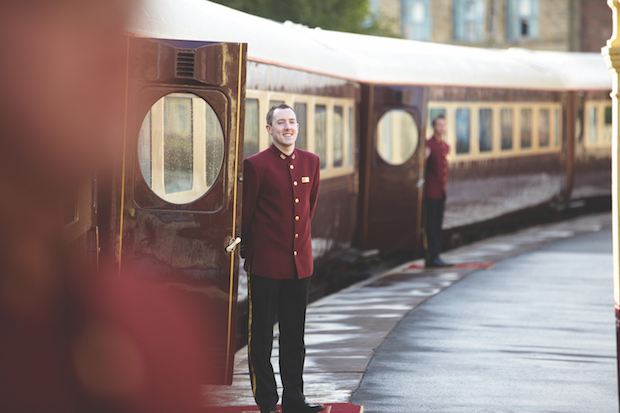 ---
Looking for more train travel inspiration? 
Best Luxury Plane, Train & Cruise
Luxury Trains Around The World
---
Family day-trippers can sit back and relax with a host of round-trip itineraries, including the perennially popular Mad Hatter's Afternoon Tea Party from Leeds and York. Take your seat in a specially decorated carriage and expect the unexpected, from purple sandwiches to mesmerising magicians, plus a few extra surprises inspired by Lewis Carroll's 'Wonderland'.
If you've got a bit more time, head for the pine-clad Highlands of Scotland on the Belmond Royal Scotsman. A two- or four-day itinerary reveals this beautiful country, including the spectacular Cairngorms National Park. Outdoor experiences break up the journey, and you'll enjoy sumptuous Scottish-inspired fare in the intimate company of only 35 other passengers at most. 
But there's one locomotive that is said to transcend all other rail experiences: the Venice Simplon-Orient-Express. Lavish and lovely, with a reputation that precedes it, this iconic train channels the grandeur of the Golden Age of Travel. Step aboard the original 1920s Art Deco cars and be transported to a world of timeless whimsy and indulgence. Its famed London-to-Venice route has all the makings for a truly once-in-a-lifetime holiday. Mingle with fellow guests in the Champagne Bar, enjoy the views in your private carriage and savour exquisite, regionally-inspired onboard menus. 
Rail holidays connect people with places that couldn't be otherwise discovered on foot or by road. Add in interesting stops and superb onboard spoils, and you've got a journey just as – if not more – memorable as the destination. Slow down and savour the ride.
Other Travel Articles You Might Like...