24 December 2015
Words by AFP Relax News
A restaurant in Tokyo has been given a new three-star rating by the guide, widening the gap between the Japanese city and its closest gastronomic rival, Paris.
The promotion of Kohaku in the latest Michelin Guide Tokyo 2016 brings the city's tally of of triple-starred restaurants to 13. That compares to nine three-starred restaurants in Paris, as per the latest edition. The 2016 edition of Paris is expected to drop early next year. 
Styled after traditional kaiseki cuisine -- a ceremonial, multi-course meal -- Kohaku serves modern Japanese cuisine with international twists.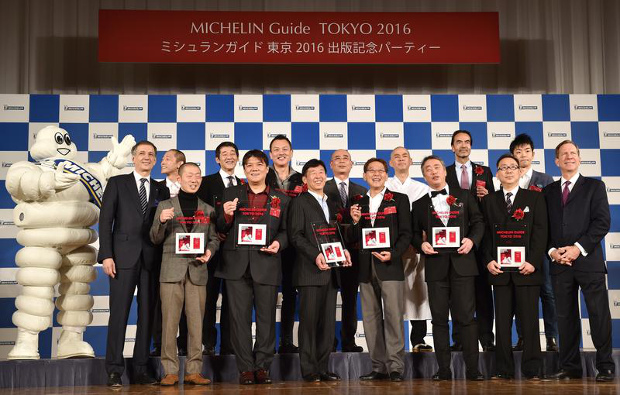 Dishes like deep-fried shark fin and spring roll filled with softshell turtle meat; boiled sweet shrimp with foie gras sauce; and rice porridge with sliced truffles have been documented by blogger tokyofood.blog.
A three-star rating denotes restaurants that serve "exceptional cuisine worth a special journey," an exclusive club that counts about 100 addresses around the world.
Inspectors also handed out new two-star ratings to a trio of restaurants in Tokyo including French restaurants Beige Alain Ducasse and Dominique Bouchet-French, and Momonoki, which serves Chinese cuisine.
The ninth edition of the Tokyo guide's one-star section has likewise grown with the addition of 17 new one-star addresses including Michelin's first ramen restaurant, Tsuta-Ramen for Tsuta.
And this year's selection of 343 Bib Gourmand restaurants -- eateries that serve good food at moderate prices -- includes 83 new addresses and cuisines such as Peruvian, Portuguese, Russian and Vietnamese fare.
The Michelin Guide Tokyo 2016 hit bookshelves on 4 December.
Here's a breakdown:
*** 13
** 51
*  153
Bib Gourmand 343
Copyright AFP Relaxnews, 2015.
This article was from AFP Relax News and was legally licensed through the NewsCred publisher network.
Other Travel Articles You Might Like...