8 November 2017
It's train travel, but not as you know it. The United Kingdom boasts railways fit for fairytales with  carriages that could tell stories of eras gone by and stunning vistas you'll simply lose yourself in. 
The Ffestiniog and Welsh Highland Railways transport passengers back into a more civilised age.  Magnificent coastlines, luscious green open planes, tall oak woodlands, rivers, mountains and historic castles will all beckon you upon your journey, like the Porthmadog–Caernarfon voyage Ffion Lloyd-Jones tells of below. Read on for a glimpse into a passage with the world's oldest railway company.
Words by Ffion Lloyd-Jones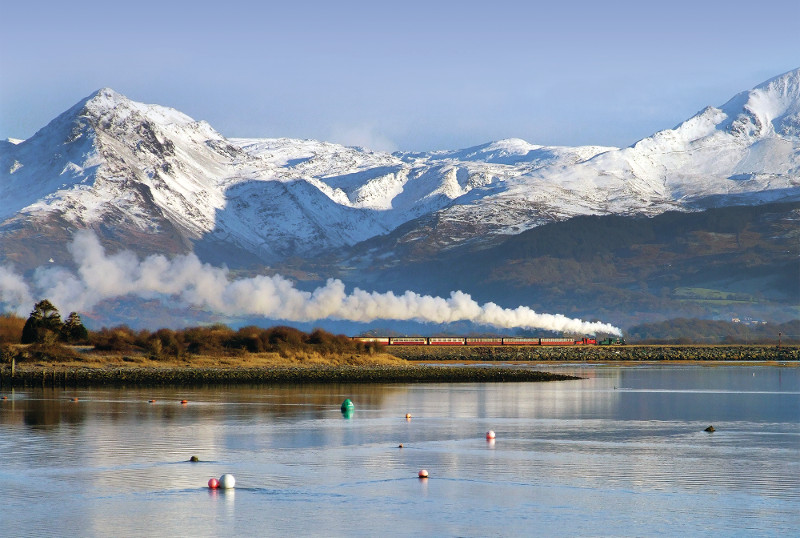 Stunning scenery on the Ffestiniog & Welsh Highland Railways
Ffestiniog & Welsh Highland Railways: Porthmadog–Caernarfon
The whistle came first, then steam clouds above the trees, and finally the little train clickety-clacked into the rural station at Beddgelert in Snowdonia, North Wales. I felt like a child again, enjoying old-fashioned fun on the narrow-gauge Ffestiniog & Welsh Highland Railways (F&WHR).
Fortified with cake and coffee from Spooner's Cafe at the Harbour Station, I caught the 9:40am train from Porthmadog, riding in an open carriage for the 40-minute journey to the pretty village of Beddgelert.
While you can ride in the £250,000 luxury Pullman observation car 150, the semi-open carriage option seemed more authentic to me – open to the sights, smells and sounds of a train hauled by one of the oldest steam-breathing locomotives in the world. And, my labrador dog could enjoy the ride, too. Along the route, walkers smiled and waved as we went by – the thrill of these little trains is catching!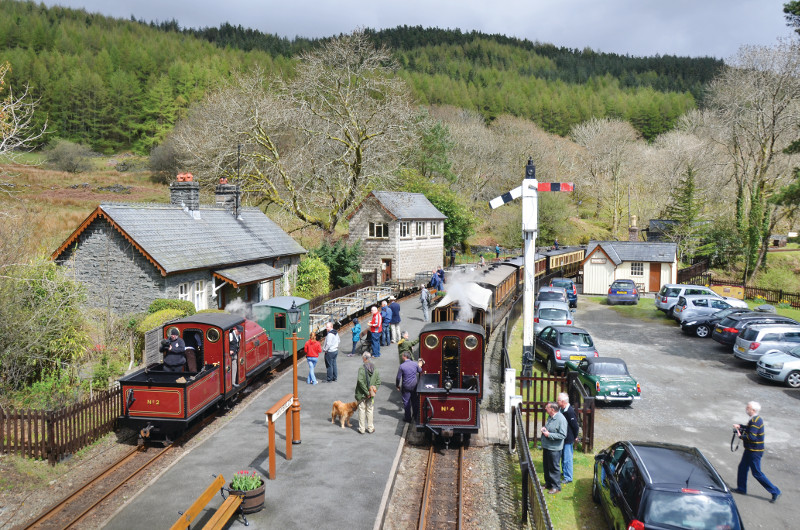 Tan-y-Bwlch station is one of the picture-perfect rail stations along the Ffestiniog Railway.
F&WHR train journeys include the leisurely 80km round trip, coast-to-coast from Porthmadog to Caernarfon (think a castle and picturesque harbour), and a 60-minute journey to the slate-mining town of Blaenau Ffestiniog (more recently home to adrenaline-rushing zip wires and deep mine tours). The Ffestiniog Railway is in the Guinness Book of World Records as the oldest independent railway.
I chose to stop off in Beddgelert (on the Porthmadog–Caernarfon trip) to have the best of both worlds – the train experience and to explore a village.
Arriving in Beddgelert at 10:40am gave me, and my happy dog, time to walk alongside the chattering river to the Sygun Copper Mine and enjoy an award winning ice-cream from Glaslyn Ices, before catching the return afternoon train to Porthmadog. I was careful to check the return train schedule as it would be a long walk back if I missed it.
Previous Train Spotting in the UK instalments: Belmond British Pullman - London to Folkestone and Belmond British Pullman - Edinburgh to Aberdeen
Other Travel Articles You Might Like...
Talk to a First & Business Class Expert