25 September 2015
Words by Tara Young
No matter where, when, or how , travelling with kids does not have to throw you into a tail spin. Like many things in life, three rules apply: preparation,  preparation, preparation!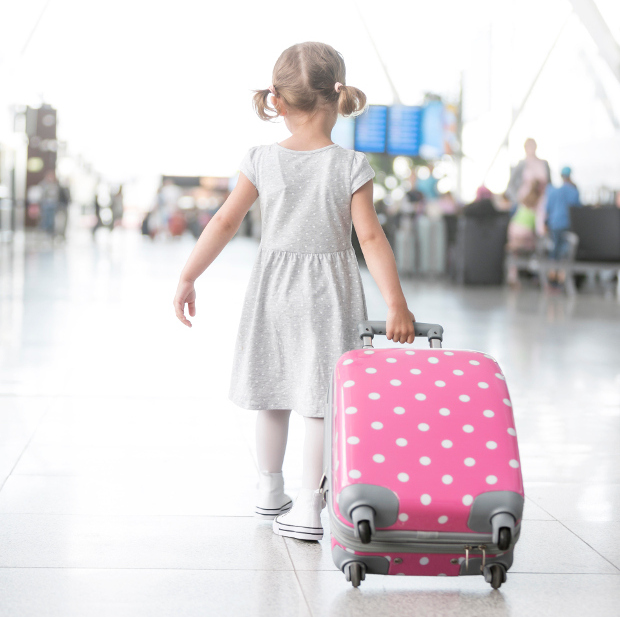 Start Rested
Preparation includes making sure that you and the whole family are properly rested before you set off. Any parent will tell you kids' coping mechanisms with change or travel are a lot better with a proper night's sleep as opposed to being completely non-existent with limited sleep.
Get Excited
Talk about the trip and the destination with your child and involve them in the planning. A sense of involvement will ensure familiarity when you arrive at the airport, jetty or jump in the car to drive somewhere.
Pack Together
Let your child help choose most outfits, but allow options that can meet weather conditions. Also allow for them to select some toys. Be mindful that whatever you pack, you will have to carry, keep track of and then get home safely. Make sure you include security blankets and teddies.  These are essential items if kids have to rest or stay a while in unfamiliar places like airports or terminals.
Don't Transport It, Rent It
A growing service for many international resorts is to provide a range of baby/child friendly things like cots and change tables that you can rent while you are at destination, usually at very reasonable prices.
Don't Stop
Check with our Travel Experts so you can fly off-peak and avoid congested airports. Generally, off-peak times are Tuesday through Thursday, plus late at night, very early in the morning and mid-morning.
Select Your Seat Carefully
Parents with babies and toddlers are often advised to sit in the plane's bulkhead because it has extra room. However, note many seasoned parents avoid it, because there's no room under the seat for a carry-on bag, toys, snacks, drinks and wipes during takeoff and landing.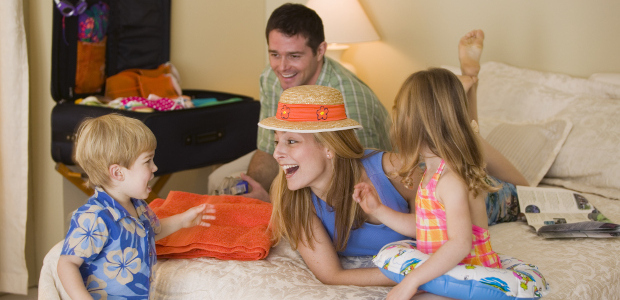 Blocked Ears
If you have ever had a cold on a plane, you appreciate the severity of the pain you can experience while flying. To help your child avoid ear pain when you take off and land, offer your child a pacifier or anything else that gets him/her to swallow.
Childproof Hotel Rooms
Childproofing a hotel room is up to the guest, so as part of your packing list ensure that you have power outlet covers and plastic cupboard locks that you would use on your own kitchen cupboards (duct tape makes a very good temporary lock).
Empty The Mini-Bar
If you've got one in your room, get it emptied. Not only will you have more space for kid-friendly milk and juice, but you'll save your kids from 'accidentally' helping themselves to the $10 cans of coke.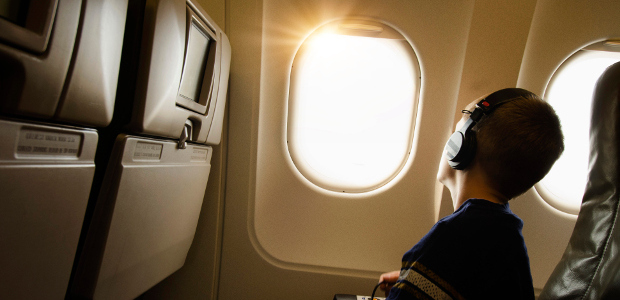 Childcare Is Available
Hotel child-care programs aren't always licensed, so if you're staying in one place for more than few days, consider using a local day-care facility.
Room Service
Room service can be a great alternative for parents and kids as it means you don't have to get dressed or keep everybody awake to get fed. Also hotels will often have nifty and cute little portions of things that will be a novelty to kids.
Remember: preparation is key! With this list of things to do and take on your next trip with kids, holidays with kids are that much easier.  Even if they only prevent one 30 minute screaming session, these little things could be the difference between a holiday that you've endured and an amazing family travel experience that your family will treasure in years to come. 
Other Travel Articles You Might Like...