29 July 2013
Flying First Class is a luxurious way to travel long haul between continents. These comfortable cabins are perfect for travellers who enjoy superior service, great amenities and additional facilities. In general, airlines offer their first class passengers extra luggage allowance, tailored menus, flat beds and private suites.
At Flight Centre, we have a dedicated team who specialise in arranging first class flights, so we asked our First Class Travel Experts to suggest five airlines that offer a great first class service.  Here is their response together with the benefits of travelling in a first class suite.
Etihad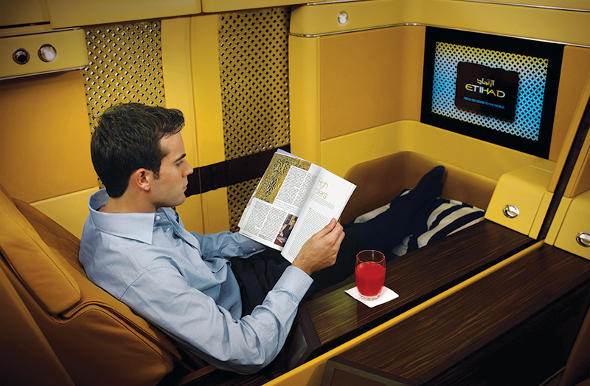 The private suites in Etihad's Diamond First Class contain a perfectly flat, extra-wide bed, personal mini bar and great wardrobe storage. The suites also boast 23-inch private screens that show a wide range of movies, TV shows, music and interactive games. Travellers are given cotton sheets, blankets, pillows, sleeper suits and a luxurious Swarovski Elements cosmetic purse for women and a cufflink box for men, complete with a La Prairie skin care product. Meals are available whenever you're hungry with an extensive á la carte or 'Kitchen Anytime' menu.
British Airways
Long haul British Airways First Class suites feature a fully flat bed with quilted mattress and duvet, 15-inch screens and an in-seat power supply for laptops and electronic devices. To make the journey all the more comfortable, passengers are given soft cotton pyjamas and an Anya Hindmarch amenity bag that contains eye gel, lip balm and moisturiser. And your entertainment is sorted with the screening of the latest films, documentaries, television, music, audio books and games.
Emirates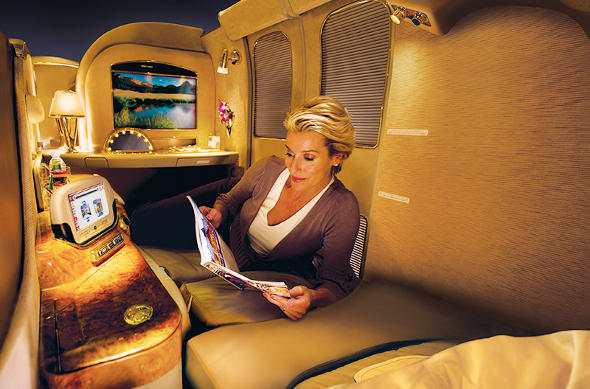 The First Class suites on an Emirates A380, Airbus A340-500 and most Boeing 777 aircraft are perfect for travellers who value privacy; each suite features a sliding door, personal mini-bar, a vanity table, a mirror and a wardrobe. The seat is easily converted by the friendly crew into a fully flat bed with a mattress. As a great addition, the A380 Emirates aircraft also have a shower on-board for the use of First Class passengers. When you're hungry, meals are presented on Royal Doulton fine bone china with Robert Welch cutlery.
Qantas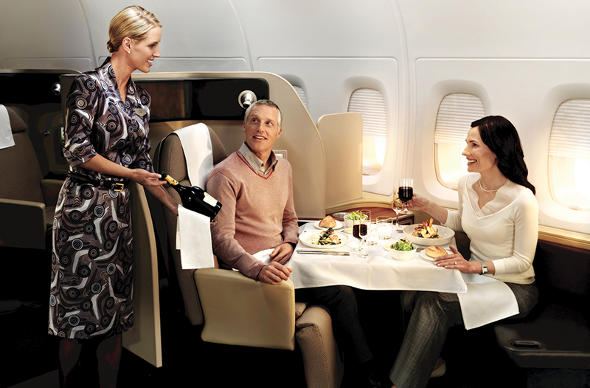 The First Class cabins on the Qantas A380 feature a flat bed of up to 212cm and an ottoman.  The First Class entertainment system features a 17-inch touch screen, a video on demand control and a wide selection of programs, CDs and games. The amenities are supplied by SK-II and include skincare, toiletries and an eye mask. To ease you into a peaceful slumber, passengers are also given a 100 per cent cotton jersey two piece charcoal grey sleeper suit and a pair of slippers and socks.
Singapore Airlines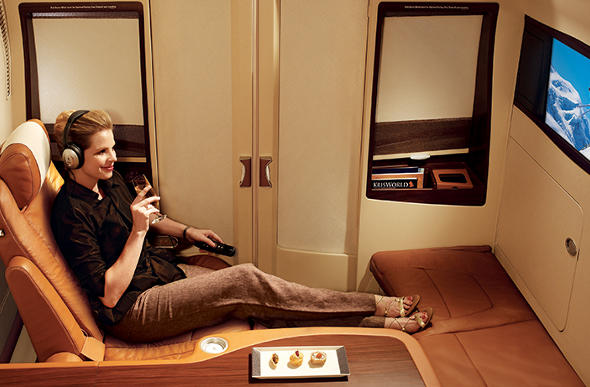 Passengers flying first class with Singapore Airlines enjoy 35-inch seats upholstered in fine-grained leather with mahogany wood trimming and a personal 23-inch LCD screen with 1280 x 768 pixels to keep you entertained. The airline offers a turndown service when you're ready to sleep. Other premium touches include quality skincare products, a sleeper suit and bedroom slippers designed by Givenchy. There is also a vanity corner with mirror and drawer at every seat.
To travel First Class on your next trip, email the First Class Experts at premiumtravel@flightcentre.com or call them on 1300 038 785. 
Other Travel Articles You Might Like...