12 April 2019
Images of moody jazz clubs, the French Quarter's quaint streets, Cafe Du Monde's beignets and Mardi Gras partiers throwing beads... these are just a few of the timeless memories linked with a city that still feels like a secret: New Orleans.
Tennessee Williams, the famed American playwright, once said, "America has only three cities: New York, San Francisco and New Orleans. Everywhere else is Cleveland."
Whether you choose to measure this statement by culture, architecture, music or food, it's clear that there's a timeless quality when you land in this sultry city steeped in both Southern American and French influences. As New Orleans rebuilt itself for more than a decade following Hurricane Katrina's devastation, the bayou charm continued to thrive – especially through its restaurants and bars.
No other city in the USA is as unabashedly proud of its indulgence when it comes to food and drink. It doesn't matter whether you order a third round of expertly made Sazeracs or a midnight snack of po'boys, New Orleans is a city tailor-made to experience through a culinary lens. It also happens to be the best way to understand why the 'Big Easy' is consistently one of America's top food destinations.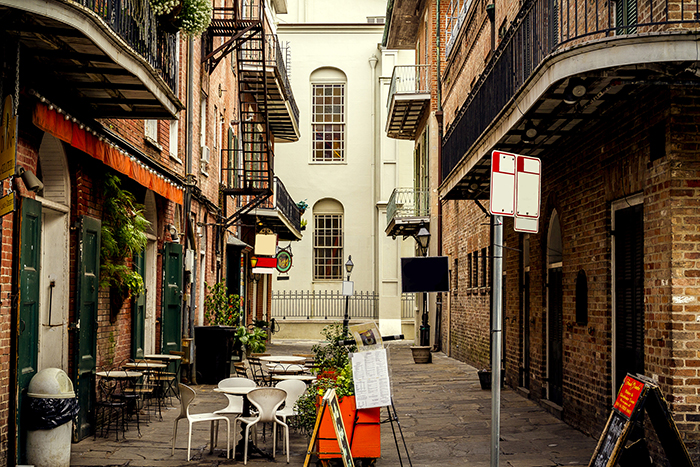 Everything Old Is New Again
Southern food has undergone a revival across the USA. Cities such as Charleston, Nashville and Louisville have become hot destinations for travellers and foodies alike. As a result, the popularity of this soulful style of cooking means that the fried chicken you order in a hipster-filled cafe in Chicago, could taste just as good as the hole-in-the-wall joint you scoped out in Greenville, South Carolina.
But New Orleans stands out on its own and no city is quite like
it, or each of its 17 wards. It is a place that embraces its history with pride in all the French and Southern influences, from the
jazz musicians performing in seemingly random marches down a cobblestone street to the influx of immigrants who have adapted the local cuisine as part of their own food.
You'll find that chefs are putting a new spin on Southern cuisine that's refreshing and, at times, completely unexpected. It's what New Orleans does best: turn the old new again.

Where to get it:
In the industrial-chic dining room of Toups South, you'll find seemingly classic Southern dishes, but chef Isaac Toups puts his refreshing spin on a number of grilled and stewed meats. The Heritage Pork Boudin is a dish you need to try.
Josephine Estelle does Italian food the New Orleans way. Order one of the pastas – such as the Mafalde with 'Maw Maw's' gravy, or tuna ceviche with peanut agrodolce – and see how Italian food can be so much more than a tomato sauce.
Stop into Coquette when strolling along Magazine Street and you won't be disappointed. Chef Michael Stoltzfus' tasting menu combines the best of farm-to-table cooking with Southern fare.
New Orleans Turns A Leaf
In a city known for its excess, New Orleans doesn't shy away from meat, especially iterations of pork at various boucheries dotting the restaurant scene. You'd be hard-pressed to find someone who would say "New Orleans" and "vegetarian" in the same sentence. But at a time when healthy eating is trendier than ever in the USA, vegetarian and vegan options are multiplying, even with classic dishes such as po'boys and gumbo. The riffs on favourites typically made with proteins are filled with plant-based ingredients.
It's clear that rich, meat-centric cooking is no longer the only star in town. Even at top restaurants like Shaya, where the slow- cooked lamb and short rib knish are crowd-pleasers, vegetables are celebrated (and in demand).

Where to get it:
Even in the hip Bywater neighbourhood it's still surprising when you find a place like the art-filled Satsuma Cafe, and order a green juice. After one sip you'll also want to order a raw vegetable salad (with a roasted pear and brie cheese melt on top, of course, because you're in New Orleans after all).
You won't find a run-of-the-mill po'boy at Killer Poboys. Instead of a sandwich teeming with fried oysters, the restaurant's new-school renditions include a bun filled with roasted sweet potato, a black- eyed pea and pecan spread, pickled shallots, and wilted greens – and it's just as satisfying.
Located in the Lower Garden District, Seed is one of the city's most popular veggie-friendly establishments. The vegan gumbo, taco salad and artichoke cakes are all hits.
Staying Cool In New Orleans
You'll no doubt come across tourists imbibing on the streets across this city with their oversized drinking vessels, but New Orleans' true drinking culture is one of sophistication. From the Sazerac to the Ramos Gin Fizz, many of the most popular drinks served today in craft cocktail bars across the USA originated here.
A cocktail mecca dating back to the 1800s, the Big Easy's connections with France and other European communities meant there was access to Cognacs and wines. Bitters and exotic fruits from the West Indies ended up in the port city too, and whiskey snaked its way down from Kentucky. The drinks from this era are still popular today. Tales of the Cocktail, the premier cocktail festival attended by countless industry professionals, takes over the city every year. From classic favourites that are the bedrock of New Orleans, to hipster wine bars, any cocktail enthusiast would be well served across the city's many bars.

Where to get it:
In a town full of talented bartenders, Arnaud's Restaurant boasts Chris Hannah behind the bar. Donning a white tuxedo, Hannah will serve you a refreshing rum-based drink called the Bywater.
Once you walk into the wine shop at Bacchanal, don't hesitate
to ask questions of the helpful staff. You then bring your rosé to the backyard, grab a table, and enjoy live music as you sip on wine all afternoon.
The service is impeccable and old school at Commander's Palace. But if you're looking to indulge in cocktails, martinis at lunch are 25 cents... no kidding.
Words: Bao Ong
---
---
Other Travel Articles You Might Like...