From 'No' To 'Pro' In Less Than A Week: Top Tips For Beginner Snowboarders
9 November 2018
Pointing a plastic plank with sharp metal edges straight down a slippery, snowy incline with your feet firmly strapped in goes against all of your natural instincts. And then there's the matter of sliding down said slope. Terrifying stuff.
I'd never had the opportunity to put boot to board until a recent trip saw me ticking off four of British Columbia's best ski resorts (Big White, SilverStar, Sun Peaks and Whistler Blackcomb) with the pow-pow pros, Sno'n'Ski. With lessons at all four resorts, I learnt, understood, fell (a lot), cruised, laughed and finally conquered a few green runs – and took notes. Based on my experiences, these tried and tested packing and learning tips, as well as insights from boardriding pros, will help you master the art of snowboarding so you can make the most of your next alpine adventure … faster than I did!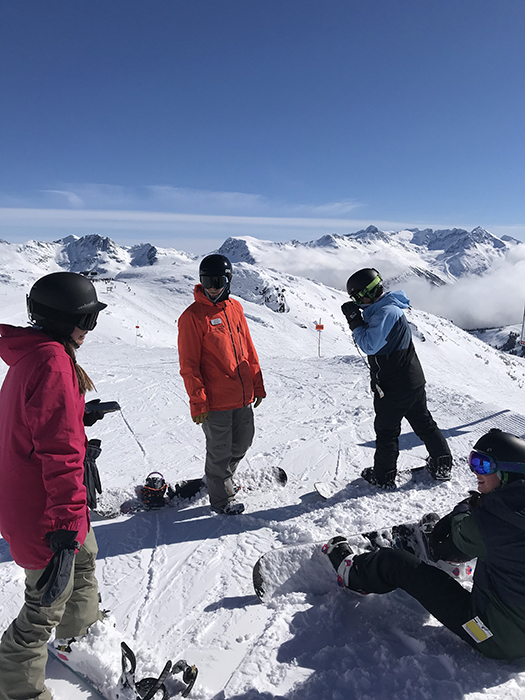 The Look
Don't think you can rock up in your hoodie and sneakers and rely on apparel hire at ski resorts – it's not a thing. You'll need to bring a good quality waterproof ski jacket and pair of pants (go bright, because Instagram) at the very least. One set will usually suffice for a weeklong stay. Butter up your snowboarding buddies and borrow your look, or look out for pre- or post-season ski gear sales (online and offline) depending on how early in advance you book your trip.
Underneath, thermal tights and a long-sleeve top will usually keep you nice and toasty, but ditch the long-sleeve top for a t-shirt if you're prone to cold sweats or on those warmer days. Learning is tough work and it's surprising how sweaty you can get, even if it's -2 degrees out. But those sunny bluebird days don't always translate to warm weather, so sometimes you might even want to throw on a hoodie underneath your jacket, too.
Accessories
Goretex and/or waterproof ski gloves are a must, as well as glove liners to keep those digits warm. Don't think you can get away with your usual long socks for your snowboard boots; snowboarding socks are made for riding; they're thicker and have reinforced heels to minimise any rubbing or blisters – boots are made to fit snug!
A gater, aka neck warmer, that you can pull up over your mouth and nose will help keep the sun and wind off your face. Last but not least, goggles will keep the bright glare of the snow out of your eyes.
RELATED: A first timer's guide to snow days and apres ski in British Columbia
The Beauty Stuff
Heavy-duty moisturiser will be your best friend, particularly for any Aussies heading into the snow from more humid climes. Wind, and dry and cold weather wreaks havoc on skin, so a hydrating barrier will ensure you maintain that covetable flushed, post-ski glow. And then there's sunscreen. The glare of the white snow on those bluebird days will leave you with a telling goggle tan that will scream 'all the gear and no idea'. Slip, slop, slap with the highest SPF-factor sunscreen you can get your hands on. Don't forget your SPF lip balm either.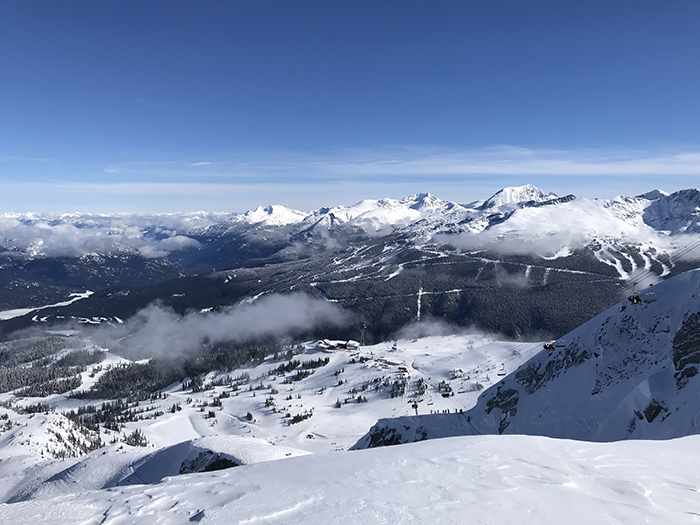 Rentals
BC resorts offers some of the best rental gear going around, according to fellow boardriders much more advanced than I, so you don't need to buy the best of the best for something you may or may not take to. There's always a choice of standard or performance gear, including boots, bindings, boards and helmets. The United Nations of crew at the ski rental shops have been shredding from way back and can answer any questions regarding performance, fit and suitability, and hook you up with a sweet set that will have you carving in no time.
Top tip: Always rent a helmet – no excuses!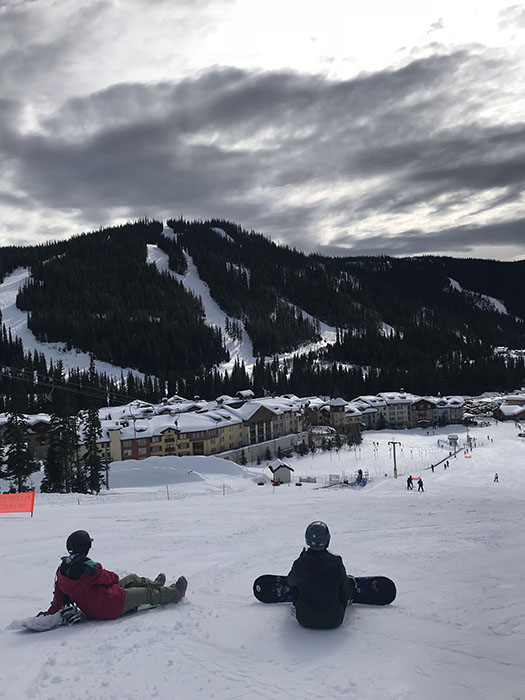 Lessons
Rule number one: cram in as many lessons as you can afford and have time for. Two-hour or full-day (two x two-hour lessons), private or group intensives will teach you the basics and beyond, including the best ways to stop, slow down and even fall – and you will fall, a lot. The mark of a good instructor are breaking down basics, encouragement and personality. Travel Expert Wade Bubner from Flight Centre Buderim, Qld says: "Listen to the instructors; you may question why you are learning something but it will eventually help and make sense as you progress."
Once you've mastered your level one and twos, instructors turn mountain guide (a unique bonus of Canadian ski resorts). They're there to show you around the mountain, dishing out tips about your form so you can progress from green to blue runs, and even fun facts and insider secrets about the mountain.
Top tip from Level 3 snowboarding instructor Alexis (London) from Big White: "Focus on the task at hand given to you by your instructor, such as confidently sliding down toe side before moving onto turns. Get yourself comfortable with each element of snowboarding before bringing it all together."
RELATED: 7 unmissable experiences at Silverstar Mountain Resort
Chairlifts
Learning how to get on and off a chairlift almost requires a lesson in itself. Learners will start off with the easy 'magic carpet', a rubber conveyor belt that runs up the bunny slope, and then often progress to a T-bar rope pulley system that sits between your legs and hauls you up a steeper learner section of the mountain. These are also a snowboarder's worst nightmare as you have to balance and steer sideways. Let's just say it's not uncommon to veer off course, catch your edges and fall right over. My recommendation? Avoid them.
For the more typical chairlifts, the biggest tip for boarders is to remember you're only steering with your front foot, as you'll need to unstrap your bindings to skate on. When getting off, point the tip of your board upwards, steer with your front foot and skate off and out of the way of the skiers disembarking behind you.
Top tip: as you're coming up to the top of the chairlift, look the liftie in the eye and make a fist with your arm horizontal to the ground in a repeated sweeping down motion – this will ensure they slow down the chairlift for you to make dismounting slightly easier (this works most of the time).
RELATED: A first timer's guide to skiing in British Columbia
Understand That It's A Process
You may have heard the terms 'pendulum' or 'falling leaves', a zig-zag movement down the mountain. Once you've mastered this on either toe side or heel side, you can certainly hit those easier mountain runs, but it's not really snowboarding. Plus, if you've been neglecting leg day at the gym, your quads and calves will be screaming at the end of the first slope.
The next step is mastering toe turns and heel turns, and then linking them so you can smoothly glide down the mountain, leaving behind a defined 'S' shape in your wake.
Top tip: Practicing linking turns on the bunny slope can often feel counterintuitive; sometimes you'll find you're already at the bottom of the slope and you've only done two turns, before having to take the slow magic carpet back to the top of the run.
The best place to practice your turns is on an actual run, where you have kilometres of groomed trails to play on. Ask around at the rental shop, your instructor, hotel staff and wait staff about the easiest green runs to head to first.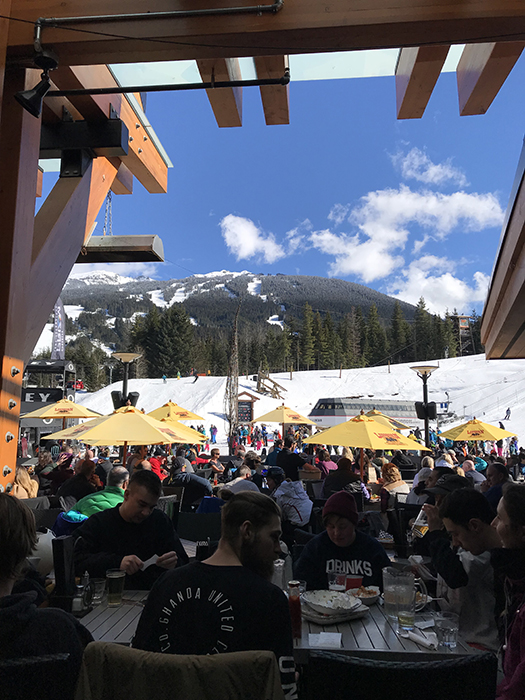 More Snowboarding Tips From Our Travel Experts
Laura Robertson from Flight Centre Garden City, Qld:
·      Bend your knees not your upper body; and if you think you're already bending, bend some more
·      Face the way you intend to go, and then your body will follow. So it goes without saying, try not too look at the ground!  
·      Your tailbone is not an ideal place to fall, so get comfortable on your toe side. Falling up hill on your knees isn't as painful and you can easily push up with your arms to get back up and riding again.
Wade Bubner, Travel Expert from Flight Centre Buderim, Qld:
·      Don't be afraid of falling. It seems like it can hurt falling over all the time but you kinda get used to it!
·      Keep your upper body straight. It's all in the hips and knees and direct with your head. Look in the direction that you want to go
Amy Oldfield, Flight Centre Queen Street, Qld:
·      Always wear a helmet! If you're not falling, you're not learning, and it's not worth risking injury and ruining your trip! It's rare to see any riders without one these days.
·      Relax and trust the process - everyone progresses differently but you'll need a few days at least
·      Ask around for the best beginner green runs at the top of the mountain – it not only offers you great practice, but also the chance to enjoy the views.
Images: Anna Howard
---
Keen to hit the slopes in Canada? Plan your snowboarding trip with Sno'n'Ski through your local Flight Centre Travel Expert
---
Other Travel Articles You Might Like...