21 January 2020
American food has been subject
to myriad flavour influences and decades of diasporic experience from immigrants adapting to a new land and its ingredients. The result is a culinary landscape that's as varied as the country
is large. And yet, casual fare such as burgers, barbecue and their perfect pairing, beer, still reign supreme.
Innovation abounds, though, as some of the country's best and brightest play with old techniques, new ingredients, champion regionality and sustainability and celebrate the rich cultural history of the States using the medium of food.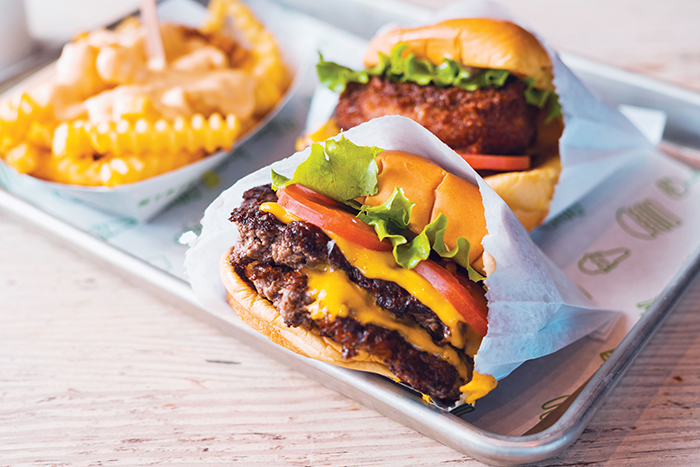 Burgers
Between tales of a 13th-century Mongolian version to its more likely German pedigree there's no consensus on the origins of
one of America's most popular foods, the burger. Irrespective of its unknown history, the burger's popularity shows no signs of losing ground since it became a fast-food staple in the 19th or 20th century. It's seen countless makeovers and iterations – upsized, monster, high-end, vegan, fusion, hybrids and classic – but wherever you go, you'll find a burger worth eating.
Where to get your fix
The OG Chains
In-N-Out Burger is home to classic, no- frills burgers with all the obligatory sides. Known for their 'secret menu' (ironically, available on their website), White Castle is a still family-owned chain known for small square burgers and references in movies such as Harold & Kumar Go To White Castle. Head to the original Shake Shack in Madison Square Garden for the Shackburger and crinkle-cut fries and a shake customised with local flavours.
Beyond Beef
Named the number-one vegan burger to eat before you die by ultimate #veganlife authority VegNews, the Double Beyond Impossible Chile Relleno Burger at Anthem Vegan in San Diego is a must-try.
The Social Media Sweetheart
Once a backyard operation that drew lines of diners to owner Shawn Nee's home, smash burger specialist Burgers Never Say Die now has permanent digs in Silver Lake, LA, thanks to the social-media hype.
Most expensive burger
High-roller in Las Vegas? The Fleurburger at Fleur in Mandalay Bay is stacked with foie gras, truffle and wagyu beef but it's the accompanying 1995 Chateau Petrus that gives this burger its whopping US$5,000 price tag.
Beers
After years languishing in the dregs of insipid, tasteless beers, the American beer scene is having a welcome craft renaissance. Mass-produced lagers are being replaced by carefully crafted microbrews inspired by centuries-old brewing heritage. The result is an impressive class of quality craft beers championed by a new generation of passionate brewers.
"We're a melting pot – inspired by great beer cultures around the world, yet willing to experiment and make products that are uniquely our own," says Drew Gillespie, president of Seattle's Pike Brewing Co. And if beer is on your US bucket list,
then Seattle is a no-brainer, where "IPAs [India pale ales] rule the roost," according to Drew, thanks to the city's enviable proximity to the world's best hop-producing region, a few hours west. And though the West Coast craft beer scene is more well-known – through the efforts of pioneers such as Sierra Nevada and the thousands of microbreweries throughout Oregon, Washington and California – almost every state in the US is home to craft breweries of its own. While IPA is the beer of the moment, Drew at Pike Brewing suggests that beer-drinking travellers opt for the freshest brew. "Drink the beer made where you are. When travelling I always seek out a brewery and try as many styles as possible," he says.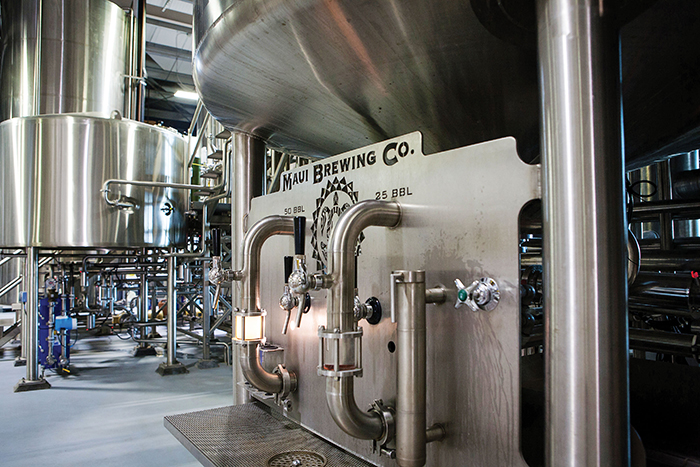 Where to get your fix
The Beer Library
With more than 50 ever-changing beers on tap, Beer Revolution in Oakland, California showcases a huge range of great American (and international) beers of all styles, on tap and in bottles.
The Big One
Not technically a craft brewery anymore, Founders Brewing Co in Grand Rapids, Michigan still produces craft-quality beer in the heartland of America. A producer of cult beers, its KBS (Kentucky Breakfast Stout) is the stuff of legend.
The Hidden Gem
Brewing wildcard Hawaii is home to Maui Brewing Company, which has been winning awards, and palates, with its tropical- inspired ales and porters, all the while focusing on sustainable operations.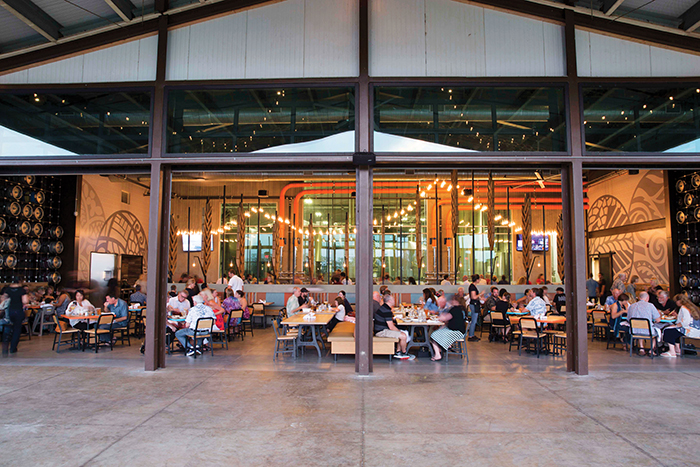 Barbecue
Where there's smoke, there's fire. And when it comes to American barbecue there has
to be both. Distinct from the American practice of grilling, true barbecue is typified by melt-in-the mouth, marinated-for-hours meat cooked low 'n' slow over wood or coals. What was once, according to famous pitmaster and owner of Franklin's BBQ in Austin Aaron Franklin, "a poor, rural cuisine" born out of "a culture of thrift" has now become a revered cuisine style in its own right.
Pitmasters are as dedicated to their craft as trained chefs, many of them using secret family recipes and meticulously honed skills. In fact, the 'Oscars' of the food world, the James Beard Awards, has even recognised barbecue and its purveyors with numerous pitmasters awarded in the 'Best Chef' category. But far from being
a homogeneous cuisine type, barbecue, which is steeped in a rich socio-political history, is surprisingly nuanced.
From smoking whole hogs doused in sauce in the Carolinas and dry rubs and pork
ribs in Memphis to sticky hickory-smoked brisket in Kansas City and Alabama's pulled pork or chicken sandwiches with coleslaw, there's no shortage of regional variations. Meat is the main event but sides are important too: mac 'n' cheese, collard greens, baked beans, coleslaw and cornbread, to name a few.
Then there's Texas. Regarded by some as the spiritual home of barbecue, there are four distinct styles here: east, west, south and central. It all comes down to different cuts and sauce styles, many of which owe their existence to cultural influences. For example, the influx of German and Czech immigrants to parts of Texas is largely credited with the state's preference for European meat-smoking techniques and use of sausages. While it pays to make your way to the flagship states for a taste of traditional barbecue, you'll find good barbecue wherever there's smoke and a big line. There's even vegan options such as Homegrown Smoker in Portland, Oregon.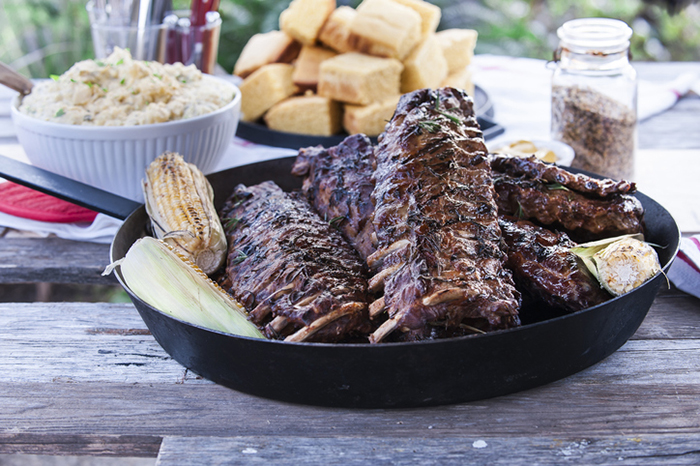 Where to get your fix
The Texas Joint
Serving up exclusive recipes inspired by a rich family heritage – owner LeAnne Mueller is the daughter of Central Texas barbecue legend Bobby Meuller – la Barbecue is one of Austin's best. Low 'n' slow meat and sausages with a range of salty and savoury rubs is the standard here, with plenty of twists as well as moreish sides available.
The Family Operation
Rodney Scott moved on from his family roadside barbecue joint, Scott's Bar-B-Que in Hemingway, but the barbecue at his
new Charleston digs hasn't lost any of its heritage. Rodney Scott's Whole Hog BBQ specialises in low 'n' slow over wood, with chicken and Southern-fried catfish to round out the plethora of pork.
The City Slicker
The Big Apple is no stranger to casual eats and when barbecue made its debut in the city circa 1994, NYC fell in love. Most pay homage to the traditional barbecue states but there's plenty of interpretation, too. For OG New York barbecue, go to Blue Smoke in Flatiron, Dinosaur in Harlem and Mighty Quinns in the East Village.
---
---
Other Travel Articles You Might Like...