6 December 2018
Steamy, tropical and sexy - from the affluent South Zone, to the sprawling poorer suburbs and favelas of the north; Brazil's second biggest city is where culture and Latin fever collide. Rich in natural wonders, history and great food, Rio de Janeiro ('Rio' for short) is one of South America's most popular city destinations. And if you're a Rio newbie, make sure to pop your Rio cherry the right way, by reading on for our first-timers guide.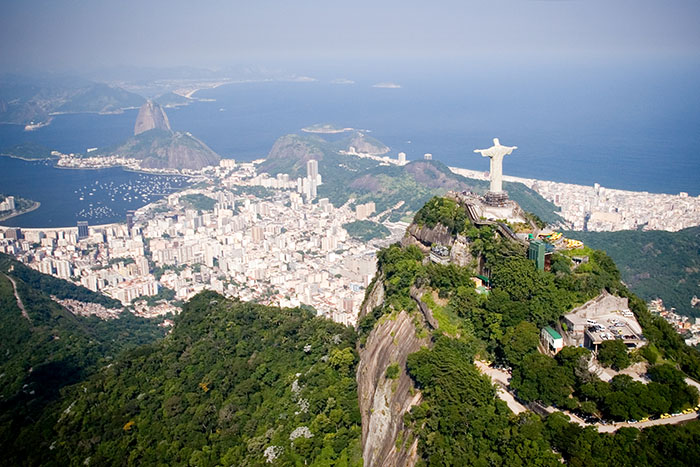 Should I Do The Touristy Stuff?
Definitely. At the top of most tourists hit-lists is the Christ the Redeemer statue. Voted one of the new seven wonders of the world, many visitors make a beeline for its base, but you really don't have to. If you're time poor and dealing with heavy crowds doesn't enthuse you, then skip it. After all, the iconic landmark can be seen pretty much everywhere in Rio. Plus, the trail which accesses the statue has seen a slew of tourist robberies over the last 12-months. 
Next is Sugar Loaf Mountain. Again, crowds are a problem (there's more than a million visitors here annually) but taking in sunset or sunrise here on a clear day is absolutely stunning. Ascent is made by firstly travelling 220-metres above sea level to Urca Hill and then boarding a cable car to reach the summit, from where you can take in 360 degree views of Rio and its jaw-dropping stretches of sand flanked by the deep blue waters of the Atlantic Ocean.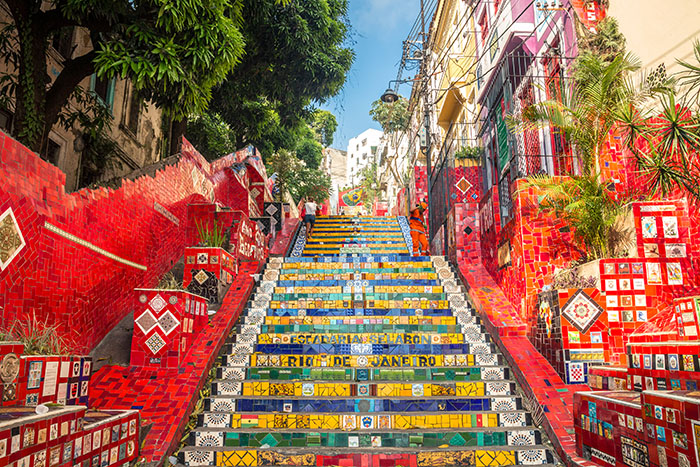 Is There An Area I Shouldn't Miss?
To contrast the city's ample array of beaches, pay a visit to the neighbourhood that is widely acknowledged as Rio's beating bohemian heart: Santa Teresa. 
A longtime home to the city's creative community, including many artists who have opened up their studios as private galleries, this pretty area is a mix of grand colonial architecture, colourful street art and cobblestoned streets. Positioned on a steep hill overlooking the city's centre, it's main, leafy street is also one of the best hangouts for a leisurely lunch or a mini bar crawl. Don't miss Bar Do (bardomineiro.net). A focal point for both tourists and residents, this lively restaurant and bar has been open for decades.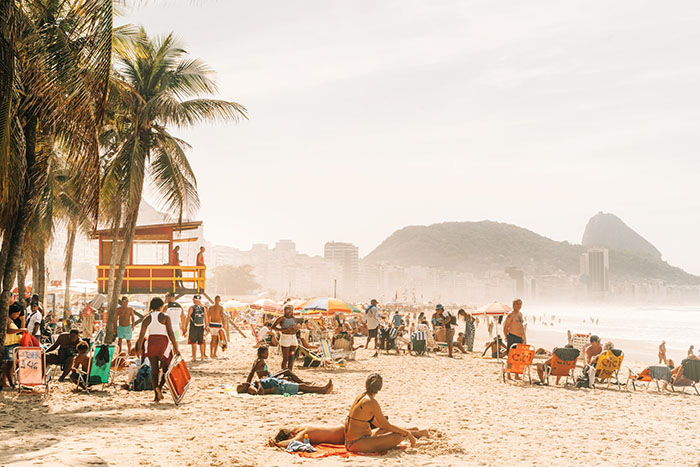 Where Can I Get Some Surf And Sand?
Copacabana and Ipanema are Rio's beach heavy hitters. Famous worldwide, both are dotted with barracas (tents) that hire out everything from deckchairs to parasols. And both are the best places to observe caricocas (locals) in their natural habitat. Here you can watch the buff and bronzed girls and boys of Ipanema go by - and the tiny bikinis and trunks aren't only worn by slim twenty somethings, nope, in Rio even grandmas and grandpas adopt a barely-there ensemble when hitting the sand. 
For killer sunsets - and the best surf breaks in the city - head for the meeting point between the two beaches to the rocks of Praia do Arpoador. Here, as the sun dips, you'll see a happy crowd cheering as the sun sets against the surf. If you're after a patch of sand minus the people, then a short 10-minute walk up is Leblon. Infinitely quieter, you can sunbake, take in the vista, and people watch without feeling squished.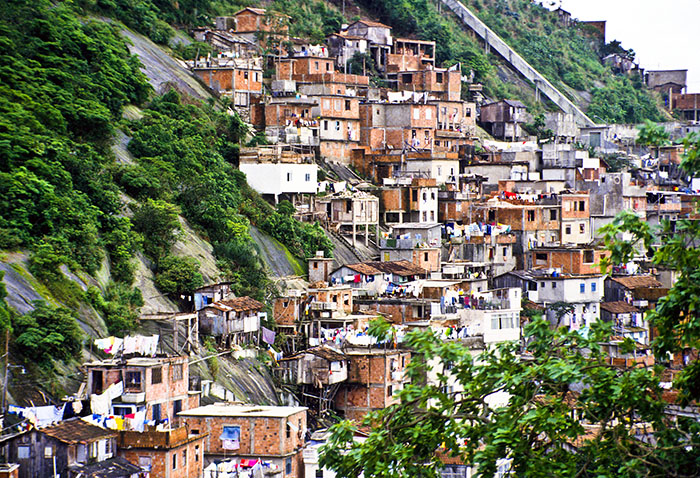 Should I Go To A Favela?
For decades, Rio's mountainside favelas (or 'slums') were off limits, but some are now welcoming travellers. Officially, it has more than 700 of them and combined they house around 22 per cent of the city's population. But whether to visit as a tourist is a tricky question. 
There are two ways you can view it: one as a way to understand and experience a local culture; the other is a gross human poverty zoo of sorts where busloads of tourists peer into makeshift housing and take selfies of the poor residents as if they were museum exhibits. Add to this the ongoing problems of drug cartel takeovers, which means a visit can be potentially dicey, and it doesn't bode well. 
If you're dead set on visiting then make sure you do your research - consider what kind of approach the tour company has to the community they're visiting and get a great local tour guide who knows the residents, allowing you to engage with them ethically and sensitively. 
Is Safety A Concern?
Speaking of…yes, safety in Rio can be precarious. Beneath the carefree crowd of beachgoers and Carnival revellers, the country in a political and economic tailspin, so it's even more dangerous than usual. However, as long as you're very careful and know what you're doing then there's no reason not to enjoy everything the city has to offer. 
Don't carry a fancy camera around, avoid getting your phone out on the street, and keep to busy, well-lit streets at all times. 
Use taxis booked by the hotel in the evening, trust your gut and always err on the side of caution. 
Where Should I Shop?
If you're in town on a Saturday then hitting the Feira da Praca XV antique market is a must-do. A bustling flea market, here you'll trawl through junk and treasure alike. Those with patience and bartering power will be able to nab a bargain. Afterwards, while in Centro, head to one of the many Havaiana stores for cut-price thongs (available in a huge variety of colours) and then look for classic Brazilian souvenirs, including moqueca clay cooking pots and canga (Brazilian beach towels) which can be had for a few bucks. 
What Should I Eat?
The melting pot that is Rio's culinary scene is a gourmands dream. Some of the signature dishes to work your way through include pasteis (small, deep fried pastries filled with meat, cheese or beans), cod balls and fried sardines with lime. You can't leave without visit one of the many churrascarias (barbecue eateries) or by trying what some say is the country's most popular dish: feijoada. Introduced by the Portuguese in the 1500s, the hearty dish is a stew of black beans and meat - lots of meat - served with kale, rice and chunks of orange. For dessert, try an authentic acai bowl. Yep, long before hipsters got hold of the purple superfood, the berry was a daily snack here. Originating in the Amazon, it's served as a sweet sorbet and can be found in countless street snack bars for a pittance. 
For a real foodie treat, head to the Italian-Mediterranean restaurant, Fasano Al Mare (fasano.com.br) at the 5-star Fasano hotel.  The mouth-watering degustation menus here (especially the 10 year anniversary one) are definitely splurge-worthy. And if you're feeling even more flush, then opting for a stay here means that you'll also be able to access its famed rooftop infinity pool and bar.
Open to guests only, there's no better way to end a day in Rio than by lounging here with a caipirinha (Brazil's national cocktail) in hand, soaking up the views of mountainous peaks, Ipanema beach and the glistening Atlantic ocean beyond. You'll be in good company - everyone from Kate Moss and Madonna to David Beckham and One Direction have stayed here.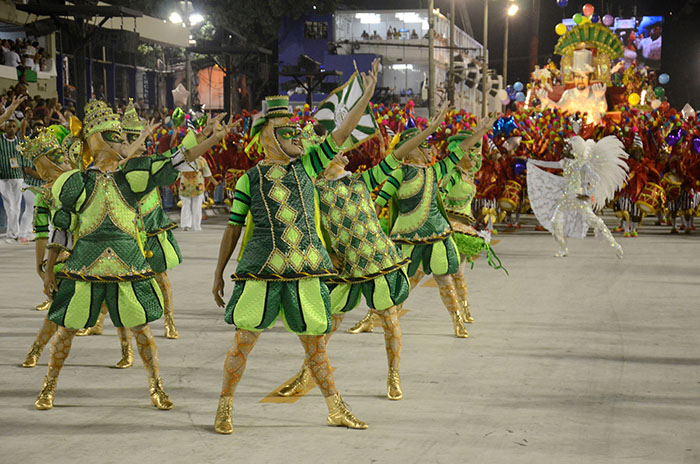 Where Can I See Samba?
Rio has long been regarded as the Carnival capital of the world - after all, more than half a million foreign visitors turn up each year for festivities and at the core of the big event is samba. 
Uniquely Brazilian, samba - and indeed live music in general - is part and parcel of daily life here and it's everywhere you look. On beaches, in the street, in restaurants and in nightclubs, bars and music lounges. To get a feel for it you can visit one of the many samba schools, which are often found in Rio's poorer neighbourhoods (including favelas), or at a live music venue, such as Bar Carioca da Gema (barcariocadagema.com.br).
---
For the latest travel deals, click here.
---
Other Travel Articles You Might Like...