22 September 2020
Do you miss flying? The frequent flyer perks, the meals and that sense of adventure you get when a freshly printed boarding pass lands in your hand (or safely downloaded on your phone)? Well you're not alone. It appears that in the wake of strict international border closures, the lack of exciting, long haul flights has forced airlines to pivot and move in new and creative directions. 
Inventive, entrepreneurial and a little bit crazy, here are a few airlines and airports that we've come across lately that have pivoted or transformed during the 2020 pandemic. 
Qantas
We can't take to the international skies, but that hasn't stopped Aussies from donning a pair of the iconic flying kangaroo PJs. With all Qantas international flights currently grounded, the airline has an oversupply of in-flight items that are normally offered to passengers travelling in premium cabins. The airline has gotten a little creative in lockdown, taking their excess stock of passenger goodies and turning them into care packs for purchase. 
Their intention was for the public to purchase these kits either for themselves as a bit of a 'treat yourself' gift, or as a care package that can be sent as a surprise 'random act of kindness' to a friend, family member, or anyone in need of some pampering.  
The care packs can be purchased via Qantas.com for $25 per pack or 4,350 Qantas Points, including delivery, with a maximum of 10 packs per person.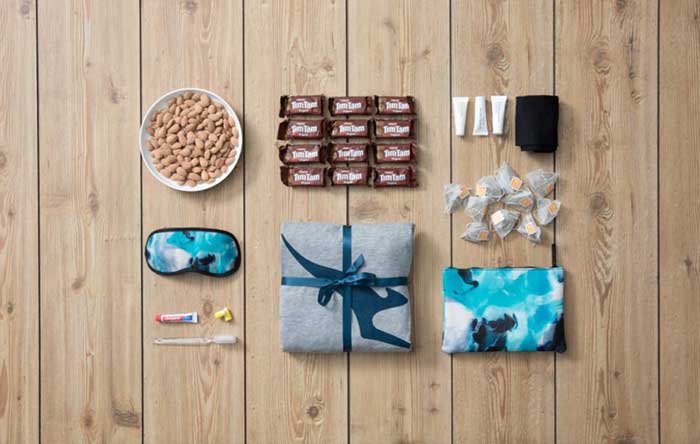 Image credit: Qantas
Each care pack includes:
1 x Qantas Business Class sleeper suit

1 x Qantas Curates Business Class amenity kit featuring ASPAR Travel Essentials (Sweet Orange & Shea Hand Cream, Ultra Hydrating Face Moisturiser & Sweet Orange Lip Balm)

12 x individually wrapped Tim Tams

1 x 200 gram pack of smoked almonds (served in Qantas First Class)

Packet of 10 x T2 Lemongrass and Ginger tea bags
First Airlines 
Japanese company First Airlines has recently launched "virtual vacations", creating a way for travel-starved customers to take an imaginery trip to an international location. For $85 AUD, passengers can enjoy a two-hour first-class flight experience (or $78 for business-class), complete with preflight safety demonstrations, cabin crew hospitality, pilot announcements and meals, without the hassle of luggage, visas, or jet lag. 
Describing itself as the "world's first virtual airline", the Japanese company recreated the first-class cabin of an A310, including seats from a retired aircraft. The experience takes place in 'Ikebukuro International Airport' which is essentially an office space in Ikebukuro, a city centre in Tokyo.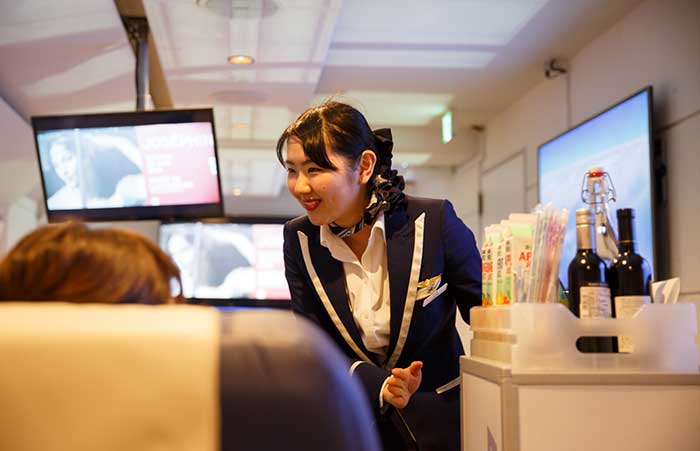 Thai Airways
The Thai carrier has found a very new gap in the market thanks to the lack of international flights; in-flight dining, made to order. They recently opened a pop-up restaurant in their Bangkok based headquarters, serving up meals from their in-flight menu to the public.
Patrons and flying enthusiasts are welcomed by uniformed Thai Airways crew on arrival, before being seated in the restaurant which has been set up to mirror a plane. Seating ranges from the iconic purple business class seats complete with pillows, to the orange, pink and purple economy seats. There's even a beanbag area, and boarding passes are distributed to diners, a thoughtful souvenir.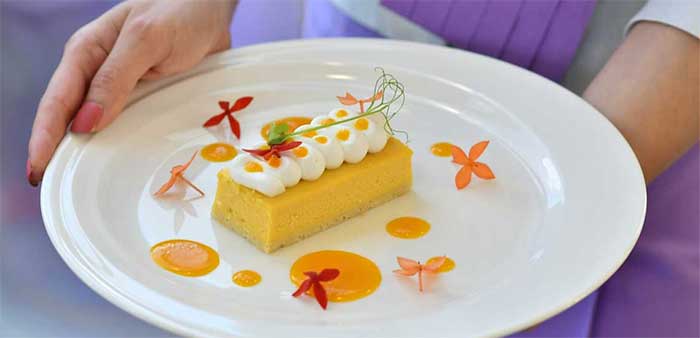 Image credit: Thai Airways
Spare parts from engines, fan blades, windows and other unused items from aircraft factories are used as furniture and decor, each complete with a QR code diners can scan to learn more about the parts. Trivia and a meal! 
Meals are prepared by the airline's international chefs, which have been incredibly well received given that the restaurant has served up about 2,000 meals per day so far!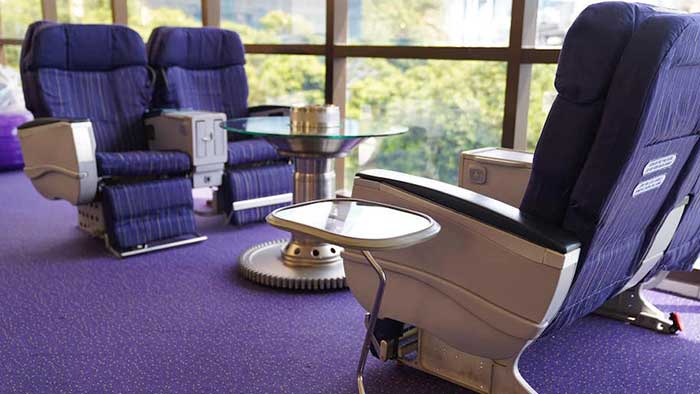 Image credit: Thai Airways
Vilnius Airport, Lithuania 
Lithuania's largest airport, Vilnius International Airport, transformed from aviation to the silver screen earlier this year when they created a drive-in cinema in one of their airport aprons.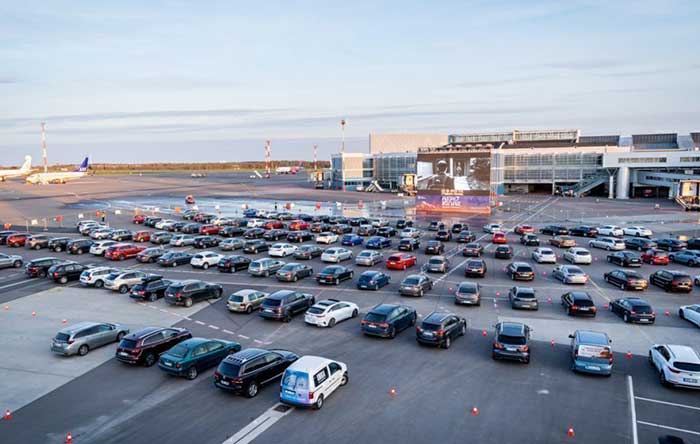 Image credit: Vilnius Airport
The apron usually only sees large international aircraft rolling in, unloading, refuelling and setting off again, however in lieu of international flights the space was converted into an open air movie theatre. This was part of the 'Aerocinema – The Journey Begins' project, part of the Vilnius International Film Festival.
220 cars were able to be accommodated in the screening space, where patrons (two people max per vehicle) could relax and unwind in the comfort of their own cars, old school style. The screen itself was five stories high, the largest of its kind in the Baltic States. For sound, local radio frequencies were used, making the experience the perfect way to enjoy an outing, while still practising social distancing.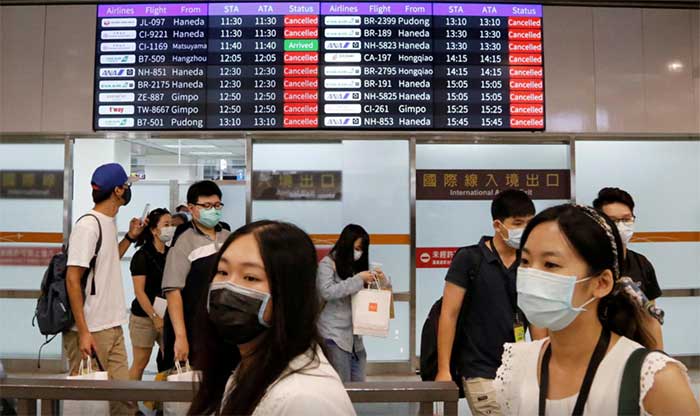 Image credit: Reuters
Songshan Airport, Taipei
It seems that absence makes the heart grow fonder in Taiwan, where locals appear to be missing flying in a big steel bird. 
Songshan Airport in downtown Taipei recently ran a social media competition offering winners the opportunity to take a fake scheduled flight, albeit to nowhere. And the result? A rather overwhelming one, with over 7,000 travel-starved Taiwaniese locals applying, and 60 lucky winners selected at random.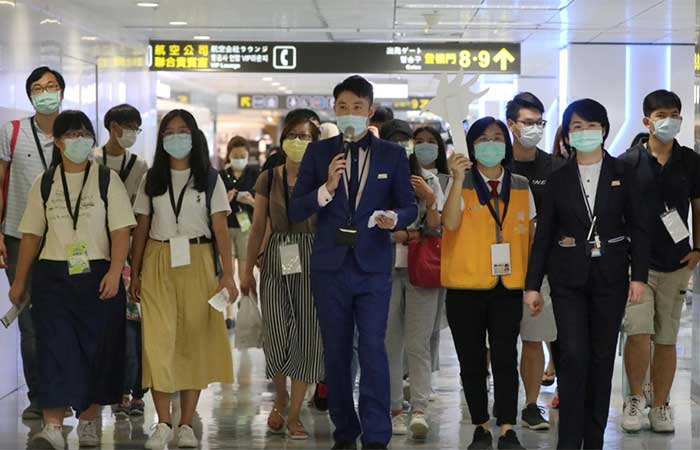 Image credit: Reuters
The winners were offered 'pretend to go abroad' airport tours, which took place in July. During the tours, the 'travellers' were the first to experience some of the new facilities at the recently renovated and expanded airport.  Then were provided with fake itineraries which required them to check in, clear passport control and airport security, before boarding a China Airlines Airbus A330 full of flight attendants who interacted with the passengers before it was time to disembark.  Talk about a trip to nowhere. 
---
---
Other Travel Articles You Might Like...