21 September 2015
Struggled to get out of bed this morning? You're not the only one! Just 24 hours after touching down in Sydney after four consecutive flights, it was back to reality and the Channel 7 studios for the Sunrise team.
In case you missed it, Sunrise and Flight Centre rewrote television history last week, broadcasting Channel 7's early morning show live from five countries in five days. Kochie, Sam and the team managed just an entree-sized taste of Dubai, London, New York, Niagara Falls and Cancun, staying little more than a few hours in some locations before boarding their next plane.
Somewhere along the way, the morning broadcast turned into the 'amazing race' as the team navigated delays, oversold flights, customs queues, and missing bus drivers. Luckily, Flight Centre's Sally and Millie were on the ground to tackle logistical nightmares and, along with the whole Sunrise crew behind the scenes, managed to pull off the trip of a lifetime.
Check out the daily behind the scenes wrap-ups of Sunrise and Flight Centre's Round The World adventure below.
Highlights: Camel riding in the desert, high-rise helicopter landing, a Bedouin dinner in the dunes, living it up at the Burj Al Arab.
Highlights: Kochie's heart-warming family reunion, sampling treats from Harrod's, visiting Platform 9 3/4, meeting and greeting the Aussie expats.
Highlights: Broadcasting from the iconic NBC studios, scoping the views from the Top of the Rock, taking home a goodie bag from Macy's, sneaking a few Magnolia Bakery cupcakes.
Highlights: Seeing (and feeling) the full force of the falls, sampling maple bacon doughnuts, meeting the Mounties, Kochie and Sam's Titanic moment.
Highlights: A luxe retreat at Secrets The Vine Cancun, dancing the night away at Coco Bongo nightclub, enjoying a much needed siesta under a sombrero.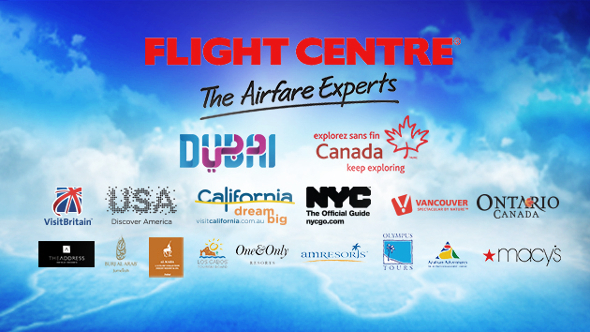 Other Travel Articles You Might Like...