A food-lover's heaven awaits heaving with dining options from every culture imaginable, reflecting the city's long history of immigrants from Europe, Asia and the Middle East. From casual cafés to fine diners, our restaurateurs thrive on a foundation of fresh seasonal produce and endless bounty from the sea. Find food with a view at the beaches - think Icebergs at Bondi or Aqua Dining in North Sydney. Find dishes with edge in Surry Hills – think Longrain's mod Asian fare or pastries with a twist at Bourke St Bakery. Or take the family to a barbecue in the beer garden of popular pubs like the Coogee Bay or Newport Arms. Sydney's love affair with coffee means you can sip your latte and watch paparazzi prowl for stars on the Bondi strip or pay just $1 for espresso Italian style, standing at the bar at Baker Bros in mid-city York Street.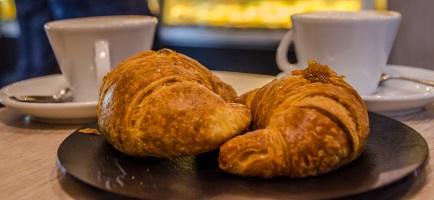 Our top picks
Woolloomooloo Wharf
6 Cowper Wharf Roadway, Woolloomooloo
See and be seen dining on the wharf where five fine diners share the historic timber boards with upmarket apartments and the Blue Hotel. China Doll (mod Asian), Otto (Italian), Manta (seafood), Kingsleys (steakhouse) and Akis (Indian) all pull the smart set daily, rating high on the radar with food reviewers and celebrities.
Mr Wong's
3 Bridge Lane
A colonial design vibe complete with ceiling fans meets a contemporary Cantonese menu with over 60 dishes plus dumplings. It's noisy, crowded and huge, seating 240 people. Adjourn next door to the extremely hip underground bar Palmer & Co, after dinner live music and cocktails. 
Eat like a local
The Boathouse Cafe
2 The Esplanade, Balmoral Beach
Catch a ferry from the city to northside Balmoral and disembark on the doorstep of the rustic Boathouse, a timber kiosk-café crammed with fresh flowers, gifts and picnic hampers. Open for breakfast, lunch and on Sunday evenings, find a deli-style menu and Australian wines. Paddleboards and boats also for hire.
MoVida
50 Holt Street, Surry Hills
Take a goats curd and quince cigar, a sea urchin on crackers and a quail and morcilla pastry and you have highlights from this back street Spanish tapas palace surrounded by offices. The chorizo, olives and sardines and there too and that's why MoVida pulls the sophisticated inner city set nightly.
Spice Temple
10 Bligh Street
Possibly the city's hardest to find eatery, the door to this basement fine diner is literally hidden behind a digital billboard. Chilli disciples know most of this share menu is not for the faint of heart when it comes to heat on a plate. Modern Chinese and cocktails served in a dark, rich red space.