In Sydney real estate, it's all about the harbourside location and the residents of Taronga Zoo Sydney have arguably the best view in the city. Perched atop a bushy hill overlooking Athol Bay on Sydney's north shore, the 75-hectare zoo is home to around 4,000 native and international animals housed in spacious simulated natural habitats.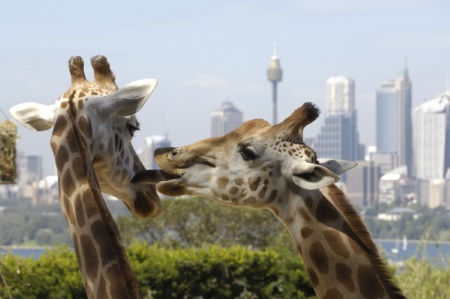 With so much to see, and quite an area to get around, it's recommended to set aside a few hours to explore the zoo. Use the free map to pinpoint your faves, and take note of the animals off display to avoid disappointment. A must-visit exhibit is the Asian Elephant habitat where you can view the pachyderm family including the three calves born at the zoo. Also of interest is the nocturnal platypus pool where you can watch this shy monotreme swim around, and the Great South Oceans display with sea lions, penguins and leopard seals. Don't miss the Wild Australia section where you can view native wildlife such as kangaroos, emus and wombats.
The new scenic boardwalk links the African Safari and Big Cats Trail and offers stunning views as well as glimpses of the Himalayan Tahr goats on their mountain. Free daily keeper talks and encounters allow visitors to learn more about the resident zoo animals and the seal and bird shows are a fun-filled, must-see attraction. More in-depth insight can be gleaned from tours including Nura Diya – Taronga's Aboriginal Discovery Tour, as well as the option to stay overnight at the zoo. During the Roar & Snore sleepover you can sleep in architecturally designed tents onsite with up-close encounters of the fabulous critters.
To visit, take a 15-minute ferry ride from Circular Quay in Sydney's CBD to the Taronga Zoo Sydney Wharf and then walk for 19 minutes or take a bus to the zoo entrance.