The best time to travel to London depends on a number of factors, including activities, tours and price. London enjoys four distinct seasons, each bringing a unique experience. It may be known as the rainy city but London actually receives less rainfall on average than Rome does, and has been known to reach 38 degrees in the height of summer! 
---
Yearly Temperature & Rainfall For London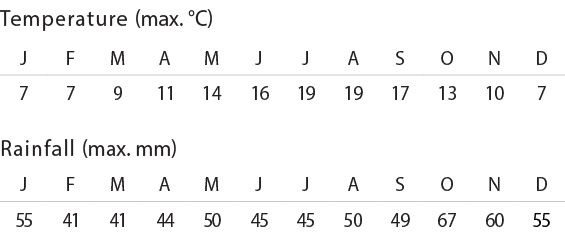 ---
Summer in London
Being in the Northern Hemisphere, London's summer is the opposite of at home in Australia, running from June to August. Because summer boasts the mildest weather and plenty of sunshine, it is also the peak season. Peak travel periods mean you need to book further in advance and prices increase, however that doesn't mean you can't get a great deal by booking in early bird or last-minute sales. Being flexible with your dates will help your tailor-made travel expert find the best deals available. During summer, London's days are long, with an average of 16.5 hours of sunlight, the sun setting as late as 9:15pm. Events to catch in London include The Championships, Wimbledon in June, Royal Ascot horse races in June and the Notting Hill Carnival in August.
Dates: Summer in London begins in June and ends in August.
Appropriate clothing: Long trousers and jacket as evenings can still be chilly
Don't forget: Sunscreen
Autumn in London
London weather in Autumn brings fresh days and cool nights, and is much quieter in the city than the peak summer season. Prices of accommodation drop greatly in autumn, making it a more affordable time to travel. Daylight saving ends for London in October, which signals that winter is well on its way. The changing of seasons is distinct in London, with trees turning fiery reds and oranges in October and November.
Dates: Autumn in London begins in September and ends in November.
Appropriate clothing: Layers and a warm coat
Don't forget: The end of autumn can be cold and windy, so bring an umbrella
Winter in London
The cold, short days of London's winter are brought to life with vibrant festive season cheer. The streets of central London are often glittering with holiday lights, window displays and carol singers. The coldest part of winter comes in January and February, when prices are again low.
Dates: Winter in London begins in December and ends in February.
Appropriate clothing: Warm clothing and a waterproof coat
Don't forget: A scarf and gloves as the wind can be icy
Spring in London
Springtime in London means crisp, clear days and gardens blooming to life around every corner. March and April see the occasional shower, while May is generally sunny and mild. This time of year Londoners tend to emerge from pubs into parks for picnics, concerts and even sunbathing on warm days! The Chelsea Flower Show, the traditional Head of the River race and the Oxford vs Cambridge boat race are all cultural highlights at this time of year.
Dates: Spring in London begins in March and ends in May.
Appropriate clothing: Layers, including water-resistant shoes for the showers
Don't forget: Your camera to capture the flowers in bloom