The highest mountain between the Himalayas and the island of New Guinea is also part of Malaysia's first UNESCO World Heritage site. Mount Kinabalu in Kinabalu Park is the pride and joy of the area, offering towering granite peaks to test travellers' athleticism and tenacity. Prepare yourself for a worthwhile climb to see the sun rise on top of the world.
About 55 kilometres from Kota Kinabalu, Mount Kinabalu is the highest peak in Southeast Asia, rising 4,095 metres over the island of Borneo. Reaching the razor-sharp granite spires is the goal for many adventurous visitors ready to take on the exciting two-day hike.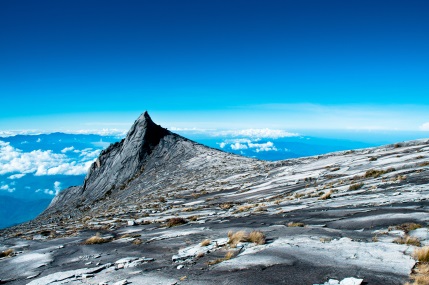 Before you climb, there's a bit of prep work to do, from confirming availability and making a booking to obtaining a climbing permit; a number of reputable all-inclusive packages help facilitate this process.
Climbing the mountain is a popular tourist activity, so it can fill up; you'll want to book several months in advance and keep in mind the risk of unfavourable weather (the summit is closed to hikers roughly a dozen times a year due to inclement weather).
Keen hikers will spend the first day enjoying their escape from the heat and humidity of the coast for the cooler inland mountain air. Though the terrain on day one is steep, the spectacular scenery, wildlife and mountain flora, including the many varieties of vibrant orchids, provide welcome distractions.
You'll also have the opportunity to stop for breaks and water at shelters along the route. After spending a unique night in a mountain hut, you'll resume climbing early the next morning. The goal is to reach the summit before sunrise.
Then, experience the magic of seeing the sunlight hit Borneo from its highest point. Muted greens become brilliantly coloured jewels as the world below wakes up. Then it's time to descend for breakfast – and perhaps a soak at one of the nearby hot springs. Your well-travelled legs will thank you.
If your legs prefer to skip the climb altogether, surrounding Kinabalu Park is stunning in itself and features some easier walking trails that let you admire Mount Kinabalu from afar.