The weather in Edinburgh often gets a bad rap. It's stereotyped as always being cold. The northern location and winds blowing off the North Sea mean this is (to some extent) unavoidably true. Use this to your advantage though – cold weather simply offers an excuse to have a wee dram of authentic Scotch whisky or cosy up in a cafe!
To compensate for the cold winters, Edinburgh's summer days are some of the longest in the country. During July, it will stay light until 10pm.
There's something to love about all of the Edinburgh seasons, so picking the best time to travel to Edinburgh really does come down to personal preference.  
---
Yearly Temperature & Rainfall For Edinburgh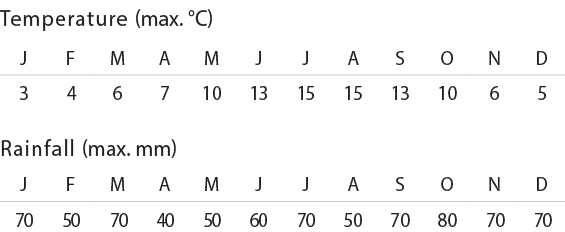 ---
Summer
This is the best time to travel if you can't deal with cold-weather holidays. Summer in Edinburgh is from late May to the end of August. Temperatures reach average highs of 20°C during the day. Heatwaves – anything 30°C and above – do happen in July and August. If this occurs, expect the parks and green spaces to be full of locals making the most of the sun and good weather.
Dates: Summer in Edinburgh begins in June and ends in August.
Appropriate clothing: Shorts, t-shirts, skirts and dresses, but a long-sleeved top for the evenings.
Don't forget: Sunscreen, and an umbrella for any summer showers.
Autumn
Autumn in Edinburgh is beautiful as the city's deciduous trees turn rich red, burnt orange and gold. This is a great time to visit the Royal Botanic Gardens Edinburgh. Make sure you take a coat as autumn temperatures from September through to mid-November start to drop, getting as low as 9°C during the evenings.
Dates: Autumn in Edinburgh begins in September and ends in November.
Appropriate clothing: Trousers or jeans, t-shirt or jumper for the day, and a coat for the evening.  
Don't forget: Gloves or a scarf – if the wind picks up you'll definitely feel it.
Winter
It gets cold in Edinburgh. The winter months bring plenty of rain and grey-sky days. The average temperate is around 1.5°C, but may feel colder with wind chill. Sunset can be as early as 4pm, but this is when the cosy pubs and clustered restaurants offering warm food really come into their own.
Dates: Winter in Edinburgh begins in December and ends in February.
Appropriate clothing: Jumpers, trousers, and thick coats.
Don't forget: Gloves, hats, scarves, and an umbrella for winter downpours.
Spring
The days will start to get longer and temperatures begin to heat up, reaching anywhere between 10°C and 17°C. Although considered one of Edinburgh's drier seasons, you can still expect rain. April showers do exist, but when it's dry, the fresh, clear weather will add a brightness to the city.
Dates: Spring in Edinburgh begins in March and ends in May.
Appropriate clothing: Trousers and jumpers mostly, although on warmer days a t-shirt could be enough.
Don't forget: A waterproof jacket or umbrella, just in case.