From tiny tuk-tuks to the massive BTS trains, there are many Bangkok transport options to choose from. Which one best suits will depend on factors such as time of day, distance to travel, and your destination. For instance, if you have time to spare and are going to a district across the Chao Phraya, a river bus is the way to go. If you're in a real hurry, a motorbike taxi is a faster option to get to your destination.
Here are some popular ways to get around Bangkok.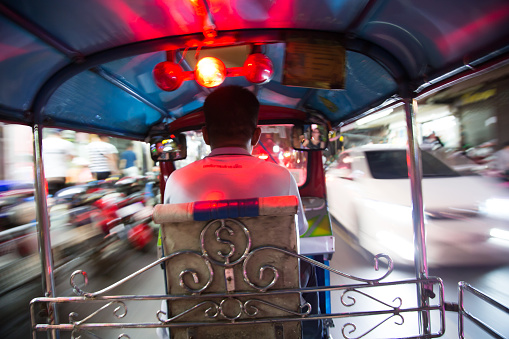 Bangkok Taxis
If you need to get to a specific location fast, flag down a taxi. A glowing red sign indicates that it's vacant. Check that the driver is using the meter so you get the correct fare. Alternatively, if it's just a short trip during off-peak hours, try riding a tuk-tuk. Before agreeing to ride, negotiate the price of the trip with the driver first.
Bangkok Public Transport
Bangkok has plenty of public transportation options, from boats that cross the Chao Phraya River to colour-coded buses that cover the city. Use the BTS Skytrain for a quick but picturesque way to get around Bangkok. One-day or multi-day passes are available, making it even easier to hop on and off the BTS whenever you need.
Bangkok Bike Hire
If you want to get around Bangkok on your own steam, you can hire a scooter or motorbike. Just be sure that you have your passport, Australian licence and International Driving Permit with you when you go to the rental company. Bring photocopies of these documents to leave with the company. Most rentals have helmets for you to use as well.
Walking Bangkok
Walking around in Bangkok can be an interesting way to see the city. Whether it's a leisurely tour around Chinatown, a morning jog at a Lumphini Park or a quick stroll from one shopping centre to another, there are lots of places to walk. Just be sure to carry cold bottled water and an umbrella to protect yourself from the sun and rain.