Unsure where to go to absorb the best of Amsterdam's museums, art and culture? Understandable! The city is rife with must-see exhibitions, world-famous museums and beautiful galleries – it's an art and history lover's dream.
From the not-so-humble Rijksmuseum, housing more than 8,000 treasures spanning more than 800 years, to the exciting Stedelijk Museum of modern art and design, there's certainly something for everyone. The Van Gogh Museum, with the world's largest collection of works by one of the greatest artists in history, is sure to take your breath away.
See for yourself why Amsterdam's museums draw millions of visitors each and every year.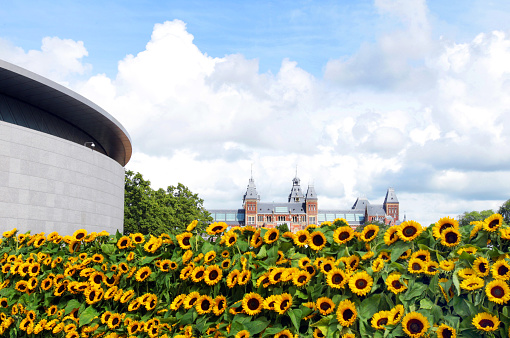 Rijksmuseum
Lose yourself – and hours – in Amsterdam's largest collection of art and artefacts at the Rijksmuseum. This incredible museum is four floors full of more than 8,000 treasures dating back to the Middle Ages: paintings and drawings, photography, decorative arts and furniture, jewellery and fashion. Perhaps its most famous piece is Dutch painter Rembrandt's The Night Watch, completed in 1642.
Van Gogh Museum
A print of Van Gogh's Sunflowers has been brightening your bedroom for years, and now it's time to marvel at the original in the Van Gogh Museum. This permanent exhibition holds more than 200 paintings and 500 drawings by the influential Dutch artist and his contemporaries – the largest collection of his works in the world.
Verzetsmuseum
The Verzetsmuseum (The Dutch Resistance Museum) is your glimpse into Netherland's more recent past. The permanent exhibition will take you on a journey to explore the shocking reality of everyday life for a Dutch living in Amsterdam during the German occupation of World War II. You'll hear incredible stories of Dutch resistance against the Nazis. 
Stedelijk Museum
After immersing yourself in the Dutch Golden Age's finest at the Rijksmuseum, it's time to jump forward to the present at the Stedelijk Museum. This international museum is a beacon of modern and contemporary art and design, showcasing global artists from the early 20th to the 21st century. You'll find an impressive collection of works by Cezanne, Picasso and Matisse, as well as De Kooning and Warhol.
Rembrandt House
Step into Rembrandt's world at the Rembrandt House Museum, located in the heart of Amsterdam. Here, between 1639 and 1656, the world-renowned Dutch artist lived and worked, and today, carefully refurbished, it recreates an atmosphere Rembrandt would have breathed. See the almost complete collection of Rembrandt's etchings as well as work by his contemporaries.