The weather in Amsterdam can mean clear blue skies and pleasant sun, but, as is a hallmark of Northern Europe, it can often be grey, chilly and wet. So it's best to be prepared with a light raincoat and layers no matter what time of year you visit.
Tulip season is arguably the best time to travel to Amsterdam – in the beautiful springtime months of April and May. This is not only to see the Netherland's famous flower, but also to escape the bulk of tourist season. Plus, your chances of enjoying good weather is high. As you can imagine, the warmer summer months from June to August are the busiest in terms of tourists in Amsterdam.
---
Yearly Temperature & Rainfall For Amsterdam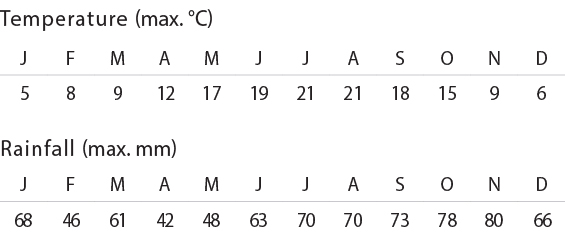 ---
Summer
Summer in Amsterdam is sunshine, humidity and short bursts of rain, with locals making the most of the clear days in the city's many parks, terrace bars, and cafes. It does depend on where you go, though: many areas out of the inner-city hustle and bustle provide respite for some peaceful basking in the sun and create that laidback summertime vibe for which Amsterdam is well known.  
Dates:  Summer in Amsterdam begins in June and ends in August.
Appropriate clothing: Light t-shirts, shorts or skirts, or summer dresses.
Don't forget: A light rain jacket or umbrella.
Autumn
Autumn falls in the 'offseason' in Amsterdam, which can mean fewer tourists, less expense, and a more authentic Dutch experience. You'll enjoy less of a wait to see the city's famous museums, and you can experience the warmth of a hearty Dutch pea soup in restaurants. You should still get to enjoy some warm, sunny days for bicycle rides through the beautiful parks and a refreshing beer at a canal-side terrace bar.
Dates: Autumn in Amsterdam begins in September and ends in November.
Appropriate clothing: Layers that you can put on or remove as needed.
Don't forget: A warm jacket.
Winter
Winter is the cheapest time to visit the Dutch capital, and while it's cold, it still makes for a magical getaway. Ice skate, relish some typical Dutch winter dishes, or enjoy a hot chocolate in a cosy pub. Snowfall will usually happen in the region's coldest months of January and February when the temperature averages from 0 to 5°C.
Dates: Winter in Amsterdam begins in December and ends in February.
Appropriate clothing: Layers and warm clothing are a must.
Don't forget: A waterproof coat and windproof hat.
Spring
Springtime is said to be the best and most beautiful time to visit Amsterdam. Aside from tulip season, you'll enjoy the region's best weather (the region's driest month falls in April), and fewer tourists. Soak in the sunshine in the park, or enjoy a beer with a view from a canal-side terrace bar.
Dates: Spring in Amsterdam begins in March and ends in May.
Appropriate clothing: Layers that you can put on or remove as needed.
Don't forget: A hat.