Kuta has a legacy of being Bali's number one party town and while it's still a hub of fun, the area is maturing a little, with an increasing number of upmarket 4- and 5-star hotels moving into the neighbourhood. With that in mind, Kuta accommodation offers something for everyone, and ranges from budget-friendly 2- and 3-star hotels to what's now a good selection of luxury resorts. The more popular hotels in Kuta have their own resort pool, excellent bar and are also close to the beach. With so many Kuta hotels to choose from, you'll be sure to find the perfect holiday pad.
Check out our introduction to Kuta accommodation, below.
Compare Cheap Kuta Hotel Deals
Choose your style of Kuta hotel
From 5-star resorts with direct beach access to simple rooms in the heart of the action, accommodation in Kuta comes in a variety of styles. Most of the resorts on the beachfront are of the 4-star or 5-star calibre, although you will find a few 3-star villas tucked away amongst their more dazzling neighbours. In the streets and laneways back from the beach, you'll find even more Kuta hotels that fit the budget-friendly category, with accommodation options nearly everywhere you look. This is the most famous beach resort destination in Bali, after all, and comfortable hotels in Kuta are not hard to find.
Where to stay in Kuta
If a short stroll to the beach is your idea of holiday perfection, you'll have plenty of Bali accommodation to choose from. The 3-star Maharani Beach Hotel is just across the road from the beach, as is the Hard Rock Hotel Bali. If shopping is on your to-do list, the Kuta Paradiso is well positioned to offer some great retail therapy. The further south you go, the closer you are to the airport, and a block or so back from the beach is where you'll find most of the budget-friendly hotels such as the 2-star Samsara Inn which is popular with couples and more mature travellers.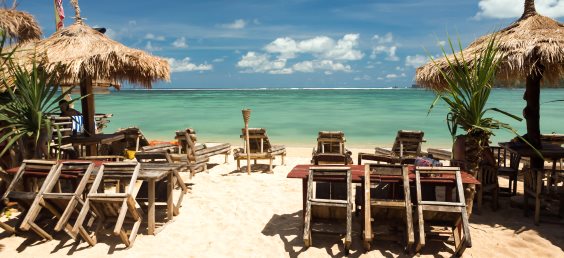 Best time to stay in Kuta
Kuta, just like the rest of Bali, has two main seasons: wet and dry. From around November to March or even April, holidaymakers can anticipate some rain each day that will clear into sunshine, usually within one or two hours. The dry season runs from May to October, and overlaps with the high season between the months of July and August. This is when conditions are generally less humid, often with a much-appreciated breeze in the evenings. Holiday periods such as Easter and Christmas also count as Kuta's high season because this is when things become even busier than usual.
Getting around Kuta
The best way to get around Kuta is simply to walk. This is not only because the traffic can be very congested at times, it's also because you'll find that there's a whole lot to do within walking distance of your Kuta hotel. Alternatively, jump in a taxi. Blue Bird Taxi company is the most reputable taxi company on the island, with drivers who always use the meter and speak pretty good English.
Accommodation The Easy Way
What's the simplest way to arrange your accommodation in Kuta? Let one of our travel experts do it for you! As well as access to all the latest deals, they have insider hints, tips and a wealth of travel experience to draw on... and they love to create amazing holiday packages.
Talk To A Travel Expert And Personalise Your Trip