Whether you're heading to Bali for the waves, a luxury spa in Uluwatu or some family time in Nusa Dua or Sanur, choosing your Bali accommodation will help you bring that dream holiday to life. From the sandy shores of Seminyak to the lush green rice fields of Ubud, every region has its unique flavour, as well as its special places to stay. 
Below you'll find a guide to Bali hotels, villas, 5-star beachfront resorts, budget accommodation and more, to help you create the perfect getaway.
Compare Cheap Bali Hotel Deals
Choose your style of Bali hotel
Bali accommodation ranges from budget 2-star hotels to exclusive resorts, catering for everyone from families to diehard surfers. If it's privacy you're after, the intimate atmosphere of a villa could be just what you want. If loads of facilities and fantastic service are important, the larger hotels and resorts may be the ideal Bali accommodation for you. Given the warm and genuine hospitality that the Balinese are known for, one thing's for sure: no matter what type of hotel in Bali you choose, you'll be well looked after.
Where to stay in Bali
Where you stay in Bali depends on what kind of holiday you're looking for. Kuta area, including Legian, is one of Bali's most popular beach destinations, famous for its five-kilometre-long stretch of golden sand and round-the-clock party feel. Beachy strips such as Tanjung Benoa are filled with family-friendly resorts while Seminyak is a favourite for romantic private villas and outstanding restaurant experiences. Ubud is regarded as the cultural centre of Bali, and here you'll find plenty of luxury hotels and exclusive retreats. Whether you want to party, relax in style, splash around with the kids or experience the soothing surrounds of Bali's pristine wilderness, there's a perfect hotel in Bali for you.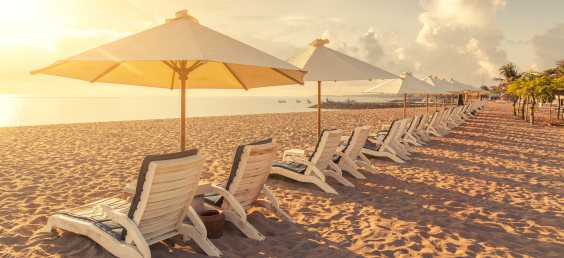 Best time to stay in Bali
Bali has its high season and low season; its dry season and wet season. Bali's high season is during the months of July and August, as well as Easter holidays and over the Christmas break. The best time to stay in Bali is during the months of April, May and June, as well as September. This is when the weather is still fairly dry and the air is slightly less humid. Keep in mind that Bali's central mountains, where temperatures are cooler, receive a lot more rainfall than the coastal areas.
Getting around Bali
It's easy to get around Bali and if your accommodation is near the beach, all you'll need to do is walk. For longer distances, options include taxi, rental car or bus. If you're staying at one of the bigger Bali resorts or hotels, chances are the hotel staff can help you arrange a car and driver for the day, or book a taxi. The most reputable taxi company on the island is Blue Bird Taxi. Drivers use the meter all the time and speak reasonable English. Watch out for imitators and taxi scams such as the 'broken meter'. Also note that many streets in Bali have more than one name and many alleyways, or 'gangs', don't have names at all.
Accommodation The Easy Way
What's the simplest way to arrange your accommodation in Bali? Let one of our travel experts do it for you! As well as access to all the latest deals, they have insider hints, tips and a wealth of travel experience to draw on... and they love to create amazing holiday packages.
Popular Destinations in Indonesia