Located on the eastern side of Bali's isthmus, Sanur is a world away from its western neighbour, Kuta. It has a relaxed, easygoing holiday vibe with loads of local charm. Sanur accommodation is dotted along the waterfront as well as along the main street which runs parallel to the beach.
Whether you're after an upmarket Sanur resort or budget-friendly hotel, this guide will help you find out more about places to stay in Sanur.
Choose your style of Sanur hotel
The sunrise beaches of east-facing Sanur have been luring visitors since the influx of Europeans in the1920s, and the Sanur hotels along this strip today keep that heritage alive. Accommodation in Sanur ranges from 5-star luxury in beach resorts such as Maya Sanur Resort & Spa, to beach villas and boutique resorts, as well as simple and conveniently-located budget hotels that offer great proximity to everything there is to see and do in Sanur.
Where to stay in Sanur
Sanur is full of wonderful places to stay. The narrow, 5-kilometre stretch of beach is where you'll find some of the more upmarket Sanur hotels. Thanks to an offshore reef and breakwaters, the waves at Sanur are very small, making this a favourite holiday destination for families with young children or anyone who wants a dip rather than a surf. Behind the beachfront hotels in Sanur, to the west, lies the bustling main strip Jalan Danau Tamblingan, which is overflowing with more hotels, guest houses, restaurants, cafes and tourists shops. If you're looking for accommodation in Sanur that's central, this is your street. Bear in mind that the Jalan Ngurah Rai Bypass can be noisy and congested so the further you are from here, the better.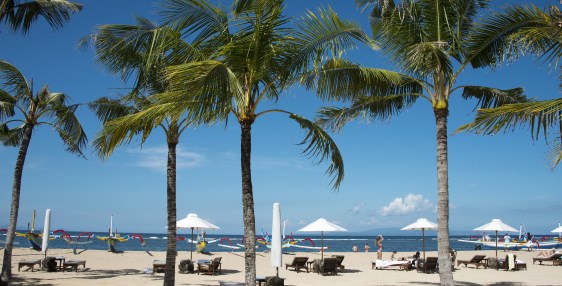 Best time to stay in Sanur
Like the rest of Bali, Sanur has its dry season and wet season; its high season and low season. High season is during the months of July and August, including the Easter holidays and over the Christmas break. April, May and June, as well as September, are the best months to stay in Sanur. This is when the weather is still quite dry and the air is moderately less humid.
Getting around Sanur
Sanur is easy to navigate on foot, with one central street – Jalan Danau Tamblingan – running parallel to the beach and the main hub for restaurants, cafes and other shops. There is also a paved beachfront path running the entire length of Sanur Beach, which is approximately a 5-kilometre stretch. If you're not up for walking, taxis are plentiful and you could always jump in a 'bemo' which is an open-air minibus, the likes of which operate all throughout Bali on popular routes.
Accommodation The Easy Way
What's the simplest way to arrange your accommodation in Sanur? Let one of our travel experts do it for you! As well as access to all the latest deals, they have insider hints, tips and a wealth of travel experience to draw on... and they love to create amazing holiday packages.
Talk to a travel expert and personalise your trip