Considered the cultural heart of Bali, Ubud is where you can indulge those dreams of a private infinity pool overlooking a lush rainforest canopy. It is the perfect setting for relaxation and rejuvenation, which makes it easy to understand why Ubud has become one of Asia's number one spa destinations.
Accommodation in Ubud ranges from the delightfully simple to top-end, 5-star luxury. Take a look through our guide to Ubud hotels, retreats and resorts and discover what you need to know about Ubud accommodation.
Compare Cheap Ubud Hotel Deals
Choose your style of Ubud hotel
There are loads of reasons to stay in Ubud and if pampering is one of them, choosing your Ubud hotel will be all about the day spa. Luxury hotels in Ubud offer all manner of treatments from hot stone massage to reflexology, as well as traditional Balinese healing rituals. Ubud is also overflowing with boutique villas and private retreats tucked away amongst the natural surroundings, as well as simple, low-key bungalows and cottages. It also makes for the perfect romantic getaway, with many Ubud hotels offering special honeymoon packages.
Where to stay in Ubud
In Ubud you have the option of staying in the village, or staying at one of the resorts a little further out. Choosing to stay at an Ubud hotel in the village will make it easier for you to explore the local area, dine at the many restaurants and generally soak up the culture of Ubud. The intersection where Jalan Raya Ubud meets Jalan Monkey Forest will pretty much put you in the heart of things, but with such a lush rainforest setting, you don't need to go far to feel like you're a blissful world away. There are countless resorts, retreats and luxury villas scattered around the outskirts of Ubud, and these are what give Ubud its reputation for world-class attention to wellbeing.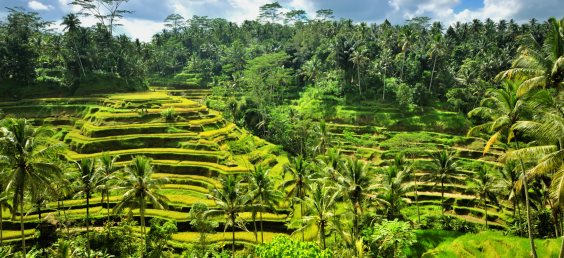 Best time to stay in Ubud
Without a doubt, the best time to stay in Ubud is during the dry season, which falls between April and September. During the wet season, Ubud often receives sustained torrential downpours which takes everything from a dip in the infinity pool to a photo-op in the nearby rice terraces off the agenda. Generally, Ubud is slightly cooler than the rest of Bali and tends to receive more rain than areas in the south.
Getting around Ubud
Ubud village is relatively compact and easy enough to walk around. If you're staying at a luxury resort or villa on the outskirts of town, you could be up to 30 minutes from the centre of Ubud. The best option here is to travel via taxi, with Blue Bird Taxi company the most reputable, or you could be lucky enough to have access to a shuttle bus, provided by your Ubud accommodation. Other notable attractions are Tegenungan Waterfall and Tegalalang rice terraces which are both about 10 kilometres from the centre of Ubud.
Accommodation The Easy Way
What's the easiest way to arrange your accommodation in Ubud? Let one of our travel experts do it for you! As well as access to all the latest deals, they have insider hints, tips and a wealth of travel experience to draw on... and they love to create amazing holiday packages.
Talk to a travel expert and personalise your trip