26 March 2021
What you need to know: 
Emirates' Airbus A380s are returning to Australia and New Zealand from late 2021

The airline is swapping some of the aircraft on existing routes, replacing Boeing 777 jets with larger A380 jets 

Brisbane will soon be seeing more Boeing 777 flights

Emirates flights to Adelaide currently remain suspended. 

Auckland-Dubai service will now be direct, with the Kuala Lumpur stopover being removed
---

---
We are seeing more encouraging signs of the return of international travel, with some positive news from Emirates this week. The airline announced that their Airbus A380s will be making their way back onto Aussie and Kiwi tarmacs later this year, ahead of what is normally Australia's peak summer travel period.
The airline will be operating superjumbo services between Dubai and Sydney, Melbourne, Perth, and Christchurch. It will be rolling out the return of non-stop services between Dubai and Auckland, along with trans-Tasman flights between Sydney and Christchurch. Those in Brisbane will be seeing a lot more of the airline too, with the news that it is currently gearing up for more Brisbane flights.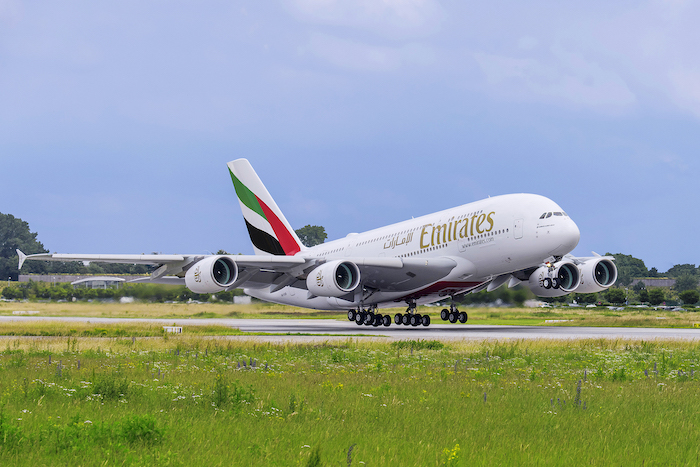 Emirates Airbus A380. Image: Emirates
Emirates has made these announcements at a time when one third of all countries are closed to international tourism, and being the biggest operator of the world's largest passenger plane, it is a bold move. An exciting move nonetheless, and a positive sign for the return to international travel later on this year.
---
---
All these changes are due to take place towards the end of October and early November 2021, which aligns closely with some of Qantas' planned international activity. Qantas is currently selling tickets to most international destinations with departures kicking off around that same late October period. This is the time at which the Australian rollout of the COVID-19 vaccination is expected to be complete in the adult population.
So if you feel like you've been dreaming long enough, dust off that passport and get booking, with most of the new services now on sale. Several of these daily services will boast the popular onboard shower spas for first class flyers, and the fancy first and business class bar and lounge area. So if it's been a while since you sipped Scotch while flying high, showered at 30,000 feet or nibbled on nuts while filling out a customs form, you might be in luck.
Here is a rundown of the new Emirates routes for servicing Australia's  capital cities:
Sydney
From 1 November, a daily A380 Dubai to Sydney service (EK412)
From 2 November, a daily A380 Sydney to Dubai service (EK413)
From 2 November, a Christchurch extension will be added to the above Sydney-Dubai services (EK413/EK412) meaning travellers can book the Sydney-Christchurch segment to travel trans-tasman (pending Government announcements and quarantine rules)
Melbourne 
From 31 October, a daily A380 Dubai-Melbourne service (EK408)
From 1 November, a daily A380 Melbourne-Dubai service (EK409)
Perth 
From 31 October, a daily A380 Dubai-Perth service (EK420)
From 31 October, a daily A380 Perth-Dubai service (EK421)
Brisbane 
From 30 October, daily Boeing 777-300ER Dubai-Brisbane service 
From 31 October, daily Boeing 777-300ER Brisbane-Dubai service 
As Brisbane will not be welcoming the A380s just yet, passengers on the Boeing 777-300ER will be able to take advantage of all three classes (first, business & economy) however the business class on these jets follows a 2-3-2 layout, versus the 1-2-1 on Emirates' A380s. There are however, eight private first class suites available if you so desire. 
Adelaide
Emirates flights to Adelaide currently remain suspended. 
Auckland
A change to the current Auckland-Kuala Lumpur-Dubai service, with the Kuala Lumpur stopover being removed, resulting in a direct flight for the Kiwis and one less transit point on the itinerary (something worthwhile to note when travel reopens more and entry restrictions would apply based on travel history).
Other Travel Articles You Might Like...