17 August 2017
If you find yourself on a short stopover, or longer business stint in Tokyo, your taste buds are in luck.  One of the world's most exciting dining destinations, the city mixes old with new cuisines, ensuring plenty on the menu for the curious. So next time you're wrapping up a meeting with your Japenese counterparts and your mind is sitting firmly on your next meal, think beyond the standard sushi.. There is far more to whet your apetitite with than you could poke a chop-stick at. 
Okonomiyaki
While Osaka is most famous for its okonomiyaki, Tokyo serves up a mouth-watering variation, too.
The Japanese savoury pancake with a variety of ingredients takes its name from the word okonomi, meaning 'what you like' or 'what you want' and yaki, meaning 'grilled' or 'cooked'.  The pancake's main ingredient is cabbage, with regional variations including green onion, meat, octopus, squid, shrimp, vegetables and cheese.
Nigiri-zushi
One of the most popular types of sushi today, nigiri-zushi originated as a fast-food in Tokyo and consists of a piece of seafood put onto a small ball of rice. It is served at all sushi restaurants, from inexpensive conveyor belt sushi to Michelin-starred restaurants. One of the best places to eat fresh sushi is the Tsukiji Fish Market.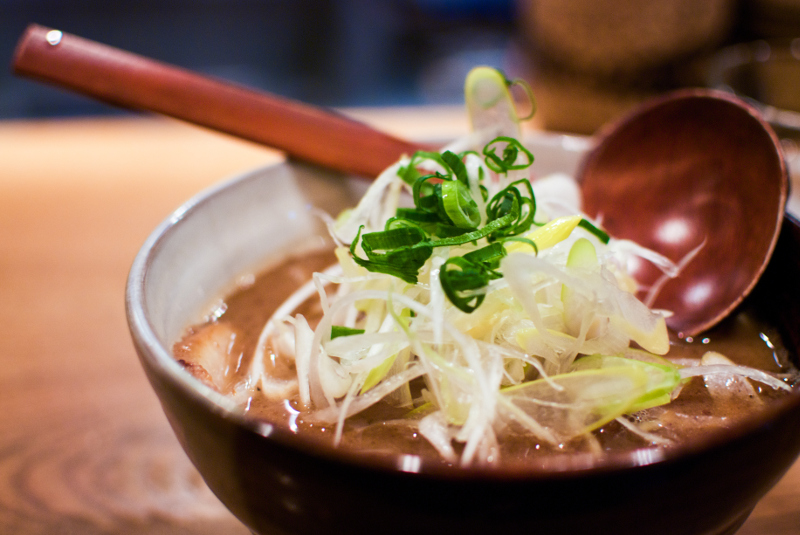 Ramen
Ramen is a concoction of Chinese-style wheat noodles and broth with four soup styles – shio (salt), tonkotsu (pork bone), shoyu (soy sauce) and miso, with seasonings including black pepper, butter, chilli pepper, sesame seeds and crushed garlic.  Nearly every region in Japan has its own variation of the dish, and in Tokyo Ramen consists of thin, curly noodles in a soy-flavoured chicken broth.
Tempura
One of Japan's most famous dishes, tempura has undergone a major development in the country's capital city. Before the Edo Period, mainly vegetables were used for tempura, but today seafood is dipped in batter and deep fried as well. From prawn, squid and scallop tempura, to eggplant, sweet potato and mushroom tempura, there are so many variations to try, with a visit to a specialised tempura restaurant the recommended way to enjoy it.
Soba
Soba, a dish consisting of long, thin buckwheat noodles, is a long staple of Japanese cuisine. In Tokyo, the noodles are particularly popular during the Edu period and can be found across the city, including at standing soba eateries and establishments specialising in the dish. Soba is served either chilled with a dipping sauce or in hot broth as a noodle soup. The dipping sauce used in Tokyo is traditionally relatively thick, and diners are encouraged to dip their noodles into it only lightly.
Shabu-shabu
A common dish in tourist hotspots, Shabu-shabu is prepared by boiling thinly sliced meat and vegetables in hot water or broth made from kelp and serving the ingredients with dipping sauces, including sesame seed sauce, and steamed white rice. It's a fun dish to try – the food is cooked piece by piece by the diner at the table.
Tonkatsu
Tonkatsu is a breaded, salt and peppered deep-fried pork cutlet meal that originated in Japan in the 19th century. Often served with shredded cabbage and eaten with a type of thick Worcestershire sauce, Tonkatsu can be enjoyed as a single meal or used as a sandwich filling or in combination with curry.  So simple, yet so delicious, and if pork isn't your thing, variations include chicken, a minced meat patty, ham and beef.
Yakitori
A popular street food and often found at festivals and with beer or sake in hand, yakitori is a type of skewered chicken grilled over a charcoal fire and seasoned with a salty or salty-sweet sauce. Designed for convenience, yakitori is often sold from small carts and stalls known as yatai, with the skewers typically made of steel, bamboo or similar materials. Not only tasty but easy to cart around, you'd be forgiven for wanting more than one.
Udon
A type of thick wheat flour noodle, Udon can be eaten hot as a noodle soup in winter and chilled in the summer. Toppings are chosen to reflect the season; a noodle soup might be topped with prawn tempura, while chilled Udon could be sprinkled with shredded edible seaweed, known as nori.
Tokyo Sweets
Tokyo is home to various types of traditional Japanese sweets, including ningyoyaki, small red bean paste-filled cakes shaped like dolls or other forms, dorayaki, a pastry made of sweet pancakes with a layer of red bean paste sandwiched in between, and anmitsu, a dessert typically consisting on agar jelly, a scoop of red bean paste, small mocha balls and seasonal fruits topped with sweet black sugar syrup.
Other Travel Articles You Might Like...