Air New Zealand's Christopher Luxon Proves Innovation Is Key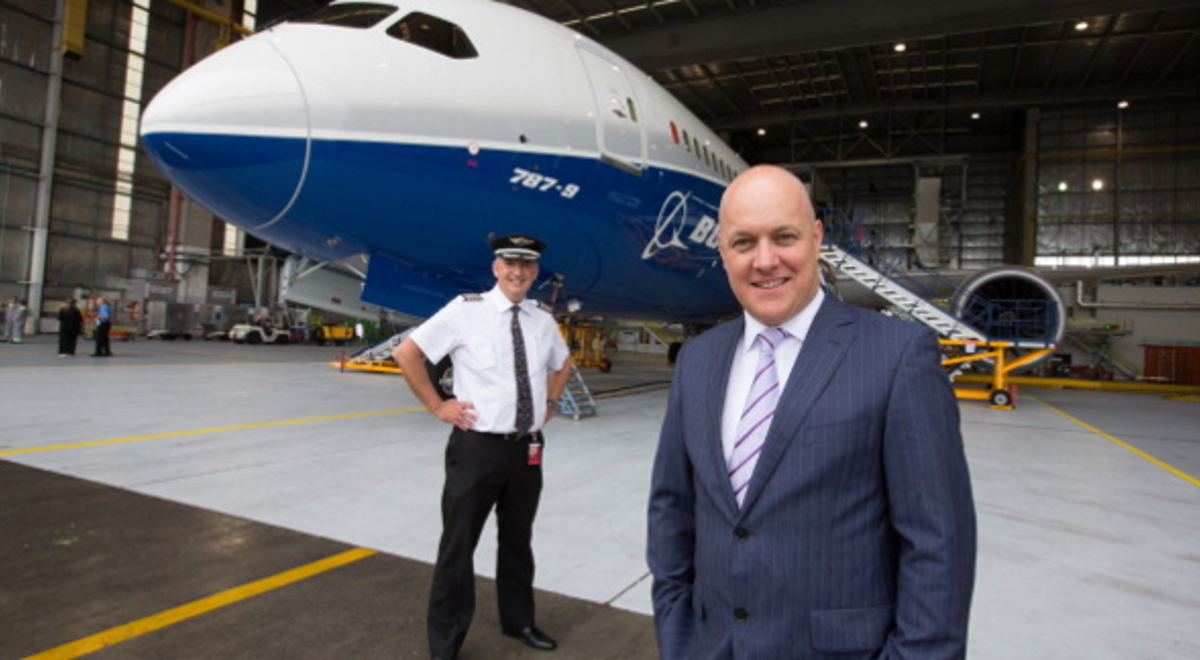 During the customer journey, travel inevitably leads to service challenges. While some airlines are looking for ways to squeeze more passengers into the cabin in order to improve seat-per-kilometre revenue, Air New Zealand's inspirational CEO, Christopher Luxon, is looking to his most discerning critics – his passengers – for suggestions, feedback and advice on the airline's products and innovations.
As a New Zealand native, Mr Luxon grew up in the leafy suburbs of Christchurch. Having left University at age 23, his career began at Unilever, one of the world's leading consumer goods companies.
During his time there, he and his family lived on three different continents, but leading Air New Zealand was the role that brought him back home. And today he's at the helm of one of the world's most admired and talked about airlines.
Mr Luxon described his early career: "Having joined Unilever at the age of 23, I spent the first two years in New Zealand before moving to Sydney for five years, where my son was born. We loved living in Australia, but a great opportunity to move to London presented [itself] where my daughter was later born. From there we also lived in Chicago, Toronto and New York.
"The experience I gained at Unilever was invaluable and the privilege was to see the best bits of society as well as the challenges. I was able to gain diverse and global experience while working in a range of different products and services.
"Some businesses needed a deep turn around, some realignment and others were start ups, so I worked with different content, from Streets Ice-Cream to Omo, Dove Soap and Lipton Tea. I worked in different areas such as sales, marketing and general management in developing and developed markets."
These unique opportunities provided the basis for broad global experience, paving the way to Luxon's current role at Air New Zealand, a company which happens to be the country's largest export earner.
Innovation sits at the core of Air New Zealand's DNA, the reason why it is leading the charge in customer service globally while enjoying one of the industry's highest satisfaction ratings.
All of this, explains Mr Luxon, comes down to three key areas in terms of passenger, and for that matter, employee satisfaction: customer, culture and commercial.
"Sometimes we get the innovation wrong. Sometimes we get it right," explains Luxon. "If we do the right thing by trying to remove the pain points and friction of the customer journey and experience, that's how we will build deeper loyalty with our customers."
Like any product, innovation begins with an idea. In this respect Air New Zealand sees its public feedback as a invaluable source when implementing plans and ideas.
One such example is when Air New Zealand unveiled its plans for its popular Economy Skycouch™. Talking to thousands of people each month during its development and implementation stages, this now well-known in-flight feature was helped along through conversation with customers.
Operating some of the longest international routes in the world, Air New Zealand recognised that customer comfort must play a role in the airline's success going forward.
Now with the Economy Skycouch™, a mother has the option to sit or stretch out horizontally with her children while they are kept entertained with a movie or enjoy a good night's rest.
This, Air New Zealand views, is the perfect way for a family to begin their journey.
The success in this case was instant. Removing a common 'pain point' from flying, the airline has now rolled out the Economy Skycouch™ across its entire wide-body fleet.
As a testament to Air New Zealand's product, other airlines are standing up and taking note. The airline now licenses its 'Business Premier' to British carrier Virgin Atlantic, while the Economy Skycouch™ has gone on to grace the cabins at China Airlines and Azul.
Using Technology To Shape The Future
In an ongoing commitment to customer service, Mr Luxon recently appointed Avi Golan as Chief-Digital-Officer. Avi has held senior leadership positions in some of the most innovative companies globally across a range of industries including Google, Barnes & Noble, Olive Software and Intuit.
Learning from other digital retailers and companies, the airline can leverage its technology to minimise passenger 'pain points' and make the booking and flying experience as seamless as possible.
"The vision for Avi," Luxon explains, "is to unleash the digital transformation for our customers, sales channels and our own operations. If we do that right we think we can become one of the leading digital operators in Australasia and certainly one of the best airlines in the digital arena anywhere in the world.
"We could carry on running as we always have, where people think we are reasonably good in the technology space in comparison to other airlines, but for us that's not good enough.
"Historically, airlines have dated technology, systems and programs, and as a result you build up a tremendous amount of complexity. We don't have a lot of tolerance or time for complexity as it gets in the way of moving with speed and agility, so we need to use the technology to rapidly jump ahead and simplify the business.
"We want to be raising the benchmark with bigger aspirations. I'm super pumped for where we are going in the next two to three years with that part of the business, and it will be really exciting to see it unfold."
---
More reasons to fly with Air New Zealand
Air New Zealand Wins Award For World's Best Airline
Airline Review - Spotlight On Air New Zealand
---
Why Innovation Is Key
For Air New Zealand it was the realisation that the customer journey, from booking through to arrival, can be long and often challenging.
An airline can either operate the way it always has or it can innovate while changing the company's mindset in a way that removes pain points found during the customer experience.
"That has always been a big thought and theme on how we start our conversation on innovation," Luxon explains.
"The new 'Airband' is a great example where we have removed a manual-and-paper-based process of managing children who fly on their own.
"It's a really simply thing where innovation has simplified the process making it great for customers, great for business and great for our people who are no longer caught up in complexity and can spend more time with our customers.
"Another key benefit is the greater peace of mind it provides to parents, as they have greater visibility of their young one's journey with text notifications.
"In 2014, we launched a coffee ordering function on our mobile app for customers using some of our lounges and we've recently hit over one million coffee orders. It was designed from putting ourselves in the shoes of a busy customer preparing for a day of meetings and how we can we help start their day off right.
"When [you] enter the lounge it prompts if you would like your regular coffee order and sends a notification to your mobile when it's ready.
"For us it's how can we remove issues and irritants from the customer journey. Most important, how can we do that well in an industry that has a pretty poor and low level of innovation that tends to be fatalistic of 'this is just the way it has to be'.
"We say we can do a lot of that through innovation, and if we keep questioning why it needs to be that way, ultimately that's how we believe we can maintain very high levels of loyalty."
What's Next For Air New Zealand?
Over $2.6 billion is being invested in new aircraft to help simplify the Air New Zealand fleet. New aircraft include the passenger-pleasing 787-9 Dreamliner and the new A321NEO aircraft, which is due for delivery late 2017.
Both aircraft types will be used to expand and increase capacity.
Along with further investment in new routes, technology and development of its people, Air New Zealand is committing more than $100 million to upgrade a number of its lounges in Australia and abroad.
"That for us is really quite energising, and if we can get that investment running through then our business will be even stronger and more relevant and competitive in the next five or 10 years. We are the little airline from New Zealand giving it a go."
---
Visit your local Flight Centre store or call 131 600 for more advice and the latest deals.
---
---
Flight Centre acknowledges the Traditional Custodians of Country throughout Australia.