When it comes to ships, there are choices ranging from intimate yacht-like vessels with as few as 50 passengers to massive mega-ships stretching longer than three football fields and carrying more than 6,000 people.
Although ships vary greatly in size, they all offer the same ingredients: accommodation, entertainment, activities, great food, attentive service and exciting ports of call.
When choosing your ship, you need to consider:
The number of passengers: Do you want to meet and socialise with lots of people, or would you prefer quiet time with your partner?
The personality of the cruise: Selecting the cruise line that best matches your personality is crucial. So, what kind of cruiser are you?
The kind of service you want: Are you seeking personalised service and an intimate feel, or a resort out at sea?
Location, location, location: Do you want an adventure across the oceans or a meander along a river? Ships come in three principal categories, and are measured in gross registered tonnes (GRT) and by the number of passengers they carry.
Large Resort Ships
1,200-6,000+ PASSENGERS
90,000-220,000 GRT
Think of these cruise ships as resorts at sea, where entertainment, cuisine, social activities, facilities and amenities are plentiful. Large-ship cruising offers an extensive range of entertainment and has exciting programs available for all ages and interests. Each day there is something new to do.
Benefits include:
Plenty of daytime happenings: Days can be spent working out at the gym, indulging in a spa treatment, taking a cooking class, playing a round of mini-golf, or anything, really. Large ships are perfect for those who like to fill their days, as there is always something to do on the ship.
Evening entertainment: Grand venues, such as casinos and nightclubs, are pumping once nightfall hits.
Children's activities: If you are travelling with children, large ships are well suited due to the extent of children's programs offered on board.
Privacy: Many ships feature adults-only areas, should you want a bit of peace and quiet.
Food: There is an amazing selection of restaurants and dining – from 24-hour room service to smorgasbord buffets and formal five-course dinners.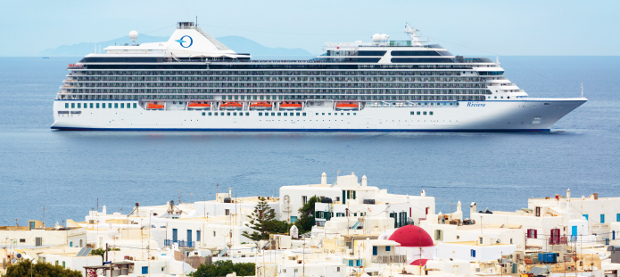 Mid-Size Ships
500-1,200 PASSENGERS
30,000-90,000 GRT
Somewhere between larger resort-style ships and small ships, mid-size ships tend to offer a premium cruise experience. You can easily find your way around, and there is still a range of activities and excursions to participate in.
Benefits include:
Superior access: Mid-size ships are very well suited to smaller ports, due to their ease of manoeuvrability. This allows many cruise lines to operate itineraries that aren't accessible to large or boutique ships, such as some around-the-world cruises and longer journeys that take in many exotic locales.
Happy medium: Neither too big nor too small, the size and facilities of these ships generally strike a happy balance. You can easily find your way around, and there is still a range of activities and excursions to participate in.
Full of variety: While mid-size ships don't offer as wide a range of facilities as those provided on large ships, they do boast a greater variety than small ships – more than enough to keep everyone entertained, particularly when taking into account the ratio of passenger numbers to facilities.
Boutique & River Ships
50-500 PASSENGERS
5,000-30,000 GRT
If you are seeking an intimate cruise experience with personalised service, a small ship holiday will probably suit you best. With small-ship cruising, you could find yourself on the deck of some of the world's most exclusive ships – think coastal vessels, river cruise ships, sailing ships or expedition ships that take you on nature-based journeys to Antarctica and along the Amazon, for example.
Benefits include:
Relaxation: If you enjoy a quiet, relaxed cruising experience with fewer passengers, facilities, entertainment and dining options than large ships, this will be ideal.
Unique experiences: Boutique and small-ship cruising is perfect for those looking for a more unique adventure or an educational journey that provides a rather intimate ambience, often with expert speakers on board.
Access to off-the-beaten-track ports: Large ships generally aren't able to access every port. Small-ship cruising allows you to experience culturally rich and unique destinations, with exclusivity in your shore excursions.