16 October 2018
At Narita Airport, it's not until you come face to face with a floor-to-ceiling map of Tokyo's Metro subway system that it dawns on you how radically different Japan is to anywhere else in Asia or across the globe.
The realisation washes over and panic starts to creep in at the thought of having to sleep in the airport for a) having never figured out how to get out and b) how to buy a train ticket, and c) actually, it's best not to think about where that train ticket may actually lead you.
But truth be told, having done your research, the little snippets of directions you did manage to absorb before leaving home: "'Skyliner' sounds familiar" and some strange combinations of the words 'Yamanote Line,' and "Yes, I think that's the one!" will begin to stand out.
Soon enough you will be on your way, praying to the data gods that following along the little blue dot on Google Maps won't eat away unforgivingly at your miniscule roaming data pack.
This experience, of course, is just the first hour-and-a-half of touching down in the Land of the Rising Sun, so you're left wondering how on Earth you will get through the next two weeks.
I have the answer for you. Day tours. Specifically, Urban Adventures day tours. For anyone who doesn't want to be locked into a week- or two-week long tour and would rather find their own way, I feel you, and this is what day tours were made for.
So before you click away, what you have to know is that one of the most useful and rewarding things to do in any new location is to have a local show you a few of the ropes i.e. how to use the transport system; the different areas for food, shopping, entertainment, bars, cafes etc; and how to say "hello" and "thank you" in the local language.
Once you've got these few handy tips under your belt you'll be feeling a whole lot more confident and ready to explore, which is why booking the Urban Adventures Tokyo After 5 tour for my Mum and I was seriously the best thing I could've done for the first day of our very first trip to Japan. Here's how it went: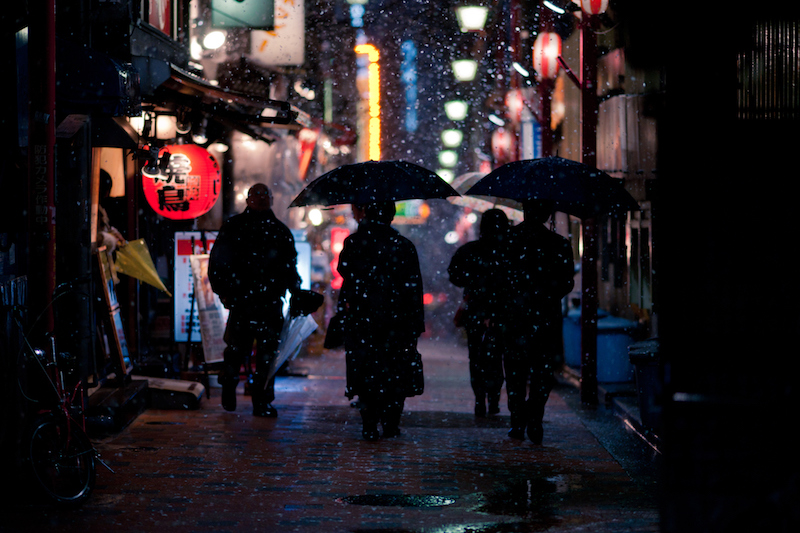 Yakitori
We met our guide Eriko, with her bright red Urban Adventures canvas bag, standing at the meeting point outside a Yoshinoya, the Japanese equivalent of McDonald's.
The first stop on our foodie adventure was Yakitori Alley near Yurakucho Station, a petite and magical alley tucked beneath the above-ground train line. It was surprising to turn a corner and be transported back to the early post-war Tokyo facade that would have existed. The wealth of the 20th century altered the fabric of this city into the concrete behemoth that it is today, however, pockets of history can still be found if you have the right directions. The red lanterns outside each compact restaurant light the alley with a warm glow, and the bouquet of smoky barbeque aromas waft from each. Similar izakaya 'food alleys', as they're called, are all around Tokyo and are worth seeking out, however, if Eriko hadn't shown us around, we'd never have known they existed. Izakaya are often tucked out of sight, some even accessible only to locals, fitting just a couple of patrons inside.
Eriko ushers us beneath the flags framing our chosen restaurant's entrance, which symbolises that they're open for business, and we take a seat before choosing either a beer or warm sake. Opting for a beer we're then brought the famed yakitori, otherwise known as meat skewers. On the menu, we have a delicious selection of tebasaki (chicken wings), shishito peppers, asuparabekon (bacon-wrapped asparagus), butabara (pork belly), shiitake topped with katsuobushi flakes, and atsuage (deep-fried tofu) – yum!
Before rolling (at this point we're beginning to look like a yakitori) on to our next stop, we decide to enjoy another beer and then be on our way.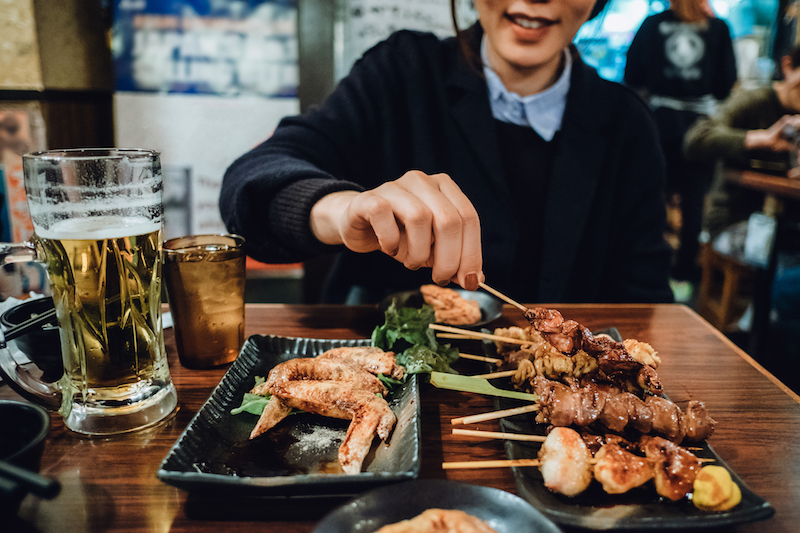 Yakitori = Yum!
Daifuku
Next, we head through the pumping Ginza district with all of its flashy designer stores and past the futuristic Nissan Crossing flagship store, instead opting for something a little more traditional. We head to the Japanese sweets store, Akebono 'Dawn', which was founded in 1948 after WWII in the "hopes for a new dawn". We're each given a bag holding a squishy rice cake stuffed with azuki bean paste, otherwise known as daifuku.
This doughy ball of goodness is my new favourite treat, not too sweet and with a texture, unlike anything I've eaten before. Mum isn't a fan so that means I get to eat two. Mmmmm.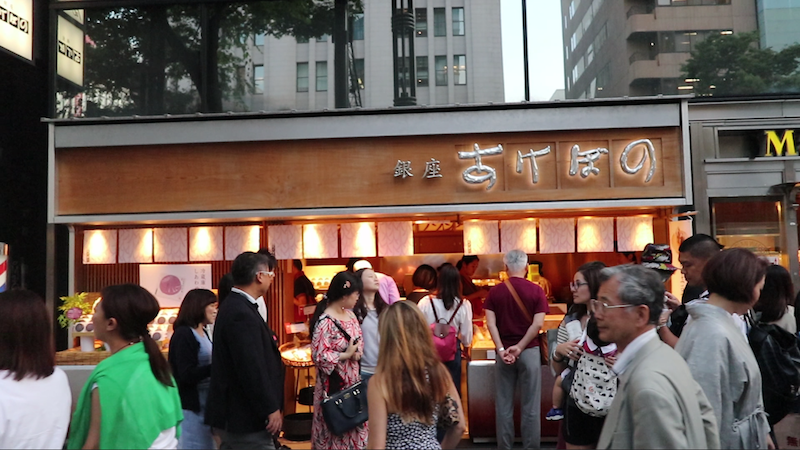 Ginza's Akebono sweets store.
Monja
Next up it's time to have another go at the Tokyo Metro. There's no need to waste time at the ticket machines because Eriko gives each of us a prepaid ticket, which mind you, is tiny – you have to hold onto this until the end of the journey so don't lose it! We all insert our tiny tickets into the slot at the front of the turnstile, walk through and pick them up again at the other side. Well most of us anyway, don't worry, we got there in the end.
Eriko ushers us all onto the Yurakucho Line train when it comes into platform 1 and then we jump off again four minutes later at Tsukishima Station. Not only is the Tokyo Metro easy to understand after a little bit of practise but it's also the fastest and most efficient system I've ever encountered. Every train runs perfectly to time right down to the second. We quiz Eriko more about what all of the different colours and signs mean and she helps us better understand how to get around.
However, now it's time to talk Monja. As we exit the station, Eriko explains that we are actually standing on a man-made island in Tokyo Bay called Tsukishima, which means 'moon island'. Besides being on reclaimed land, another unusual element of this island is a street nicknamed 'Monja Street', which has more than 70 restaurants all selling the exact same thing, monjayaki.
This grilled savoury dish involves a thin batter of flour and dashi (Japanese stock) mixed with all sorts of toppings, which is cooked and eaten off a hot plate right in front of you. Everyone has a go at cooking their monjayaki themselves with the supplied chopping spatulas and then is given a mini spatula to eat with, straight from the grill. Not only is it highly satisfying trying to chop everything as small as possible, it also acts as a neat little bicep workout.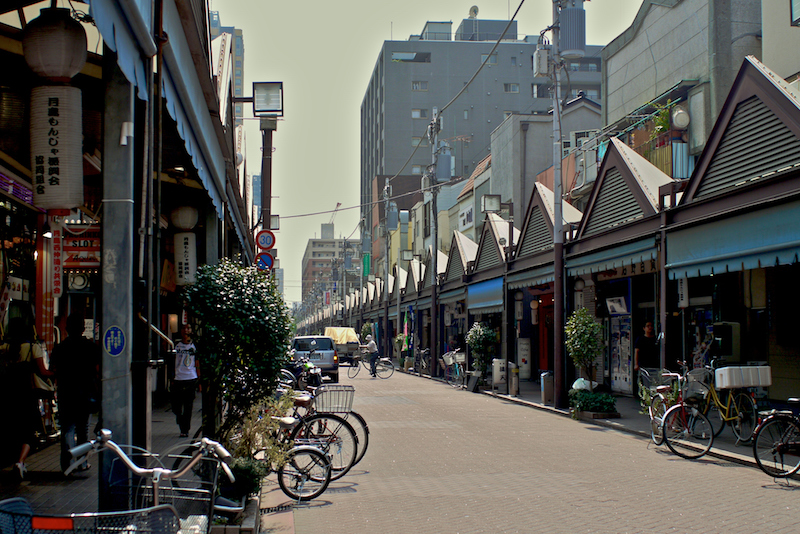 'Monja Street' in Tsukishima.
Sake...or sleep?
After we're completely full, we end our delicious Tokyo night tour with Eriko offering to take us to one of her favourite bars back in Shinjuku. We follow her back onto the Metro and along the way a few of us begin to drop off, instead opting to retreat to bed with full bellies and heavy lids. Mum and I were feeling pretty exhausted after starting out walking early that same morning, so Eriko guided us and made sure we took the east exit at Shinjuku Station and headed home in the right direction, ready to begin it all again the next day.
Catch a Sneak Peak of the Urban Adventures Tokyo After 5 Tour in the Video Below...
---
Want to learn more about Urban Adventures? Or how about Japan. We've got you covered. 
---
Other Travel Articles You Might Like...