14 September 2015
Words by Ben Stower
Will this transit ever end? Those who have ever asked themselves this question will recognise the accompanying feeling of deflation.
It's not just the lethargic hours of waiting in terminals, but also the unhealthy lifestyle that many fall into while stuck in layover purgatory that turns bodies and minds to slush.
The unnatural environment inside planes and airports, eating plane food and airport take-away, and long periods of sitting all contribute to slug-like characteristics.
For those business travellers who value an active lifestyle, this can be extremely detrimental to happiness.
Fortunately, many airports now stock facilities that promote staying active while stuck inside the terminal. Here's a list of the best.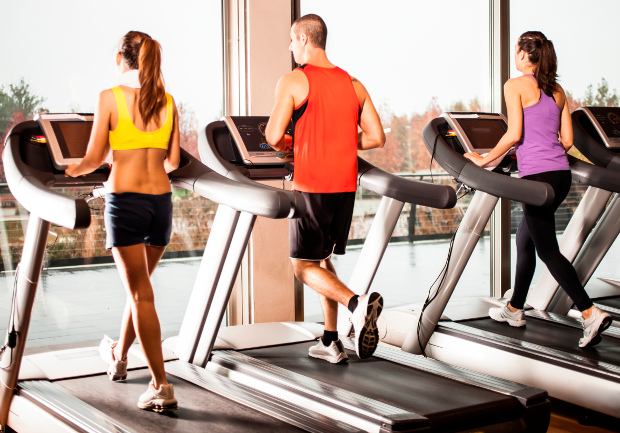 Some airports around the world make staying fit easy (Image: Getty)
Dallas/Fort Worth International Airport - USA
The Dallas/Fort Worth Airport keeps exercise simple with a one-kilometre designated walking path around the concourse from gate D6 to D40. Signage directs you towards the finish and floor artwork offers some distraction from your layover. There are also two staircases along the route.
The 24-hour yoga studio located in International Terminal D, near gate D40, also helps travellers stay stretched and relaxed. Free mats are available and the instructional DVD plays on a loop.
Changi Airport - Singapore
The world's best airport comes equipped with a couple of options for fitness-focused travellers. The first is a rooftop swimming pool at Terminal 1. Depending on the time of day, there's usually enough space for lap swimmers and without any cover it isn't hard to dry clothes afterwards (barring bad weather).
Changi also has a well-equipped 24-hour gym located within the Ambassador Transit Hotel lounge with cardio and weight machines. A fee of $14 grants access to the gym including shower, toiletries and a non-alcoholic drink. You can also pay more for use of the lounge afterwards and hire gym attire.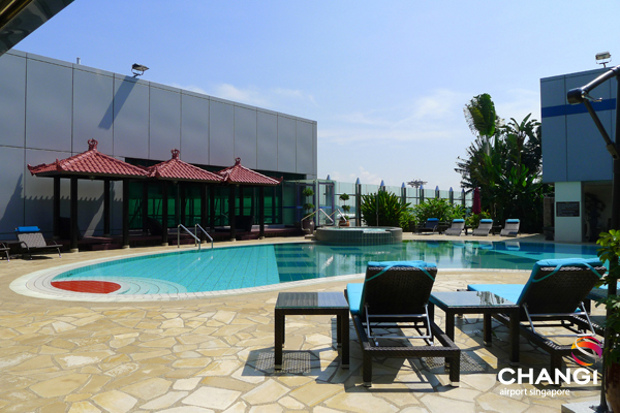 The rooftop swimming pool at Changi Airport (Image: Changi International Airport)
Toronto Pearson International Airport - Canada
A partnership with GoodLife has gifted Toronto's international airport with a quality gym featuring free weights, cardio machines and a designated stretching area. Guests also have access to express workout programs designed for getting the most out of a short session.
Day passes cost $21 and include luggage storage and access to a shower and toiletries. Reebok clothing and shoe hire can also be purchased for an additional $14. The gym is located in Terminal 1.
Munich Airport - Germany
The Hilton Fit & Fly Spa, located between Terminal 1 and 2 at Munich Airport is a fitness haven with a 17-metre lap pool, sauna and steam bath. There's also a 130-square-metre gym area equipped with state-of-the-art workout machines.
Access can be purchased for a daily fee of $48 or a two-hour fee of $32.
A round of minigolf probably isn't part of your typical fitness regime, but for those too tired for moderate or high-intensity exercise, the airport's 18-hole course is a great alternative.
It's part of the outdoor Visitors Park, which also includes Visitors Hill, a grassy viewing platform with 172 steps. Hill runs or stair climbs anyone?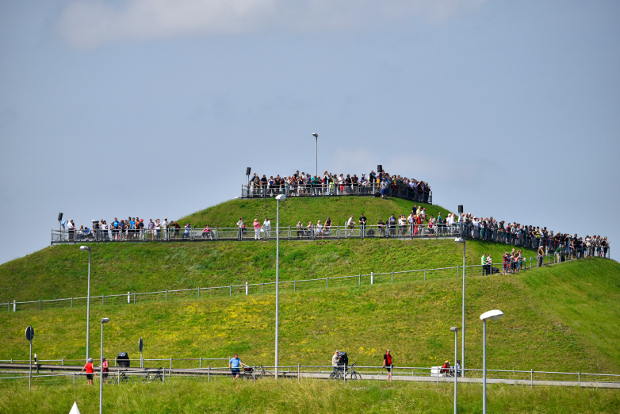 Plenty of incline on Visitors Hill (Image: Munich Airport)
Zurich Airport - Switzerland
You probably need an extended layover (four or more hours) at Zurich Airport to enjoy the available sporting equipment. Unlike the other airports on this list, Zurich Airport's fitness facility exists outside of the terminal.
Passengers can visit the Service Center, next to car park 2 on level 1, and hire bicycles, inline skates and Nordic walking poles. These can be used to explore the paved, tree-lined perimeter around the airport. It won't even feel like a layover.
Prices range from $15 to $30 for four-hour rental and $15 to $50 for full-day rental.
Dubai International Airport - UAE
The two health clubs, one in Terminal 1 (Concourse C) and the other in Terminal 3 (Concourse B), both feature a gym, swimming pool, Jacuzzi, steam room and showers. The health club in Terminal 1 also has a sauna.
Saunas, Jacuzzis and steam rooms are split apart – one for men and one for women.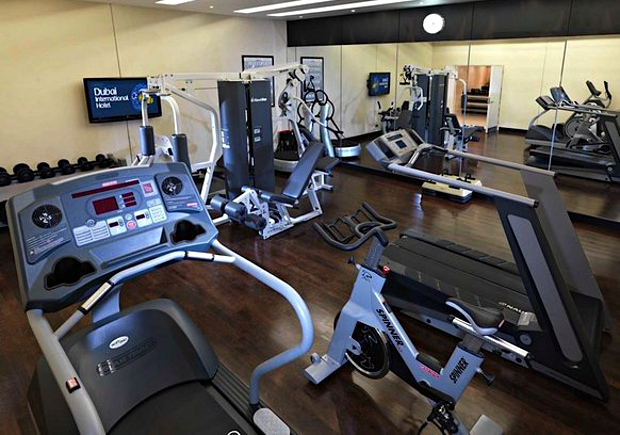 One of the available gyms at Dubai International (Image: Dubai International Airport)
Seoul Incheon Airport - South Korea
There are even less reasons to stay seated at Seoul Incheon Airport, thanks to an actual ice skating rink in the Transportation Center. Gear rental is relatively cheap.
About three minutes away from the airport, via free shuttle, is the Sky72 Gold Club. This 72-hole course also includes a 400-yard driving range, perfect for knocking an hour off your layover.
Other Travel Articles You Might Like...