7 November 2017
It's first class flying like never before.  Singapore Airlines unveiled their impressive Airbus A380 cabin upgrades at a media event last week, and ever since the travel world has been going gaga, particularly over the first class suites. 
This is the first major overhaul the fleet has seen in over a decade, since the carrier was the first in the world to fly the A380s in 2007.  Now after four years in the making and a modest $850 million, the results certainly seem like they were worth the wait.  
The airline has considered the full passenger experience, usability and aesthesis, and was very excited to unveil them after years in the making. Singapore Airlines CEO Goh Choon Phong said "if you look at our suites, it's not just visually [attractive], but you find the usability aspect is even more important, and that is the part that takes a lot more thinking and work."
Singapore Airlines first made waves with their first class suites back in 2007, when the additional space onboard the A380 jets provided opportunity for the airline to create large, private suites; complete with closing doors and double beds for travelling couples.   These were ground breaking at the time, however the renovated cabins have taken things to a whole new level. 
Upgrades have been made across all cabins, with the new layout seating 471 passengers at full capacity.  The first class suites are the pinnacle of the renovation, and have challenged the traditional model by literally halving the first class seating.  A reduction in capacity from 12 passengers to six provides a sense of "exclusivity and intimate privacy" according to Singapore Airlines. 
First Class Cabin Features
The first two seats in the aisle will maintain a sliding door for privacy, and the ability for double bed conversion.  The remaining luxurious suites will feature a fully flat bed, reclining leather swivel chair, full-size wardrobe and a 32 inch high definition TV.  This means guests will have the option of relaxing upright, or flat out, without the hassle of a crew member having to come out and arrange the bed.  TV viewing can be done from either space (due to its swivel angles), mood lighting lights up a feature wall and passengers will receive a leather-lined amenity kit for the journey.
Passengers seated in this exclusive class will have access to two spacious bathrooms, one featuring a sit-down vanity counter.  So yes, it is essentially a miniature luxury hotel room, at 38,000 feet high. Feeling fresh and arriving on point has never been easier.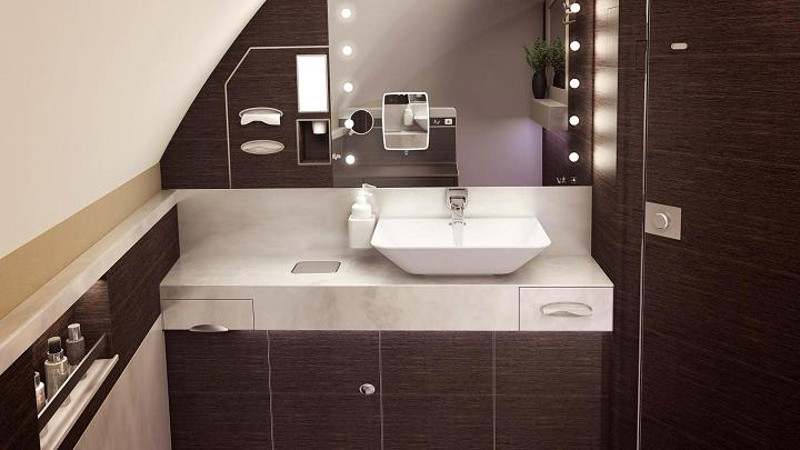 Spacious First Class bathrooms, one even features a seated vanity
Business Class Cabin Features
The 78 refurbished A380 seats are some of the widest business class seats in the skies, at 63.5 centimetres wide.  They have taken a slight size hit with the recent upgrades, with a width reduction of 12.7 centimetres,  however are still larger than the seats across most other major airlines. 
The seats all recline to comfortable 198 centimetre flatbeds, with the easy of a touch of a button. Plus, for the first time in Singapore Airlines business class, an adjustable divider between suites will allow passengers in aisle seats to convert them into doubles, similar to the first class set up. Business class passengers will also have access to more under-seat storage, due to the larger seat shells.  It sure sounds like a great way to travel long-haul for that next business trip.  
Premium Economy Class Cabin Features
If your boss hasn't generously upgraded your ticket, fear not. While these lower deck cabins haven't seen much change with the cabin upgrades, premium economy class onboard the A380s still provides a pretty good space for rest and relaxation.
The 44 premium economy guests will still enjoy seats of approximately 50 centimetres width, featuring leather finishes, foot-bar and a calf-rest. Passengers will be able to make use of two USB ports for devices and in-seat power supply, plus of course a small side table and slightly more storage space.  The seats recline just over 20 centimetres back, and all come with a pair of noise-cancelling headphones.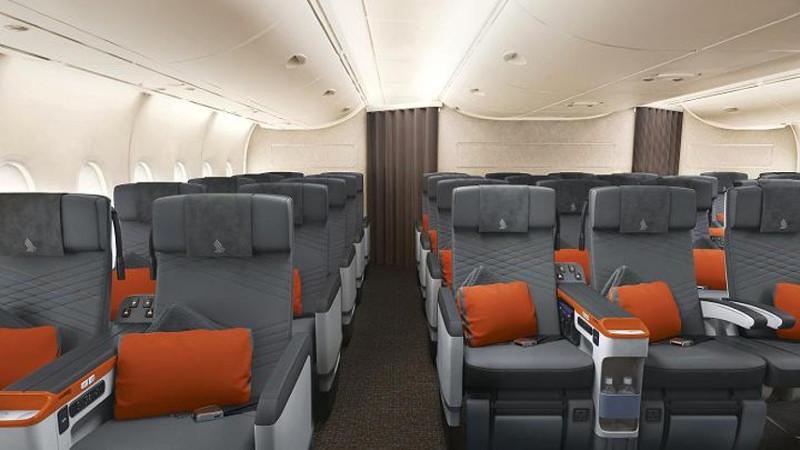 The 44 premium economy seats come with noise-cancelling headphones
Economy Class Cabin Features
Singapore Airlines A380 economy class cabin has seen upgrades mostly to the aesthetics, with more modern looking fabric coverings for its 343 seats.  A non-intrusive reading light, coat-hook, in-seat power supply, personal storage space and an ergonomically designed footrest with adjustable positions also features on all seats.
Additional Information
In additional to the cabin upgrades, entertainment technology has seen an improvement across all A380 cabins, with Kris-Flyer loyalty members being able to keep track of their history and bookmark media on the in-flight entertainment system. 
Passengers will be able to experience the upgraded cabins from December 18th, then the first ones fly Singapore to Sydney.  Initially five of the fleet will hit the skies with these upgrades, but the airline is moving towards a full upgraded fleet of 19.  
Image credit: Singapore Airlines and Mashable 
Other Travel Articles You Might Like...