16 October 2017
Tomorrow's dawn heralds a new era in air travel, it will see history in the making for the iconic Flying Kangaroo.  October 17 will see Qantas unveil their highly anticipated Dreamliner, a pioneering move that is set to change the way Australians fly, for both business travel and leisure alike.  Two routes have currently been confirmed, with Melbourne to LAX in service from December and the flagship Perth to London flight getting underway from March 2018.
It's a moment Qantas CEO Alan Joyce has described as a "watershed moment" for the Flying Kangaroo, because for the first time Australia will see a direct link to Europe through the introduction of the non-stop service from Perth to London. 
"This is a game-changing route flown by a game-changing aircraft. Australians have never had a direct link to Europe before, so the opportunities this opens up are huge."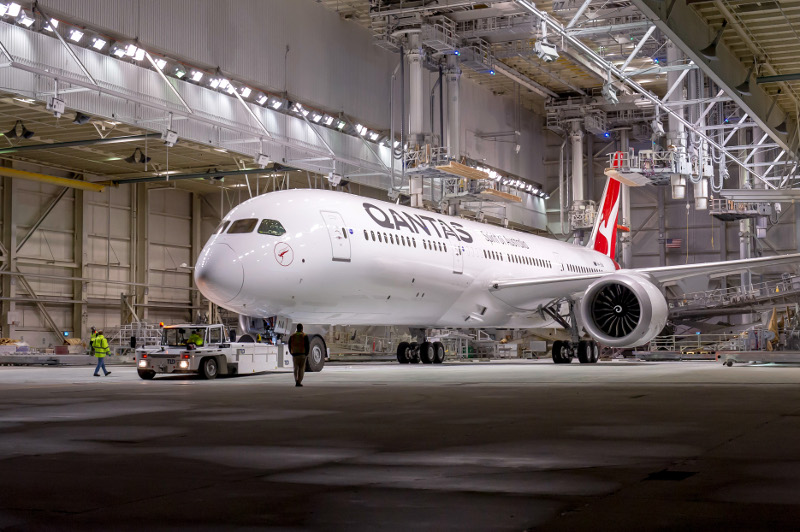 Qantas' Dreamliner rolling out of the Seattle Boeing factory, where over 700 staff work to output one single aircraft
The Boeing 787 Dreamliner
The 17 hour, 14,498 kilometre flagship voyage will make this new Qantas service the third longest flight in the world, as so, the Boeing 787 has been designed accordingly.  Passenger experience was front and centre throughout the entire process with the lengthy transit time a main element of consideration.  Boeing had a team of over 700 working on the redesign of aircraft features to minimise the nasty effects of jetlag. Every aspect from cabins to food, seating layout to technology, window size, storage, lighting and even the cutlery has been carefully curated in preparation for the debut, and the long transits that will follow. 
The unveiling will take place tomorrow in the Boeing factory in Seattle, the largest manufacturing factory in the world.  Occupying the same amount of space as roughly 910 basketball courts, this workspace is complete with walkways and cycleways to ensure efficient, speedy movement between sites, with over 700 required to construct one single Dreamliner.
It is certainly an impressive example of craftsmanship, something Qantas international chief executive Gareth Evans described as a "game-changer".  He noted future possibilities for routes like Perth to Paris or Brisbane to Chicago, while CEO Alan Joyce explained the desire to one day be able to fly directly into Rio, Brazil or Cape Town, South Africa, from Australia's Eastern capitals.
The Cabins
Speaking of firsts, the Dreamliner will change things up with its cabin layout, operating sans first class.  It will instead host 42 business class seats, 28 premium economy and 166 economy.  Guests will enjoy more spacious cabins, enhanced by air quality, 65 percent larger windows and improved technology designed to reduce turbulence.
Economy Features:
12-inch HD screens
Two refreshment bars for on demand snacking
Integrated mood lighting
Premium Economy Features:
Additional electronic charging outlets
Increased individual storage space
Custom-made larger pillows & woven blankets
Seating configuration of 2-3-2 (to make bathroom trips a little less bothersome!)
Business Class Features:
Direct aisle access
Flatbeds & plush bedding (for a truly restful sleep)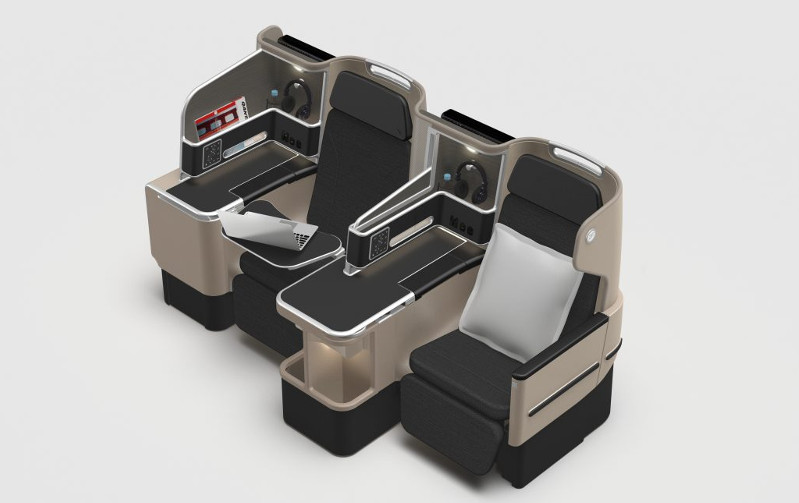 Business Class seats will all enjoy direct aisle access
Dining
The Qantas food and beverage serviced has too been redesigned for the ground-breaking Dreamliner, and with 17 hour transits, it's a consideration worth making.  Qantas worked with David Caon and Noritake in this category, which now means dining will be a significant 11 percent lighter.   Specially designed cutlery and glassware has been created for the liner, as have new menus, arranged in order to help stimulate sleep or wakefulness, depending on time in journey. 
The first Dreamliner to hit Australian soil is expected to touch down into Sydney this Friday, after first doing a flyover of Sydney Harbour, giving residents a first-hand glimpse of the new Flying Kangaroo.  It will be the first of eight new Qantas aircraft that will reflect the updated Flying Kangaroo image.  This pioneering launch comes during a period that has seen Qantas go from strength to strength, with announcements of new cabin upgrades, lounge renovations and additional scheduled services, as well as a solid finish to the 2016/17 financial year. 
Images courtesy of Qantas.
Other Travel Articles You Might Like...