7 May 2015
Words by Carlie Tucker
If you're not putting much thought into what you wear when you fly, you may want to reconsider your approach. This is especially true for business travellers. Donning the right outfit can play a significant role in determining whether or not you have a good flight.
Your clothes can mean the difference in your overall comfort as you squeeze into that ever-shrinking economy seat. Who knows, it may even help in the quest for an upgrade. And, as busy travellers know, it's imperative that you step off your flight dressed to impress at your next big business meeting.
So, the next time you fly for work, here are a few fashion tips to consider when getting ready before your flight.
Universal Tips
Opt for natural, breathable fabrics that you can layer
Relaxed-fit clothing is best for flights more than two hours
Comfortable shoes are a must
Avoid strong perfumes and too many accessories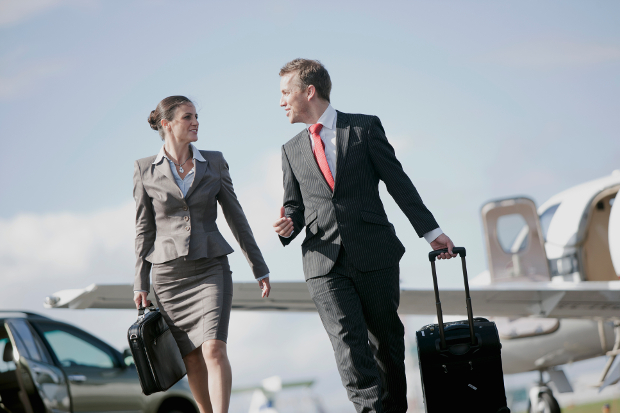 Short Flights
If you're rushing from the plane into a meeting, you'll want to wear a suit. Especially if your flight is only a couple hours and your arrival leaves just enough time to jump into a cab to the office.  
Men: Choose a well-tailored suit paired with a smart shirt, tie and comfortable dress shoes. Natural fabrics are best as they will breathe while you fly so you won't get too hot in a crammed cabin. Carry your jacket to avoid creases and choose a sleek carry-on or satchel to carry all necessary items.
Women: Opt for a well-tailored suit as well. Choose between a skirt or pants, depending on what you're more comfortable in. Just make sure it's not too tight and your skirt isn't too short, which could put you on edge through your flight. Minimal accessories are best to ensure security is a breeze, and avoid sky-high heels as you may need to rush through the airport or do a fair bit of walking.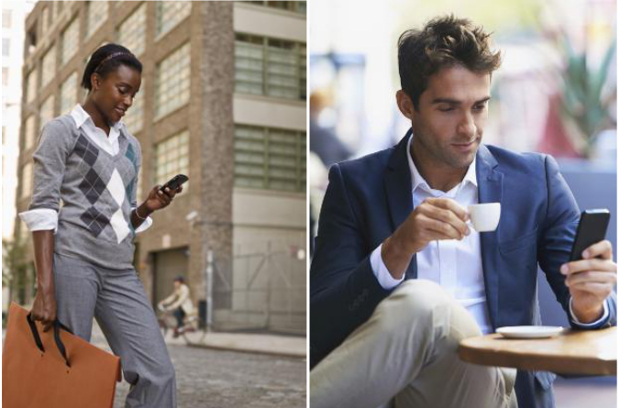 Mid-Length Flights
Flights lasting more than two hours can be a little trickier for the business traveller. You don't want to sit in a suit for these longer periods of time, but you still may need to look the part when you land. Ideally, you'll want to book a flight that leaves a bit more time between landing and meetings so you can at least check into your hotel room for a bit of a freshen up.
Men: Comfortable dress pants with a dress shirt are a great option. Think along the lines of flat-front khakis or a relaxed-fit suit pant. Dress up your outfit with a nice sweater or sport coat that you can put on or take off depending on the temperature. You can also throw a tie into your carry-on to put on in the cab on arrival. Once again, natural fabrics are key as are comfortable dress shoes.
Women: A loose, light-weight blouse paired with a mid-length skirt or looser cut pant is ideal on a longer flight. Alternatively, a wrap dress paired with a tailored jacket will keep you comfy on the plane. A nice scarf can add a pop of colour and keep you warm when needed, while low heels or sensible flats are best. Again, keep accessories to a minimum for easier trips through airport security.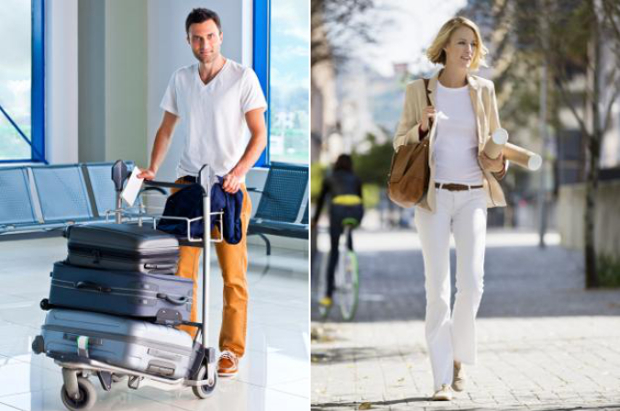 Long Haul Flights
If you're going to be on a plane for more than six hours, what you wear is really going to play a part in your overall comfort. Chances are you're not going to run straight to the office once you arrive, so more casual attire is acceptable. Keep in mind, though, that too casual could make the wrong impression on your fellow passengers and you never know who you'll be sitting next to. Just remember that it's all about layering and avoiding anything that's too tight.  
Men: Loose fitting jeans are appropriate with a nice t-shirt. You may want to add a long-sleeve pullover such as a sweater, or wear a sport coat or jacket. Wear simple shoes such as a pair of loafers so you can easily slip them off to go through security if necessary. A versatile satchel that can double as a carry-on and briefcase at your final destination is also a great idea.  
Women: You may want to consider a flowing blouse paired with leggings or jeans that offer a bit of stretch. Grab a scarf that can double as a wrap/blanket while you're in flight. If you're headed to a cooler climate, consider a nice structured jacket as well. A pair of slip-on ballet flats are a great no-nonsense shoe option, but die hard heel fans can get away with a very low ankle boot or wedge that's comfortable to walk in.
Images courtesy of Getty
Other Travel Articles You Might Like...