29 December 2014
Every year millions of pilgrims make the journey to the Chapel of the Apparitions in Portugal, Lourdes in France, Santiago de Compostela in Spain. But… let's be frank, they're old hat. AC/DC tours are the new religious pilgrimages. They don't come around very often and it's why when tickets recently went on sale for European dates on the Rock or Bust tour they sold out instantly, in some places in less than half an hour.
Even when AC/DC had a ballot for lucky fans to appear in the filming of the video for the title track, people flew in from as far afield as South America. There's an AC/DC fan fair (fantreffen) each year in Geiselwind, Germany. There's Bonfest in Kirriemuir, Scotland – named after the band's long dead and most iconic singer Bon Scott, where plans are afoot to erect a statue of him. The band has fan pages on Facebook for virtually every country in Europe, ranging from AC/DC Bulgaria (55,000 likes) to AC/DC Rock Fans Gibraltar (400 likes). There's a street named after them in Madrid, Spain.
There isn't a corner of Europe – indeed the world – that isn't touched by AC/DC fever. Worship of the band's logo, designed by a Mexican-American graphic designer called Gerard Huerta in 1977 – is so widespread it appears on people's bodies (tattoos), connected to people's bodies (I've seen a prosthetic leg with the cover of Highway to Hell painted on it), on cars or trucks (spray painters do a brisk trade in AC/DC-themed paint jobs), daubed on to farm animals (pigs, horses), and of course featured on almost every conceivable product you can imagine, from T-shirts to beer to baby bibs.
A Glasgow councillor, Frank Docherty, wants to paint it on the water tower that dominates the skyline in Cranhill, the childhood home of AC/DC's founding guitarists, brothers Angus and Malcolm Young. It is one of the most commercially lucrative brands in entertainment merchandising and has fattened the coffers of Leidseplein Presse B.V., AC/DC's Dutch-based company. Taxes on royalties in the Netherlands are rather generous.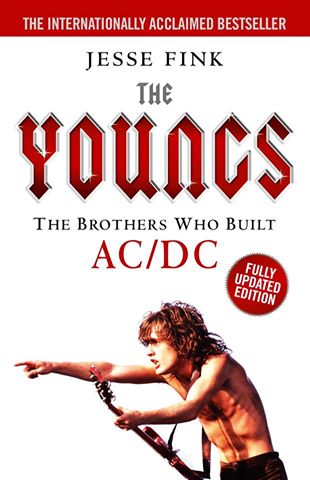 So why the fervour?
It's important not to over-intellectualise the phenomenon that is AC/DC other than to say that they rock better and they rock harder than any other band in the world. It's as simple as that. They deal in clever riffs and unforgettable solos on top of a bedrock of pulsating rhythm that when assembled together makes resisting bodily movement nigh on impossible. This is music designed for one purpose only: rocking. They're not precious. They're not pretentious. They don't follow trends or fashions.
As Stevie Young, the band's new rhythm guitarist who replaced the dementia-diagnosed Malcolm, told me for my book The Youngs: The Brothers Who Built AC/DC, "they're honest about what they do. That's why they're a great band."
They're also getting long in the tooth, with lead singer Brian Johnson 67, lead guitarist Angus about to turn 60, bass player Cliff Williams 65, Stevie a comparatively spritely 58 and… just who will the drummer be? Phil Rudd, who turns 61 in May, is currently embroiled in a dicey legal drama playing out in New Zealand. His future in the band looks decidedly shaky. At time of writing, the rumour mill has Rudd's one-time replacement in the 1980s, Simon Wright, who turns 52 in June, as his likely tour stand-in.
Interestingly, Johnson, Angus, Stevie, Cliff Williams and Simon Wright have played together as AC/DC before – on the North American leg of the 1988 Blow Up Your Video tour, when Malcolm stepped aside to get on top of his drinking and Rudd was in the midst of his decade-long estrangement from the band. It could well be a reunion.
So longtime fans of the band are mindful that Rock or Bust might be the last tour of the mighty AC/DC. They can't go on forever. Tony Currenti, the band's drummer on their first album, High Voltage, has already booked his trip to see them in Imola, Italy. Scalpers are re-selling tickets online for well above their face value. But even for fans without tickets, as with FIFA World Cups, it will be an experience not to miss. Just being in one of the grand European cities playing host to the band will be electric. Cafes, clubs, restaurants, bars and town squares will be buzzing.
The Black Ice tour of 2008–10 was one of the biggest of all time and this is on track to break all-time records. Rock or Bust, the band's 16th originally released, non-compilation studio album, is easily their best since 1983's Flick of the Switch and, at a stretch, even 1980's titanic Back in Black, the biggest selling rock album in history.
In AC/DC we trust, in 2015 it's Europe or bust.
[embed]https://www.youtube.com/watch?v=_NdHySPJr8I[/embed]
ROCK OR BUST WORLD TOUR, EUROPEAN DATES
5 May 2015   Arnhem, Netherlands
8 May 2015   Nuremberg, Germany
10 May 2015  Dresden, Germany
14 May 2015  Zeltweg, Austria
16 May 2015  Hockenheim, Germany
19 May 2015  Munich, Germany
21 May 2015  Munich, Germany
23 May 2015  Paris, France
26 May 2015  Paris, France
29 May 2015  Barcelona, Spain
31 May 2015  Madrid, Spain
2 June 2015  Madrid, Spain
5 June 2015  Zurich, Switzerland
7 June 2015  Zurich, Switzerland
19 June 2015  Cologne, Germany
21 June 2015  Hannover, Germany
25 June 2015  Berlin, Germany
28 June 2015  Glasgow, Scotland
1 July 2015   Dublin, Ireland
4 July 2015   London, England
9 July 2015   Imola, Italy
12 July 2015  Gelsenkirchen, Germany
15 July 2015  Roskilde, Denmark
17 July 2015  Oslo, Norway
19 July 2015  Solna, Sweden
22 July 2015  Hämeenlinna, Finland
25 July 2015  Warsaw, Poland
Information is correct at time of writing. More dates may be added.
Other Travel Articles You Might Like...